North Dakota forward Jonathan Toews returned from the World Junior Championships in Sweden with a gold medal for playing with Team Canada and renewed confidence in his abilities.
UND defensemen Taylor Chorney and Brian Lee, who played for Team USA, came back from Sweden with bronze medals and an understanding that it's not how you start the tournament for the world's best under-20 players, it's how you finish.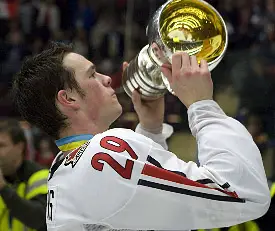 Whether the return of the three sophomores to the Fighting Sioux lineup will be enough to turn around what's been a disappointing season for UND (10-11-1 overall, 6-9-1 WCHA coming into the weekend of Jan. 12) remains to be seen, but head coach Dave Hakstol is hopeful.
"I'm a big believer that you always get a better player back because of the experience and the quality of that tournament," he said. "Certainly I expect them to help our hockey team. It's should be a real boost to have them back."
Over the past two weekends, UND began to turn its season around, winning three of its last four games after losing seven of its last eight. And the Sioux did it without three of their best players — Toews, Chorney and Lee — in the lineup.
"The guys who have been here really buckled down and have had a tremendous work ethic, Hakstol said. "We want to see the three guys coming back put themselves into that mold and be a part of that. They don't have to do too much. They don't have to do it all. They just have to fit in with what the team has done the last two weeks."
It's difficult to imagine a player of Toews' caliber lacking confidence. Last season as a 17-year-old freshman, all the Winnipeg native did was help Canada win a gold medal at the World Juniors in Vancouver, score 39 points for UND (22 goals, 17 assists) while being named most valuable player at the NCAA West Regional and helping the Sioux make their second straight Frozen Four appearance. As a result, he was picked third overall in the 2006 NHL draft by the Chicago Blackhawks.
However, Toews' sophomore season hasn't gone as expected, which has been a factor in how UND's season has gone. Injured during the Oct. 20-21 series that Maine swept in Grand Forks, he missed three games and hasn't played at same level as last season, collecting four goals and nine assists in 13 games.
However, according to Chorney, who played with Toews at the Shattuck-St. Mary's prep school in Faribault, Minn., getting off to a slow start isn't unusual for his teammate.
"Every time I've played with him, that's how it's been," Chorney said. "I don't want to put any more pressure on him, but he usually catches his stride about midseason and starts to play well. Everyone remembers how well he did last year the second half."
Although the first half of Toews' freshman season was respectable, he caught fire after returning from his first World Juniors, and when his fortunes improved, so did UND's. The Sioux won the WCHA Final Five after struggling to finish fourth in the league during the regular season.
"That's the way it's been," Toews said of his slow starts. "I tried not to fall into that this year, but I guess I have no choice. It was a slow first half and I put a lot of pressure on myself."
Playing in his second World Juniors as an assistant captain for Team Canada, Toews carved a niche for himself in Canadian hockey history. After playing the U.S. to a 1-1 tie in the medal round that went to a shootout, Toews scored on all three of his shots against USA goalie and Minnesota Golden Gopher Jeff Frazee. That performance sent the Canadians into the championship against Russia, which they won 4-2.
Toews led the Canadians in scoring and was one of three forwards named to the all-tournament team.
"I just kept playing hard, whether it was working for me or not," said the Sioux sophomore, who serves as an assistant captain for UND. "Now I seem to have gained my confidence back, so hopefully I can use some of that (at UND) again."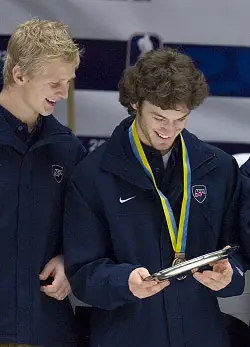 For just the fifth time in the 34-history of the International Ice Hockey Federation tournament, the Americans brought home a medal, finishing third with a 2-1 defeat of Sweden.
After Team USA lost its first two games, it looked as though Chorney and Lee might return to UND early. But the Americans rebounded and came closer than anyone to defeating Canada, the two-time defending champion.
"We felt like that was the gold-medal game, being that our pool was stacked with the better teams," Lee said. "We had the U.S., Canada and Sweden all in one bracket. On the other side, all they had was Russia, and they hammered on everyone pretty good.
"It was disappointing to fall short, but to bounce back the way we did with the big effort in the third-place game and to bring home some hardware was really an accomplishment," he said.
"We wanted the gold, but any time you can bring home a medal in that tournament, it's an honor," said Chorney, who captained Team USA.
Going down to defeat at the hands of Toews, a fellow Sioux player, didn't make losing to the Canadians any easier.
"It was all-around a tough loss," Chorney said. "I just wanted to congratulate him. He played a great tournament and scored those three shootout goals. That was impressive."
Now the three medal-winners return to the challenging task of getting UND's season back on track.
"Coach Hakstol made a great statement to us that this team won't be defined by how it starts, but by how it finishes," Lee said. "We all truly believe that, and we know that if we come together, we have a great group of guys here with a lot of talent. The sky's the limit."