Not quite halfway through this year's schedule and the topsy-turvy, rollercoaster ride we call the 2006-07 season continues to boggle the minds of players, fans and coaches alike. What's the biggest element missing among teams looking to play well on a more regular basis? Consistency!
This isn't just "coach speak." If you look at the way that the standings continue change, there aren't many teams that are putting together consecutive wins with any great degree of frequency and if you look at the standings for both the ECAC East and NESCAC, you'll find a couple of perennial powers struggling a little bit at this point of the season and it's all in search of consistency.
Cadets Looking for a High Five
Take a guess; name the team sitting in sixth place in the ECAC East conference entering this weekend's action. Hard to believe the Norwich Cadets are sitting at 3-3-0 in league play and 8-4 overall — pedestrian results for a club that has historically always been at the top of the ladder.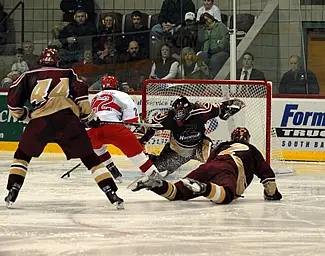 "You hit it right there," stated coach Mike McShane when asked about the lack of consistency his club has displayed this season. "It's not like we have never played well, we won two big tournaments this season against some really good teams but for some reason we haven't carried that intensity and being ready to play like at that level against all of our opponents. You know Conn (College) came in here and really surprised us — their goalie played great and when you have a good goalie stopping you and good enough depth with some checkers that can hold you down, you're not going to win those games if you're not ready to play."
The Cadets have dropped two of their last three including a 4-2 loss at Plattsburgh, where a 2-1 first period lead evaporated in the second period and the team took eleven penalties totaling thirty-eight minutes and surrendered three power play goals that were the difference in the game. "We started playing well," noted McShane, "and then we ran into some penalty problems and never really came out of it."
The next eight days may hold the key to the Cadet season as they play five games in that span beginning with UMass-Boston and league-leading Babson this weekend at home. A make-up game with travel partner St. Michael's starts next week's slate that ends with a road trip to face NESCAC foes Wesleyan and Trinity. There are no give me games in the stretch and McShane hopes it jump starts his team into playing better and more consistently.
"I hope when the guys look at the standings that it motivates them," said McShane. "This is obviously not where we want to be at this point in the season and we are going to have to really put out some solid efforts against everyone. I have been pleased with our goaltending which has been pretty consistent with (freshman) David Thompson. While we have been rotating eight defensemen, I have to remind myself we are really young back there with only one senior and three freshmen skating almost every night. We need to get ready to play every night regardless of the opponent because the league is really better from top to bottom. Peter Belisle has come in and has done a good job at UMass and you look at Skidmore and Castleton and Southern Maine, you can't just put on the uniform and expect to go out and win."
One area that will need improvement is the Cadets penalty kill where opponents are scoring at better than a twenty percent success rate. While the Cadets are averaging almost five goals a game offensively, they have surrendered fourteen power play goals through twelve games as compared with the eighteen total power play goals they gave up last season.
"We'll see what happens," remarked McShane. "We really want to see that sense of urgency and it helps to have a strong Babson team coming to us this weekend. You see what they did last weekend (10-2 win over Amherst and a 3-1 win over Hamilton) and you know we didn't do that against those teams (a pair of 5-4 losses). I sure hope we are ready to play because now is the time of year when you want to be playing towards your peak."
Winners of seven of their last eight, Babson may just be the motivation the Cadets need to focus. Having seen their penchant for playing well in big games this season (Primelink and Times-Argus tournament wins) the Cadets will need to have all aspects of their game starting to click in Northfield.
Panthers Prowling in Maine
Just across the state from Norwich, the defending NESCAC and national champions have had issues of their own playing with any kind of consistency. Middlebury hits the road on Friday for a trip to Colby and Bowdoin before hosting Williams on Tuesday and finishing the week with New England College and a return bout with St. Anselm's at home.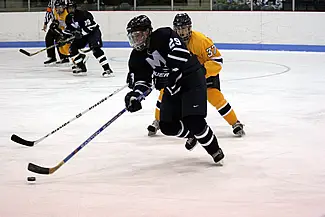 "We are not where we want to be at this point in the season," said Middlebury coach Bill Beaney. "We are behind where we would like to be in having things come together and really playing the consistent quality of hockey that Middlebury has become famous for. We certainly have had some issues with being healthy with both illness and injury being part of the problem. Right now we are at about 90% and moving in the right direction in terms of getting guys back. We had a couple of guys go down that played the same position that are difficult to replace and fill-in for so that has been part of the consistency issues.
"The other part of our play has been that some of our key guys just have not had the kind of years they or we were expecting up to this point. Right now we are just really focused on trying to execute what we like do well without the lapses that have hurt us this year. I am less worried about the results and more interested in starting to see us play the game well — no question we are behind where we have been in the recent past making this trip and going through this stretch of games, so I am hoping that we will play well and start to see some timely goal scoring."
The hallmark of successful Middlebury teams has been found in their team defense, team speed and of course goaltending. Both Ross Cherry and Doug Raeder have posted strong numbers so far this season as the team has surrendered just 23 goals in their first eleven games. The problems seem to be on the offensive side where the Panthers have lit the lamp just 36 times and Captain Mickey Gilchrist leads the team in scoring with just twelve points including seven goals. Key offensive contributors from last season Jamie McKenna (1-6-7), Evgeny Saidachev (1-5-6) and Eric Lafreniere (0-3-3) have been limited in production as well as missing games contributing to the slow start. Newcomers John Sullivan (4-0-4) and Casey Ftorek (1-2-3) have also missed some games and haven't really displayed the offensive talent expected to be shown on the ice.
"We haven't really changed a lot of how we do things here," Beaney explained. "Each and every season there is a time frame that the team kind of puts it all together and starts playing their best hockey. In the past we may have had some nights where we didn't play our best but gutted out a tough win over some very competitive teams. Today that just isn't good enough as you look around and see the number of available players with talent and teams with the ability to improve greatly from season to season — just look at what Neil (Sinclair) has done at Skidmore — we need to start playing much better hockey and hopefully we will see some of that this weekend."
It really doesn't get much better than a Colby/Midd or Bowdoin/Midd match-up in Maine and all of the teams are hoping that some success will help to springboard their team in positive way towards the second half of the league schedule.