Making Their Mark
Every year fans around the league wonder which of the new freshmen are going to make their mark and fulfill the promise that the coaches hoped for when they originally recruited them. With the second semester of hockey well underway, we can take a good luck at which freshmen have indeed made their presence felt.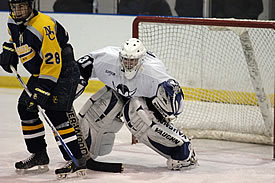 When Fredonia started the year out, the biggest question was who was going to be their goaltender. They were bringing in a trio of new recruits to replace their departing netminders. Quite a precarious situation to be in.
Fredonia coach Jeff Meredith admits he didn't know who would come out as the number one. Lucky for the Blue Devils, not only did Pat Street out of The Gunnery School step up to assume the role, but he is ranked at the top of SUNYAC goalies. Amongst conference games, Street is third in GAA with 2.52 and second in save pct. at .921. Counting overall stats, Street moves up to the top in save pct. at .920.
"He's a great shot blocker," Meredith states it simply. "When he makes the save, you are amazed how many times it hits him in the stomach. He really works on his positioning. He's not a goalie that gets down and out and has to scramble."
The Annapolis, Md., native is so good at the fundamentals that he makes his saves look routine, thus not getting the oohs and ahhs more "spectacular" (but out of position) goalies get.
One thing Meredith will not have to worry about from the English major is ever having academic problems.
"He's a focused guy," Meredith said. "He had a 3.94 GPA in the first semester. An extremely intelligent guy."
Two other freshmen goalies have also made their mark. Todd Sheridan has taken over the job in Brockport and is one of the key reasons the Golden Eagles find themselves as contenders. I've already mentioned all the good, bad, and the ugly concerning Ben Binga at Cortland, but despite the issues, the net result has certainly been on the positive side of the ledger.
As far as scoring, nobody has made a bigger mark than Pier-Luc Belanger at Plattsburgh. Not just for freshmen, but for any player. Not only does Belanger lead his team in scoring with a nice even ten goals and ten assists, but he is also sixth in conference scoring with 11 points (six goals and five assists).
"A great addition to our team. He's been on our top line from the beginning," Plattsburgh coach Bob Emery said. "Anytime you have a freshman on your top line, that's a great asset not just for now, but for the future."
Belanger hails from Quebec, which can sometimes be an issue when making the transition to an American college.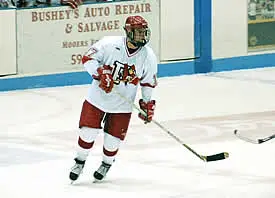 "He adjusted well to our culture which sometimes can be a problem for a French-Canadian kid," Emery said. "He's adjusted well academically. He's very well liked."
French-Canadian hockey players sometimes get the label of being one-way players. Not so with Belanger.
"Definitely a two-way player," Emery said.
Any improvements Emery would like to see? "Sometimes I think he isn't being selfish enough and passes off when he should be taking the shot. He has a great shot."
Following Belanger in freshmen scoring are two forwards from Potsdam — Luke Beck and Connor Treacy. In conference play both have three goals and four assists tying them for second in rookie scoring with seven points.
Overall, Beck, from Charlottetown, Prince Edward Island, has slightly more points than Treacy with 19 thanks to 13 assists.
"Very, very smart hockey player," Potsdam coach Glenn Thomaris said of Beck. "Possesses real good skills and plays well with the stick. He moves the puck around, getting good shots. He knows his way around the net."
Even more impressive for Thomaris is Beck's attitude: "He's our leading scorer, and you wouldn't know it from him. Great team player. Gets along with everyone. Pure hockey guy who loves to play the game."
Treacy, from Markham, Ontario, has an even eight goals and eight assists overall.
"A tremendous competitor," Thomaris said of Treacy. "Good battler. Has good speed. Generates offense out of that speed."
Best of all for Potsdam, these two freshmen immediately fit right into the lineup as Thomaris put them with senior captain and star Ryan McCarthy.
"All three compliment each other extremely well," Thomaris said. "I wouldn't hesitate to match them up with any line out there."
Not only did Fredonia have to replace their star goaltender, they also had to replace their leading scorer, Matt Zeman. Another Matt has helped that process, Matt McKeown, who has gotten a point a game with eight goals and seven assists. McKeown is a transfer from Cornell where a knee injury prevented him from ever playing at the Ivy League school.
"He hits like a truck, and he's a good finisher," Meredith said. "He got out of the blocks pretty quick, then ran into a stretch where he was putting pressure on himself because he wasn't scoring goals. Last few games, he's done a nice job."
A couple of other new forwards to keep your eyes on as the rest of the season progresses are D'Arcy Thomas from Buffalo State and Sebastian Panetta on Geneseo. Each has three goals and three assists in conference play. Overall, Thomas has 13 points, third best on his team. Panetta has six goals and assists each, as he has carved an offensive niche out of a lineup stacked with talented players.
SUNYAC Short Shots
Neal Sheehan scored four goals and three assists in Fredonia's 9-3 win over Johnson and Wales with their last two goals coming 27 seconds apart as the Blue Devils got off 50 shots … Sheehan added another two goals and one assist in their 4-2 win over Utica … Geneseo's Mitch Stephens scored two goals as the Ice Knights lost to Hobart, 6-3, after being tied, 3-3, with 6:36 left in the game … Richard Curtis and Shareef Lebreche each scored twice as Buffalo State beat Morrisville, 7-2 … Stephens got a goal and three assists when Geneseo beat Lebanon Valley, 5-2, while letting up only 18 shots … Scott Bradley scored twice and Pat Street made 41 saves in Fredonia's 4-1 victory over Wentworth … After being down 3-1 to New England College, Potsdam scored five unanswered goals including two within 13 seconds and three within 1:42 en route to a 6-4 win with Luke Beck getting four assists … Plattsburgh only committed three penalties and allowed two powerplays in their 2-0 win over Norwich … Brockport got just 16 shots on goal but tied Elmira, 2-2, after leading 2-0 with under six minutes remaining.
Game of the Week
Looking at this week's schedule, no game jumps out. Fredonia and Buffalo State, on paper, appear to have two relatively easy games against Morrisville and Johnson and Wales, respectively. Though Potsdam scored an upset win over New England College, that was at home, and this weekend they travel to the number one team in the nation, Manhattanville, where it's always tough to play. It may be a long weekend for the Bears.
Utica at Cortland and Brockport at Lebanon Valley don't capture the imagination. Geneseo at Elmira could be an interesting game, but it would be a whole lot more interesting if we knew that Elmira really is back to last year's playoff form. Hamilton at Oswego is another potentially interesting game.
So, what do we have left? Cortland at Morrisville gives us an opportunity to see if the Mustangs can beat another future SUNYAC opponent. So, that's a candidate.
That just leaves us two games left, Curry at Plattsburgh and Plattsburgh at Skidmore. Curry did beat Geneseo badly, so this does potentially make their match up with the Cardinals an interesting comparison. But, I'm going to go with the Tuesday Plattsburgh game against the upstart Thoroughbreds. When this game was scheduled, Plattsburgh probably figured it was an easy "W." Not anymore, as the wild parity in Division III hockey this year takes another test.
"Putting those two teams on our schedule a few years ago, people probably thought we were just looking for two easy wins, but that's not the case anymore," Plattsburgh coach Bob Emery said. "The landscape of Division III hockey has changed — anybody can beat anybody. You have to show up every night."
On The Periphery
By now, everybody has probably seen the embarrassing gaffe by Patrik Stefan when he muffed up an empty net goal to clinch the game only to have the Edmonton Oilers rush down the ice and tie it up with two seconds left. Luckily for Stefan, his Dallas Stars got the two points thanks to a shootout win.
True, when looking at the play closely, the puck hit something on the ice and bounced over his stick causing Stefan to whiff at the puck just as he was going to backhand it into the wide open net.
However, the real question is why did he wait that long to shoot the puck? He had an easy opportunity to score into the empty net on a forehand when he brought the puck into the zone all alone. That was really his major flub, not missing the backhander.
I have to wonder. Without having any idea what was going through Stefan's head (though he said he carried it in close because of the bad ice), I wonder whether he was trying to put the Oilers away politely. So many times recently, we keep hearing how it is not sporting to rub it into the other team. In the NBA, a fight occurred between Denver and the Knicks because New York felt they were being "disrespected" by the Nuggets.
Has sportsmanship gone too far? Did Stefan not properly bury the opposition because he felt that would be unsporting? I'm all for sportsmanship, and the lack of it will rile me up like few things will, but sometimes you have to kick your opponent while they are down just to make sure they don't get up. Sometimes you have to run up the score, because your opponent just may have the capability to comeback. It's not bad sportsmanship to make sure you win a game (within the rules).