One is from Revere, Mass., speaks with a thick-as-pea-soup Boston accent and regularly puts his Italian heritage on display by leaving cannolis in the UNH dorm refrigerator, and the other two are Western Canadian boys born and raised — an odd grouping off the ice, to be sure, but a combination in Jerry Pollastrone, Matt Fornataro and Trevor Smith that has conjured up good karma and a cruise liner-full of points on the ice for the red-hot Wildcats this season.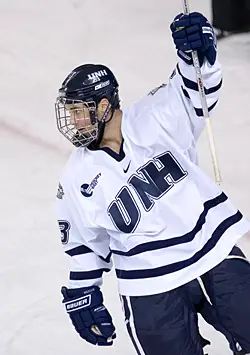 "They're a good group of guys … really fun to be around," said UNH captain Josh Ciocco, who has watched the trio blossom from players of promise last season to hockey forces to be reckoned with this winter.
"Matt has the style and swagger, he has that long flowing blond hair and surfer-boy California look even though he's from Alberta … he does pretty well with the ladies. Trevor is a really normal and down-to-earth guy and just kind of goes with the flow of things. Jerry … well, he's just pudgy."
Personalities and pudginess aside, Pollastrone, Fornataro and Smith have added an explosive second line to the Wildcats attack and turned UNH into what looked to Vermont coach Kevin Sneddon like "a team of NHL Hockey All-Stars" during UNH's recent sweep of the Catamounts up at Gutterson Fieldhouse.
After promising freshman seasons from Smith (10 goals, 10 assists as a freshman) and Pollastrone (four goals, 12 assists as a freshman) and a good sophomore season from Fornataro (five goals, seven assists) while skating together on the same line last season, there were some signs of the impending offensive deluge this year.
UNH head coach Dick Umile anticipated the increased goal production, sat each player down over the summer and informed them that he liked what he'd seen last year and he was going to keep the trio's line intact to begin this season.
Did Umile ever consider breaking them apart or trying something else?
"Absolutely not," said an adamant Umile. "All three of those guys have great stick skills and they really gelled as a unit last year. Jerry is a guy that can skate like the wind and is a physical presence who is a real playmaker on that line; Fornataro is a player with a nice shot and release who also isn't afraid to go into the corners and do all the little things."
"Trevor is a player with good stick skills who has one of the best shots and releases that we've ever had up at UNH," added Umile. "The puck wasn't going in for him early last year and maybe there was an adjustment to the college game, but things really came together for him in the second half of last year. He's a big scoring threat when he's shooting the puck."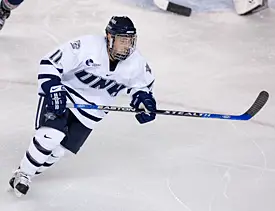 While seniors Brett Hemingway and Jacob Micflikier, paired with junior Mike Radja this season prior to his injury, have continued to perform at a high level and lead the Wildcats offense this season, the trio of underclassmen has exploded on the hockey scene and taken UNH from "very good" to "dominant, national title-contention" status this season.
"When Daniel Winnik left there were some questions as to how we would replace his scoring and who would step up," said UNH senior Jacob Micflikier. "A large group of younger guys have really come into their own this year and answered all of the question marks that we might have had.
"If another team focuses too much on our line, then that second line or even the third line is going to do some damage," added Micflikier. "And if they look to stop Trevor and Jerry and Matt then we think that we can go out there and put the puck in the net. We all saw what those guys could do in practice last season, and we knew it was only a matter of time before that translated over into the games."
The 'Cats have run away from the competition in Hockey East, built up a perfect 10-0 record on the road this season and are a staggering 7-1-1 against nationally-ranked opponents this season — a combination of improved goaltending from junior Kevin Regan, an emerging group of defensemen and two explosive lines about which opposing teams have red light-filled nightmares.
"There's a huge difference between last season and this season," said Smith. "I think it took us a little time to click as a group skating together and it took me a little while to get acclimated to a new place with new people … there's always an adjustment period."
On the ice, British Columbia-born Smith's adjustment period seems to be over as he has developed into one of the most dangerous snipers in all of Hockey East and is atop the conference scoresheet with 30 points and 14 goals in his first 21 games this season.
"We brought him in here to score goals, and that's exactly what he's going," said Umile.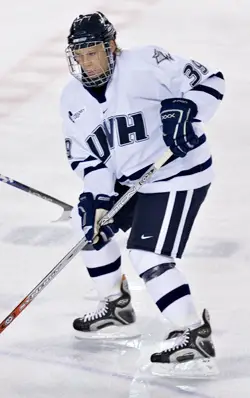 Pollastrone is the swift skater who brings a little Boston swagger with him on the ice and brings a little bit of home and family warmth into both Smith and Fornataro's worlds — hundreds of miles away from their families and homes in Western Canada.
"Jerry comes from a great family in Revere, and I know he and his parents host Trevor and Matt over in Boston for Sunday meals all the time," said Umile, of the 20-year-old left wing with eight goals and 14 assists through the first 21 games. "They've really developed as teammates on the ice and friends off the ice and that's been nice to see."
The 6-foot-1, 185-pound Fornataro utilizes his passing skills to set up Smith and Pollastrone for scoring opportunities and is second on UNH with 18 assists through 21 games this season — a skill that allows the Calgary native to communicate with his teammates on the ice even if he can't quite always understand them off it.
"We rip on Jerry all the time for this really thick Boston accent that he has," said Fornataro, the words escaping his mouth in his very own distinct Canadian accent. "I would say that I can't understand every fourth or fifth word that comes out of his mouth, and we get on him for that all of the time. He's got such a good sense of humor."
The disparate talents and colorful personalities — with or without an accent — have come together in Durham this winter to give UNH a perfect storm of circumstances to capture that elusive first national championship — a goal the Wildcats skaters plan to see through in the second half of the season.