One reason given for scoring in the WCHA being down this season is that many of the league's top forwards turned pro while many of its top goalies didn't.
North Dakota sophomore Ryan Duncan apparently didn't get that particular email. Undrafted by any NHL team, the 21-year-old forward has emerged as one of the WCHA's leading goal scorers, and he's done it against some of the league's best goalies.
Of Duncan's 25 conference goals in less than two seasons, 14 have been against the WCHA's top netminders: Wisconsin's Brian Elliott (five), Minnesota's Kellen Briggs (three), St. Cloud's Bobby Goepfert (two), Colorado College's Matt Zaba (two), Denver's Peter Mannino (one) and Minnesota's Jeff Frazee (one).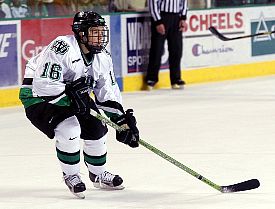 Jonathan Toews, the sophomore who has centered a line with Duncan for much of the past two seasons, explains the success of the 5-foot-6, 158-pound native of Calgary, Alberta.
"He's got that accuracy," Toews said. "He uses a little stick with no flex, and he's one of those guys who can get the puck up quick in close.
"Most goalies don't think he can get it to certain spots, and that's how he catches them off-guard," he continued. "Even from far out, he's got a great wrist shot and he can pick those corners like no one else."
Duncan currently leads the WCHA in points (26), goals (16) and power-play goals (10). Nationally, his 21 goals place him third in goals per game (0.75) and second in power-play goals (11).
"I work very hard on my shot," said Duncan, the left wing on UND's first line, which includes Toews and right wing T.J. Oshie, both first-round NHL draft picks. "It's probably the thing in my game that I work on the most. I find that's one of my strengths, so I want to make sure I keep improving it."
He's scored many of his goals by picking the top near corner while shooting around the right faceoff dot. However, any goalie who gets too comfortable expecting that shot from that spot might be surprised.
"He can put the puck wherever he wants, which makes him so dangerous," Oshie said.
During UND's Jan. 13 game against Alaska-Anchorage, goalie Nathan Lawson had his glove covering the top corner when Duncan fired a shot from near the right dot. But the puck went low and wide, catching the inside of the far post.
Playing St. Lawrence for the Ledyard National Bank Classic championship Dec. 30, Duncan passed up the opportunity to shoot from his favorite spot. Instead, he skated the puck through the slot and to the left dot, where he fired the game-winning goal past Alex Petizian.
"I don't have the hardest shot, so I want to make sure it's accurate," Duncan said. "I want to make sure it's deceptive so I don't shoot in the same spot every time and I can shoot from all over the ice."
Duncan recognizes that he's been fortunate to play at UND on lines with top-end talent. Last season, he played with Toews — the third pick overall in the 2006 NHL draft — and Drew Stafford, the leading Sioux scorer and a number-one draft choice of the Buffalo Sabres.
"I work on my shot a lot, but people get me the puck in great situations where it makes it a lot easier for me," he said. "I've just been in the right place at the right time. For me getting the point totals that I'm getting, I still got to give a lot of credit to those guys (Toews and Oshie) because they make a lot of things happen out there."
However, between injuries, absences and coach Dave Hakstol's juggling of line combinations when the team struggled to score goals, the Duncan-Oshie-Toews line (christened the DOT Line last October by UND fans at SiouxSports.com) started only half of UND's 28 games.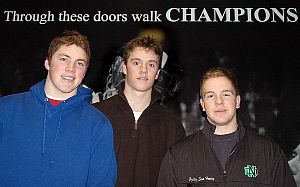 Toews hurt his shoulder Oct. 20 in the first game of the Maine series and missed three games as a result. In the same game, Oshie suffered a broken thumb, but continued to play. Through the first half of the season, the injuries affected the offensive production of both players, who are well below last season's output.
"Breaking my thumb and playing with a thumb cast made making plays a lot more difficult," Oshie said. "After my injury, I was probably at 40-45 percent strength for shooting. I feel like I'm back to 100 percent. My shot's getting harder and harder every day."
Toews also missed six games while he served as an assistant captain with Team Canada at the World Junior Championships in Sweden. He returned with a gold medal and renewed confidence in his scoring ability.
With all three players healthy, the DOT Line showed its potential during the Jan. 26-27 series at Mariucci Arena when UND swept league-leading Minnesota on its home ice, the first time in 27 years that the Sioux accomplished that task. UND's DOT Line accounted for seven of 12 goals (four by Duncan) and 16 points for the series.
Until after the Christmas break, although the DOT Line often dominated on the ice, its efforts weren't showing up in the scoring column.
"When you don't score for a while, your confidence level drops a little bit," Oshie said.
Toews credits Duncan for keeping the situation in perspective.
"I think back to the first half of the season, it was T.J. and I maybe sometimes getting frustrated when things didn't work out," Toews said. "Dunc was always the one saying, 'Guys, calm down. We'll be all right. We'll be fine. We're doing good things out there, so don't worry about it.'
"He's got that maturity and that composure to just keep working when you know things aren't going your way. I think it was just a matter of time before things did start working for us," he said.
All three players are sophomores, but Duncan at 21 is the seasoned veteran of the group. After graduating from Shattuck-St. Mary's prep school, he spent a season in the British Columbia Hockey League playing with the Salmon Arm Silverbacks. Oshie, 20, came to UND from Warroad, Minn., high school and Toews, 19, accelerated his studies to graduate early from Shattuck.
"Dunc's a lot more confident in his shot than I am," Oshie said. "Coming straight from high school, you want to pass a lot and dish the puck off. I think Dunc really matured in being confident in what he can do with the puck, and it's showed this season."
Duncan, the son of Bob Duncan, who played at UND from 1968 to 1971, is hopeful that he has a future in the NHL, despite his size and being undrafted. The success of smaller players such as the New Jersey Devils' Brian Gionta and the Tampa Bay Lightning's Martin St. Louis gives him reason to believe he can play at the next level.
"I'm not saying I'm even comparable to those guys, but they're definitely opening some doors for some small players in the new NHL," Duncan says. "Hopefully, I'll get an opportunity to prove what I can do. All I'm asking for is a chance and one day I'll be able to prove myself."
For now, Duncan said, "I just plan on getting my degree, staying in school and helping the Fighting Sioux win some hockey games. I'm just concentrating on getting home ice for the playoffs."