A Little Light
After being pounded in its previous three league games by a combined score of 32-0, it would have been understandable if Lebanon Valley went in to The Cooler at Hobart last weekend down and out.
But the reality couldn't be farther from the truth. The Flying Dutchmen have been able to keep their spirits up and almost stole two games from a struggling Statesmen team.
On Friday, Lebanon Valley scored three straight goals late in the second period and early in the third to take a 5-2 lead. It was an unusual place for the Flying Dutchmen players to be in.
"There is some heart here, some determination, and a little bit of talent here," said Lebanon Valley coach Howard Hutton. "What we haven't worked on is when we get a lead. There are so many things to get there, and it was the one thing we weren't prepared for this weekend."
It took some last second heroics for Hobart to eke out a 5-5 tie when Jason Merritt scored a shorthanded goal with thirteen seconds remaining.
Saturday's rematch was déjà vu as two goals in a 53 second span of the third period gave Lebanon Valley another two goal lead late in the game. But this time Hobart managed to score three goals of its own to steal a 5-4 victory.
"We know how to lose; now we need to learn how to win," said Hutton. "It was nice being up in the third periods, being able to match some lines and do some things."
Despite the disappointment of having a late lead in both games disappear, there were several positives to come out of the weekend for the Flying Dutchmen. Friday's tie was the first point Lebanon Valley has earned in league play since beating Neuman 4-2 on Nov. 23, 2004.
Another highlight of the weekend was the play of senior Alex Beatrice, who scored four goals and assisted on three others, having a piece of all but two of the Lebanon Valley goals on the weekend.
"He has been playing real hard," said Hutton. "I think it dawned on him that this is his last semester and he is giving it his all."
Hobart, on the other hand, has been struggling over the last five league games. The Statesmen are 1-3-1 over that stretch, being outscored by a 13-26 margin including being shutout in two of them.
"It shouldn't be as hard as it has been," said Hobart coach Mark Taylor. "We are doing a lot of good things that aren't helping us enough, and are doing a few bad things that are hurting us. We derailed a little bit, are in a funk, and it is a true test for us."
Nostaglia
Barring Hobart hosting a playoff game, I attended my last outdoor game at the Geneva Recreation Center this past Saturday. Starting soon after the season ends, construction will begin to enclose the rink's three open walls.
While I certainly won't miss the feeling of my toes experiencing every facet between cold and numb, there is a certain level of regret knowing that the days of the last collegiate outdoor ice rink are coming to a close.
Anyone who has attended games at Hobart has accumulated stories over the years that have to do with the uniqueness of the rink. And since I have been going to a few games there each of the last twenty-plus years, I have a few of my own.
I remember a game back in the early 1990's on a particularly snowy and windy day. This was well before more recent renovations added the screens on the side of the rink facing nearby Seneca Lake. During the game, there was a steady stream of snow blowing over the stands, and finally midway through the second period the game was halted while the snow, now well over an inch thick, was shoveled off the ice before the game could continue.
Another favorite story from the mid-80's is when RIT was visiting Hobart. Back then, there were aluminum benches in the penalty box. A hapless Tiger was whistled for an infraction, sent to the penalty box and instinctively sat down to serve his punishment. The resulting exclamation "Holy s-, that's cold" echoed through the rink as he quickly stood up, and remained that way for the duration of his sentence.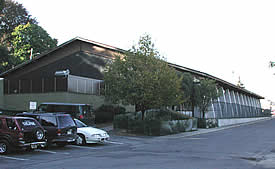 Even early season games weren't without their weather-related issues, as fog would regularly form around the ice during rainy weather. There have been several games where one goalie could just barely make out his counterpart at the other end of the rink.
Over the last few years, coach Mark Taylor and the Hobart players have embraced the uniqueness of their rink, even nicknaming it "The Cooler".
"It has served us well, but it is time to move forward," said Taylor. "It had a big piece of our first championship as a home ice advantage. It gave us an identity. But you always want to keep moving forward."
There is no doubt that the new enclosure will be much more comfortable for fans and players alike and will certainly help Hobart in recruiting. But in a way, I can't help but feel a little sad and nostalgic to see the end of an era.
Down the Stretch, Part 2
Two weeks to go in the regular season and the league has fractured in to two distinct packs. Manhattanville and Neumann have separated from the rest of the league and will finish first and second.
The Valiants have the inside line on the regular season title, with two games in hand. Neumann must sweep Manhattanville this weekend in order to take first place for good.
If needed, the tiebreaker criteria for the regular season are, in order: head-to-head record, number of conference wins, record versus common opponents, and overall record.
A Neumann sweep against Manhattanville will give them the first tie-breaker, no matter what the Valiants do the last weekend of the season. Any other result this weekend will send the title to Manhattanville.
Elmira, Utica, and Hobart are battling for the remaining three playoff spots. The Statesmen are currently two points behind the other two teams. All have four games remaining, with every game against each other except for Utica's pair this weekend against Lebanon Valley.
Elmira currently has the lead in conference wins, but it trails both Hobart and Utica in record versus common opponents. Utica holds a slight lead in common opponents and could build on its lead in that category this weekend.
Basically, third through fifth place is a big fur ball at the moment.