Take a look at a Robert Morris scoresheet from the previous two seasons and one name sticks out.
Christian Boucher's name comes up on the majority of the box scores as the Colonials' starting goaltender.
Now, take a look at the last month's worth of RMU scoresheets and Boucher's name might not be as prominent.
That's because longtime backup Joe Tuset, a senior transfer from Northern Michigan, is turning some heads for coach Derek Schooley's squad.
"Joe's always been a competitor," said Schooley. "When he's played, he's played very well. The only problem is that Christian didn't give up the net. Now, we have two very good goaltenders and that's a good problem to have."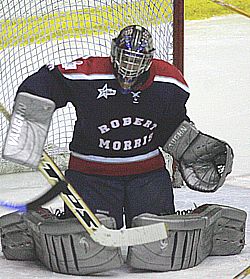 Last weekend, Tuset beat then-CHA-leading and then-No. 16 Niagara at home and now has an even 4-4-0 record with a 2.33 goals-against average and a .931 save percentage (sixth in the nation, leading the CHA). He also blanked Merrimack with a 29-save shutout back on Dec. 30 and was responsible for beating then-No. 2 Notre Dame in South Bend back on Jan. 7.
"One of the reasons I left Northern (in 2004) is because I wasn't getting a chance to play," said Tuset. "Once I talked to Coach Schooley here, he was up front with me and told me he'd give me a chance, but that I still had to prove myself."
Tuset came to RMU a semester before the school played its first game in the fall of 2004 and will graduate in May with two degrees.
"Robert Morris has an integrated program where you can do your undergrad and master's at the same time," explained Tuset, a 25-year-old native of Eagan, Minn. "In May, I'll get my undergrad in finance and my master's in information systems management. Finance and computers don't really go together, but I'll figure out a way to make it work."
What Tuset has also made work is biding his time behind the incumbent Boucher for two years before getting his break this season.
"They're great friends and they room together on the road," said Schooley. "You don't get that everywhere as sometimes, jealousy can play a role with two goalies."
"Bouch is one of my better friends on the team," added Tuset. "There's no animosity between us and I've never had any hard feelings with any goalie I've played with throughout the course of my career."
Tuset and Boucher have combined for a .955 save percentage and a 1.50 goals-against average in the last four games. The offense has averaged four goals a game during that stretch and that obviously helps.
"You can't say I was the one that beat Niagara or I was the one that beat Notre Dame," Tuset said. "Everyone on the ice pitched in to get the job done."
"Joe's a great student, a 4.0, a great person and an excellent role model," Schooley noted. "He's never had a negative attitude and when he's on the ice, he's calm, cool and collected."
Tuset confirms that outlook.
"I just go out there and try to not put too much pressure on myself," he said. "Just go out and have fun, don't worry about anything and give our team a chance to win is all I've tried to do."
So who starts this weekend?
"Neither of them has played poorly," Schooley said of his goalie combo. "I think the two of them will split time down the road here until one of them establishes [himself] as the No. 1 guy. Like I said, this is a good problem to have and I can't say a bad word about Joe or Christian."
Colonials Sweep Aside Purple Eagles
Niagara went into last weekend's road series at Robert Morris ranked 16th in the nation.
The Purple Eagles left the Pittsburgh area with two straight losses and a two-spot drop in the national polls.
Friday, NU was obliterated, 7-1, by the Colonials as Sean Berkstresser scored twice and added two assists to back Tuset's 30 saves.
"It was just one of those nights where nothing went well for us," Niagara head coach Dave Burkholder said. "It went from bad to worse. We had no competitive spirit in the (defensive) zone. We haven't had a game like this in a while."
The chaos continued Saturday in RMU's 5-2 win.
The Colonials owned the majority of chances in the first period, outshooting the Purple Eagles, 19-5, but neither team could find the back of the net.
Both teams broke out in the second period and each recovered from one-goal deficits with Robert Morris eventually taking a 3-2 lead into the intermission. Three of the five goals came on the power play.
Rob Cowan and freshman Dave Cowan connected on the team's first brother-to-brother goal as the younger Cowan fed the older for a shorthanded empty-netter that traveled the length of the ice and went in with three seconds left in regulation. It was Rob's first goal of the year and Dave's first assist.
Ryan Cruthers scored a pair for RMU.
Colonials' junior goaltender Christian Boucher came up big over the final 40 minutes, making 34 of his 39 saves in the game in the last two periods.
Juliano Pagliero finished with 32 saves for NU, including 19 in the first period, as Niagara held a 41-37 advantage in shots. With Bemidji State's win Saturday, the Beavers assumed the top spot in the CHA standings and relegated Niagara to second place.
Robert Morris freshman Kyle Frieday had two points (two assists) heading into last week before getting five points against Niagara, including a team-record four points (two goals, two assists) on Friday.
"The weekend was huge for us," said Tuset. "We're trying to separate ourselves from the bottom two (Wayne State and Alabama-Huntsville) and get into the top two."
RMU is now 3-2 against ranked teams this season. Robert Morris has posted wins against No. 2 Notre Dame (4-2, Jan. 7, 2007) and this weekend's sweep of Niagara. It also lost to Notre Dame (6-2, Jan. 5, 2007) at Mellon Arena and in an early-season meeting with then-ranked No. 7 Cornell (4-1, Oct. 26, 2006).
The Colonials host CHA leader Bemidji State this weekend.
"Robert Morris is a huge factor in the league now," Bemidji State head coach Tom Serratore told the Bemidji Pioneer. "I know it's probably a cliché to say it, but it's true — to win the league title you have to go through Robert Morris. They have a team that's coming of age — their main players are juniors now, they work hard and get good goaltending. On top of it all, they're starting to score some goals. Robert Morris is a very difficult team to play against.
"I hope our league lead isn't short-lived."
Warriors Topple Team USA in Exhibition
Wayne State played an exhibition game last Friday at home against the U.S. National Under-18 Team and skated away with a thrilling 6-5 overtime win.
Team USA's squad is stocked with high-end soon-to-be NHL draft picks who will be off to major schools this fall.
None, however, has chosen a CHA institution.
With shades of the win over Ferris State a couple weeks back, WSU defenseman Matt Krug tied the game with just over a minute to go in regulation on a power play and then won it two minutes into the extra session.
"We took a bad penalty at the end and Wayne State capitalized," said Team USA head coach Ron Rolston. "They have an unbelievable power play and they're a very hard-working team. I'm surprised they are where they are in the standings. They're a much better team than their record would indicate."
Nate Higgins potted three goals in the win and senior goalie Will Hooper earned a much-needed win, though it won't be reflected on his NCAA record.
As a side note, only two NTDP alumni have ever played for CHA schools — forward Nick Shrader (Wayne State, 1999-2003) and goalie Rob Bonk (Niagara, 2000-2004).
UAH-BSU Rivalry Continues In Huntsville
Alabama-Huntsville and Bemidji State historically play each other tough and last weekend was no exception.
The teams skated to a 5-all tie Friday down south and BSU rebounded for a 3-1 win Saturday.
"I thought we played a pretty good hockey game," UAH coach Doug Ross said to the Huntsville Times Saturday. "We outshot them (43-27) and had a lot of good chances. Their goalie just took it from us."
Matt Climie stopped 42 shots in the victory. Marc Narduzzi pitched a 24-save outing for the Chargers.
A total of 2,956 fans packed the Von Braun Center for Friday's game, the largest attendance of any game hosted by a CHA school this season.
"With (Bemidji) it's a battle every single time," said Chargers' forward David Nimmo, who had two power-play goals and an assist, to the Times. "Seems like no matter what happens in the game it comes down to one goal."
Jake Bluhm's goal with 8:21 left to play forced overtime.
Narduzzi made 27 saves for UAH and Climie turned aside 24.
"It's the best we've ever done down there," said Serratore in the Bemidji Pioneer. "We'll take it. Now we're in a position where we control our own destiny; the title is ours to win.
"Overall, I'm happy with the way we're playing right now. We're at the point now where we just have to take care of business. We want to position ourselves to be the top team going into the CHA tournament in Des Moines. And it would also be great to win the league title and hang another banner in the rafters — that's important too."