Apparently, Wayne State plays its best games against ranked teams.
That trend continued last weekend as the last-place Warriors took three points from then-No. 17 Niagara with a 6-1 pounding Friday night and a 4-4 tie Saturday night, which came after rallying from down 4-2.
The Warriors topped then-No. 12 Cornell back in November.
With the three points last weekend, WSU is inching back to respectability in the CHA. Niagara, on the other hand, is 0-3-1 in its last four games, all league contests.
"Friday night's game we really dominated, but NU came back with a vengeance (Saturday) night," Wayne State head coach Bill Wilkinson said. "Certainly, their power play is awesome. I thought their fourth goal would have sealed the game, but our guys really fought back in the third. With two power-play goals of our own, it was a big effort to come back and get the point."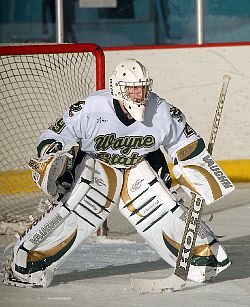 Juliano Pagliero was pulled from the Niagara net on Friday in a scenario that NU hasn't had to use this season. Purple Eagles' head coach Dave Burkholder said Pagliero "had a bad night, but he's bailed us out in a lot of games this season and he'll be back.
"We're just going through a little spell right now," added Burkholder. "I was hoping with a week off, we'd come back hard and mentally refreshed. We didn't play very hard in the first and unfortunately in the second, we really didn't have the chance to see if we could make a comeback. Everything they shot went in the net.
"We got out there (in the third) and had a lot of big bumps that really got the bench going; we needed that. We haven't been an all-the-time kind of team lately and we're just trying to figure it out. Obviously, our most important hockey is still to come and I'm sure we'll get better and fix it. We've been a very, very good hockey team this season and we're just going through some bumps in the road that, hopefully, we can recover from."
"It's a huge win for us," WSU senior goalie Will Hooper said. "We've played with them all year, but we were in their barn the last two trips. On our home ice, though, it's a different game. We're used to the cold and the bad conditions. We're used to it, so I guess it's home sweet home for us. We scored early and that was the big difference. Last time we played them, their goalie just stood on his head and he was the difference. This time, we got off to a quick start, blocked a lot of shots, and our penalty kill was really good, too."
Wayne State now has nine wins on the season, three more than all of last season. And while it's an improvement, WSU is still the CHA cellar-dweller. Wilkinson noted injuries have taken their toll on his squad, but stopped short of using that as an excuse.
"We've had a lot of people missing this year," said Wilkinson. "Going through this season it seems like there's always someone coming or going from our lineup. Our guys are starting to gel a little bit right now, though, and one of the big things is that our goaltending is getting more solidified. Hooper played well (Friday) night and (freshman Brett) Bothwell was solid (Saturday) night. Special teams are starting to click better now, too."
Hooper has won two straight starts and allowed just two total goals in those wins (Feb. 10 against Alabama-Huntsville and last Friday against NU). He looks to start one of WSU's last home games this weekend against Bemidji State and is hoping to go out with a bang.
"I've been working really hard in practice," Hooper said. "I guess I kind of realized that this is the end of the road for me, too. I didn't want to end playing the way I was. I really wanted to go out on a good note. Everyone has really been working hard and we think that maybe we've finally turned the corner. Now the big key is to stay consistent over the next few weeks."
WSU has the Beavers this weekend and finishes the regular-season slate at Robert Morris next weekend.
"Bemidji is no different from Niagara," said Wilkinson. "They are a good, solid team with good goaltending and defense. They may not be as quite as offensive-minded as NU, but they have a different look and they're dangerous. We have to make sure again that we play smart and don't take penalties, especially going down the road into the playoffs here."
Bemidji State: WCHA or Nothing
It now appears, according to the Bemidji Pioneer, that if Bemidji State doesn't join the WCHA and get $2.5 million in pledges by May of 2008, the team is history.
"The future of hockey on campus can only be assured through the men's program gaining both admission into the WCHA and the raising of 2.5 million in pledges by May of 2008," BSU president Jon Quistgaard told faculty, staff and students during a campus budget presentation last Thursday, and reported in the Pioneer. "I know there are those who disagree with my approach. However, I do not see any other solution to the Division I challenge. These are the steps necessary to ensure the future of our proud hockey tradition."
Quistgaard's plan is also part of a proposal to adjust expenditures by $5 million campus-wide by 2010 and includes a permanent reduction in university operating budget support for athletics of $750,000 by 2010 with men's hockey at the forefront.
"After careful analysis and consultation, I have determined that a number of additional actions must be accomplished to complete the restructuring of our athletic offerings," Quistgaard said at the presentation. "The path we will take depends upon whether Bemidji State can remain in Division I sports. If we can, then restructuring will occur in the remaining sports. If we cannot, we will no longer be able to participate at the Division I level and this knowledge will drive restructuring within athletics.
"We are going to very aggressively pursue membership on the men's side of the WCHA."
According to Quistgaard, the $2.5 million is needed to achieve the necessary financial stability and to enable ongoing commitments to the men's hockey program. Plans are for that $2.5 million to be spent down at a half-million dollars per year as the program moves into the WCHA and into the new regional events center.
"Once we know where we are with the hockey situation that will begin to drive the other decisions," Quistgaard added. "I don't want to engage in that speculation right now until we know more. We're just not at a point where we know enough that I could comment on that with some assuredness."
Increasing ticket prices for men's hockey games is another part of the restructuring plan.
Burkholder added in a Niagara Gazette piece Tuesday that "everyone's looking out for their own interests with the CHA being so volatile. Some schools are being proactive."
With the ECAC women's conference realigning next season, there is also speculation the men's league would mirror that and have an opening for a team such as NU.
Wayne State still has not received word from the CCHA on its application.
UAH Gets Two More Canadian Recruits
Alabama-Huntsville has reportedly received verbal commitments from two Canadian players in forward Vince Bruni and defenseman Matt Baxter.
Bruni will head south to UAH next fall and in doing so will become the third member of the Aurora Tigers to suit up for the Chargers in two seasons.
Freshmen Cale Tanaka and Brandon Roshko played for the Ontario Provincial Junior Hockey League's Tigers last season and Bruni came to Aurora at this season's trade deadline from the Vaughan Vipers.
From Toronto, the 19-year-old Bruni was chosen in the seventh round in the 2003 Ontario Hockey League Priority Selection by the Brampton Battalion, but stayed away from major juniors to keep his NCAA options open.
The 6-foot-1, 190-pound Bruni recorded 22 points in 25 games this year between Vaughan and Aurora.
Baxter, an 18-year-old from Courtice, Ontario, stands 6-foot-3 and 180 pounds and plays for the Bowmanville Eagles of the OPJHL. He led the Eagles' defensemen in points during the regular season with three goals and 37 points and is also the top scoring defender in the playoffs with six assists and seven points. Bowmanville plays the Kingston Vees in the next round starting Sunday.
Forward David Ross, a Niagara recruit, also played for Bowmanville this year.
Crunch Time
With two weeks left and a three-team race for spots 1-3, tiebreaking policies could be in full effect. Here is the breakdown:
1. Best record head-to-head among teams involved.
2. Most wins in conference play.
3. Fewest goals allowed in conference games played between the teams involved.
4. Fewest goals against in conference play.
5. Best goal differential in conference games played between the teams involved.
6. Best goal differential in all conference games played.
Bemidji State is in first place with a 9-5-4 league record, closely followed by Niagara (8-4-4) and Robert Morris (9-7-0). The Beavers are done after this weekend, while NU and RMU conclude next weekend.
Alabama-Huntsville sits in fourth with 13 points and WSU last with 11. Wayne State plays at Robert Morris next weekend and UAH hosts Niagara after being idle this weekend.
The CHA tournament starts March 9 in Des Moines, Iowa.
Anything is possible.
With files from Tom Balog.