The Playoffs Are Here!! The Playoffs Are Here!!
Yes after a hard fought regular season with more twists and turns than a roller coaster at Six Flags, the playoffs have arrived and lest anyone think that the outcomes are predictable, take a listen to what the coaches think this time around.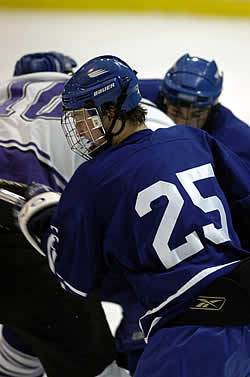 "I wouldn't be surprised if Amherst were hosting next week," said Conn College coach Jim Ward. "I am sure a lot of other coaches are saying the same thing as all of these teams have played well and can beat anyone in a playoff setting, even on the road. We are excited to be in the playoffs for the first time but not content just to have been here. We need to focus on what we do well and really get strong games from some of our role players. Jake Henry might have played his best game of the season against Babson and we are going to need more efforts like that from some other people to have success against Colby."
Norwich coach Mike McShane likes what he has seen the past few weeks where the Cadets have been on a roll. That said he knows that the focus needs to be there as there are a lot of good teams in the league looking to knock off the defending champs.
"We have been playing pretty well and last week we played well against two very good teams in Bowdoin and Colby. The games could have gone either way as it was pretty even in both games early. This league is so tight that we just need to focus on our game and hopefully take advantage of being at home where we have played pretty well."
At Castleton, coach Alex Todd expects the playoffs to mirror the regular season. "Norwich is on a roll right now," stated Todd. "They are playing really well and I understand that New England is healthy and has some freshmen playing really good hockey right now. The Skidmore versus Babson game has so much speed on that big sheet, you know that will be a great game and our game at Southern Maine will be very competitive too. You have to look out for USM with the number of seniors they have – they are very well coached and for some of these guys this is their last chance at getting that title they have been going after in their four years. It's really exciting and I wouldn't be too surprised to see an upset in the first round."
The seeds are set and the action will be ongoing all of Saturday afternoon into Saturday night. The rules are pretty simple right now — win and you move on — lose and you go home. Nobody's ready to go home just yet so expect a lot of energy and exciting hockey to come out of both leagues this weekend as teams look to get into the final four of their conference and play some really important hockey in March.
Here's a look at the pairings for the quarterfinals in both leagues and how this intrepid prognosticator thinks it will end up.
ECAC East
#8 UMass-Boston @ #1 Norwich
The Beacons have clearly improved under first year Head Coach Peter Belisle and goalie Ryan Donovan has kept the young team in almost every game. They run into a Cadet team on a streak of six solid wins against the iron of both leagues. Forwards Rick Cleaver and Nikita Kashirsky have turned it up a notch in the second half and freshman goalie David Thompson has been nothing less than solid. Not too many teams can go to Northfield and pull off the upset and UMB just doesn't have the experience or talent just yet to slay Goliath. Norwich wins 6-1.
#7 Salem State @ #2 New England College
Salem State has steadily improved in the second half getting consistent goaltending but struggling in the offensive categories. New England College has proven the old adage of looking to play your best hockey at the end of the season by winning their last five games. Freshman Mark Ehl and junior Mike Mullen have been offensive leaders while juniors Mike Carmody and Brian Pouliot have added their talents to the second half run that saw the Pilgrims move from sixth to second just one point behind Norwich. Ron Baia has become a steady goaltender and NEC has too much firepower for Salem State to match-up with. NEC wins this one by a 5-1 score.
#6 Babson @ #3 Skidmore
This is going to be a track meet. This match-up has two teams that can get up and down the ice and like playing on the Olympic size surface. There's lots of offensive talent on both squads so look for goalies DJ Delbuono and Skylar Nipps to be a big part of the outcome. Teddy Gowan has picked up his game for the thoroughbreds in the second-half as has Shane Farrell for the Beavers. Senior Rob Hutchison sees his last chance to move Skidmore into the final four in the playoffs and has led the Thoroughbreds in scoring. This one is really too close to call but think the home team and the better goalie win this one. Skidmore pulls it out 6-4.
#5 Castleton @ #4 Southern Maine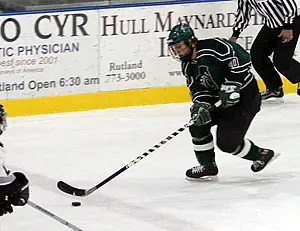 The young bucks versus the older more experienced team is what's on tap in this match-up determined by the tiebreaker system for the seedings. Castleton has no fear about taking their team on the road and relishes the opportunity to knock off one or more of teams that handed them losses in the regular season. Joe Huchko's leadership and Steve Culbertson's scoring will be big factors to try and offset USM's strong goaltending from David Beckles and high-flying scoring duo of Chris Sparkes and Mark Carragher. As it usually goes mistakes will be the deciding factor where the opposition can capitalize and the Huskies experience will be the difference in a close game. USM wins in overtime by a 3-2 score.
NESCAC
#8 Trinity @ #1 Bowdoin
The Bantams played a very tight game at Bowdoin just two weeks ago so they know they can skate with the Polar Bears. Trinity has lost several one goal games during the regular season and hope that pattern doesn't carry over into the post-season. The Polar Bears earned the top spot with a strong 8-2 win over St. Michael's last weekend and now have Captain Brian Ciborowski back to lead them into the playoffs. Bowdoin has been strong defensively and Tim McVaugh has contributed some big goals coming down the stretch. The "old barn" will be rocking in Brunswick for this one where Bowdoin moves on to host the final four. Bowdoin wins 4-2.
#7 Williams @ #2 Middlebury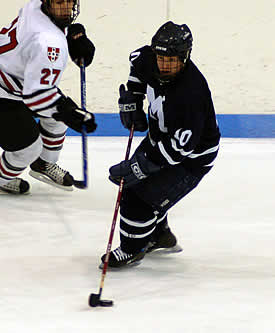 Not the type of season that most pundits would have predicted for either team but the Panthers have gone 5-1-2 in their last eight games and moved from fifth to second in the final weekend of play. The defending league and national champions are entering the second season having improved the offense in the past ten games. They will need some tighter defense and more consistent goaltending if they want to make any noise in the post-season. Junior Mickey Gilchrist always seems to play well in big games and the Panthers have the "BTB" (Been There Before) factor against a Williams team that has struggled to score goals and play consistently one game to the next. This is potentially the final home game of the season for a group of seniors at Midd who have played well into March — look for the Panthers to continue their hunt with a 6-2 win.
#6 Conn College @ #3 Colby
]If there is such a thing as a trap game this might be it. The two teams played in a 3-1 Colby win during the regular season including a late empty net goal by Greg Osborne. Colby has a lot of talent and a power play that scares everyone especially in the playoffs. Conn has a goalie known to stand on his head in tough buildings and excited team that wants to do more than just show up in Waterville for their first playoff game in the NESCAC conference tournament. Rob Campbell and Ryan Howarth might have enough offense to support Greg Parker's goaltending and surprise the White Mules. This is an overtime special with the visitors pulling the upset 2-1.
#5 Amherst @ #4 Wesleyan
In another first the Cardinals earned their first ever home-ice seed in the NESCAC tournament but stumbled into the post-season going 0-3-1 in their final four regular season games. Amherst surpassed Wesleyan by going 1-5-0 in their last six games to fall out of the top four and now face a familiar opponent in the first round. These teams saw each other twice in the first two weeks of the season with Amherst winning both games by scores of 5-4 and 6-3. Will Bennett would like to keep his senior season alive and reach that 100 point career mark along the way to help the cause while senior captain Sean Ellis would like to re-capture the quality of play the Lord Jeffs displayed in the first half. Both teams had troubles coming in but could use this game to jump start them back to the successful style of play that had them atop the league just three weeks ago. Awfully hard to beat the same team three times in one year and Wesleyan plays well at home. Look for the Cardinals to advance for the first time with a 5-3 win in Middletown.
No I didn't pick too many upsets but then again I wouldn't be surprised if a couple of these games go the other way and nobody else should be either. In a conference where 1-6 were separated by just 6 points at the end of the regular season and where the other conference had a spread of just 3 points between first and fifth, the parity exhibited will probably make for some exciting hockey that all fans should enjoy.
The Playoffs Are Here!! The Playoffs Are Here!!
Drop the Puck!