All Rookie Team and Defensive Awards
Once again, in order to bring some publicity to players who are not recognized by the traditional end of season awards, the coaches felt there was a need to name an All Rookie team as well as awards for the best Defensive Defenseman and Defensive Forward.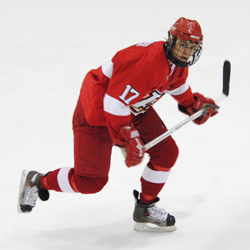 There was some confusion over this last year on the message boards, so I will repeat. I did not make these selections. Since the SUNYAC did not wish to expand the number of awards they hand out, I volunteered to mediate the process for selecting these awards. The coaches made the selections following the same rules as the other SUNYAC awards — the coaches nominated candidates from their own teams, they then voted for their choices from the nominated players without being allowed to vote for any player on their own team, and I tabulated the results based on the same scoring system. They may not be sanctioned by the conference, but I believe they hold the same respectability as the other officially sanctioned SUNYAC awards.
Here are the 2006-7 All Rookie Team and defensive awards.
F: Pier-Luc Belanger (Plattsburgh)
F: D'Arcy Thomas (Buffalo State)
F: Connor Treacy (Potsdam)
D: Gerard Heinz (Cortland)
D: Tom Breslin (Plattsburgh)
G: Todd Sheridan (Brockport)
Best Defensive Defenseman: Steve Sankey (Geneseo)
Best Defensive Forward: Brett Bestwick (Geneseo)
Hottest Team In The Country?
Plattsburgh could very well be. They are 9-1-2 in 2007, and in the last three games have scored 27 goals, including the recent 8-2 wipeout of Geneseo.
"We dug a hole early on and couldn't get out of it," said Geneseo coach Chris Schultz.
Which is exactly what Plattsburgh wanted.
"I thought Geneseo was a team that plays real well with the lead, and we knew that going in," said Plattsburgh coach Bob Emery. "So, we wanted to get out to a quick lead. Our key was taking advantage of their early penalties."
Schultz agrees, "I thought we were playing great in the first period and a half, but we kept taking penalties."
In total, Plattsburgh scored five power goals. Ryan Busby had a pair of goals plus two assists. Pier-Luc Belanger also got four points with a goal and three assists. Riley Hill, Ward Smith, Nick Rolls, and Joey Wilson also scored. Chris Molinaro made 23 saves for the win in a slight reversal of expectations.
"If you look at Geneseo's results over the year, I noticed they were either in tight games or they let up a lot of goals," Emery said. "With a goalie as good as Jokic, you don't want him to get in the groove, because if he does, he's hard to beat."
The key to the game was Plattsburgh creating havoc in front of Derek Jokic who was screened on the majority of the goals. Meanwhile, Geneseo was given the long shots with open lanes, but they never got in front of Molinaro, who was easily able to see the shots without any concern with deflections.
All season, Emery was never worried about his team's results. In the first semester, they struggled to score goals, and thus win games, and their goaltending was inconsistent. But, Emery was not concerned. He knew his team was playing well and doing the right things. He was patient, waiting for the bounce of the puck to turn his way and his goaltenders to settle down.
Well, that is exactly what is happening. The result is quite scary. This is a type of roll that is very difficult to stop.
Sebastian Panetta and Chris Kestell scored the goals for Geneseo. However, the big news was how Plattsburgh took Mitch Stephens completely out of the game. Despite getting an assist on the second goal, they never gave Stephens room to be able to create any trouble and set plays up, something he did all season, picking up 45 assists.
Despite the performance in their last game, the senior class who played fours year at Geneseo has a lot to be proud of. They were the ones that began the turnaround of that hockey program, dealt with three coaches in three years, won two consecutive SUNYAC championships, and made a hockey game the place to be on campus.
Brett Bestwick, Steve Jordan, Mike MacDonald, Mark Schwamberger, and Mitch Stephens have a lot to be proud of. They also will be massive skates to fill next year.
"They built it," Schultz said. "They set the landscape for Geneseo hockey. They carried themselves with class and dignity."
Indeed they did.
Riding A Hot Goalie
Kevin Amborski did it again. The goalie who had to sit out the first semester and then wait for an opportunity as Pat Street had won the job is the sensation of February. The Tony Romo of college hockey.
"Kevin stood tall," Fredonia coach Jeff Meredith said. "He had a number of big saves, but he also made the saves he was supposed to make. He made a big save 25 seconds into overtime right on his doorstep. For the playoffs, you need to play well, get a little bit of luck, and have good goaltending."
For Fredonia, make that great goaltending. Amborski faced 44 shots and stopped all but two of them in a 3-2 win. By all accounts, Oswego outplayed the Blue Devils in every other facet of the game. Yet, thanks to Amborski, the game went into overtime where like four days earlier, Fredonia performed the heroics.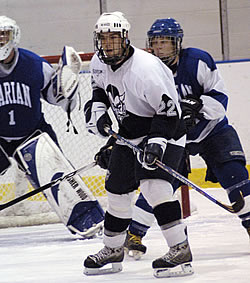 This time it was Matt McKeown scoring at 5:41 on the powerplay.
"I thought we played well, played hard," Oswego coach Ed Gosek said. "The goalie made key saves at the right moments, and that was the difference in the game. I was proud of the way we competed. Kudos to Fredonia for finding a way to get it done."
"They're just so explosive," Meredith said of Oswego. "They are so, so talented. The key for us was to be able to control the tempo of the game. We couldn't afford an up and down, back and forth game. We could not let the big crowd get into it."
It did take awhile for that big crowd to get into it as the first goal wasn't scored until 12:31 of the second period by Ryan Ellis. Fredonia answered early in the third on a Kraig Kuzma goal then took the lead on the powerplay 12-plus minutes later when Joe Muli scored. Francois Gagnon tied it up with 1:47 left in regulation.
Fredonia may have finished fifth during the season, but if Amborski started at the beginning of the season, the Blue Devils may very well have been home during the entire playoff run. Instead, Fredonia is putting together quite a run in the playoffs.
Meanwhile, Oswego lost in the semifinals for the third consecutive year after finishing first.
"The guys have been good," Gosek said. "The attitude has been good. We're practicing and preparing as if we are going to be in. Nothing different."
I fully expect Oswego to make the NCAA field whereupon they will have another shot to prove their critics wrong.
"We would like a second chance to get the playoff monkey off our backs," Gosek said.
First Year Lessons
Morrisville wrapped up its first year as a Division III team by sweeping Becker, another first year D-III squad, 5-3 and 10-2. Matt Damskov got a pair of goals and an assist in both games. Joe Herman got a goal and four assists in the second game. Scoring was spread out in the two contests as was the goaltending duties. Cody Williams made 34 saves the first night while Brett Freese stopped 24 shots the next day.
The teams wrapped up their respective seasons with a slew of penalties in the last five minutes including four majors and four game misconducts.
The Mustangs finished the season 7-10 against D3 opponents (10-13 including the exhibition games). They also won twice against future SUNYAC members and played others in some tight games.
"I'm really happy the way we progressed throughout the season," Morrisville coach Earl Utter said. "I'm really happy with our SUNYAC record. I was happy with the fact we were competitive throughout the season."
Utter would like to improve his team's speed, but one lesson he is learning is how much more competitive the recruiting field is at this level.
"It's so much more competitive," he said. "So many people are trying to recruit the same kids. Every kid I talk to is already being talked to by two to three other SUNYAC teams. We have to be prepared and do battle against all the other SUNYAC teams."
He will get that chance on the ice next season as they will compete in the SUNYAC, playing everybody twice with all games counting in the standings, but will still be ineligible for any postseason play. It will be another step towards their move as a full fledged Division III hockey team.
Only Representative
There will be only one Division III player on the Men's East Squad for the 2007 Pontiac Frozen Four Skills Challenge, and he comes from the SUNYAC. Fredonia's Kyle Bozoian has been selected as a finalist. There are two from Division II-III leagues on the alternates list for both the East and West as well as one Division III player on the West Squad. No Division III players were selected for any of the women teams.
Do us proud Kyle!
The Great Pretzel Faceoff
I haven't written about the pretzels around the league much this year, but I have certainly been testing them out. Last year, Brockport reclaimed the crown after Buffalo State took it away for one season. Brockport has kept the title this year as the Best Pretzel in the SUNYAC. However, they did slip a bit. But, the other contenders couldn't take advantage. Buffalo State would have won, but their pretzels weren't kept warm enough. Oswego entered the competition this year, but though they were very tasty, they were too small (size does matter!).
Thus, Brockport does retain the title, but if they continue to leave an opening, it could be up for grabs next year.
I've been hearing a lot of rinks have really good large chocolate chip cookies. Maybe I need to expand this competition. I may have to start trying the chocolate chip cookies at every rink.
I know, it's a tough job, but somebody has to do it. I'm willing to make the sacrifice.
FINALS PREVIEW
This year, we truly have a final nobody expected, hosted by a team that for awhile some wondered if they would be home for any playoff game. This is the first championship round with just a single game since 1992, which Plattsburgh won. The winner gets an automatic bid into the NCAAs.
Tickets cost $5 for adults, $3 for students, and $2 for SUNY students. Note the game starts at 8:00 p.m.
Fredonia (5-7-2, 14-9-4) at Plattsburgh (6-4-4, 14-7-6)
Once again, we don't see an Oswego-Geneseo final. In fact, we don't see any of those teams. Instead, we get a match up that goes back to the 90s, when Plattsburgh and Fredonia were the powers in the league. They may be the third and fifth seeds, but right now, one is playing the best hockey in the league and the other has the best goalie in the league.
It's 9 goals a game in the last three vs. 1.76 GAA. Something has to give.
"They have scored a lot of goals," Fredonia coach Jeff Meredith said. "You have to be impressed with the score they had at Geneseo. Everybody is impressed with that."
How does Plattsburgh try to beat Amborski? Their coach, Bob Emery, looks at it the other way around.
"The key late in the season is defense wins championships," he said. "The key is not to score goals, but to keep goals out."
That's all well and good, but Buffalo State kept goals out. They only let up one before overtime. Oswego kept goals out. They only let up two before overtime. Once you get into overtime, anything can happen.
So, once again, it comes back to how do you score on Amborski? For starters, you are not going to get many second chances on him as he lets out very few rebounds and the ones he does are rarely in front of him. You need to score on the first shot, and the way to do that is to repeat what Plattsburgh did in the semifinal — create traffic, lots of it, in front of the Fredonia net.
As far as not letting many in, that will probably happen, as Fredonia has not been scoring much lately. They have purposely avoided the run and gun game, sitting back waiting to take advantage of mistakes. The Blue Devils never had double digit shot totals in any period in the semifinal.
Chris Molinaro has been playing very well lately. If his defense in front of him can outskate the opposition and constantly strip the puck away like they did against Geneseo, it will indeed be a very low scoring game.
At this point, I could spew off a bunch of stats from the season, but the way these teams are playing now, that seems meaningless. The only thing that matters is whether Plattsburgh will be able to maintain their scoring explosion or whether Amborski will be able maintain his impersonation of a stone wall.
"We've had some success with Plattsburgh," Meredith said. "We're looking forward to the opportunity to play against a program like Plattsburgh on their home ice."
So, who do I pick? Well, I've been picking against Fredonia all playoffs, so why break the futility now? I like Plattsburgh for the simple reason the whole team is working like a perfectly oiled machine as opposed to Fredonia having to rely mostly on one player. Even if that player is the most important position on the ice.
On The Periphery
My wife collects camels. Seriously.
It all started when we were dating and she mentioned how she likes camels because she loves hills and mountains and the camel silhouette reminds her of those. So, one New Year's Eve, I gave her a pewter camel. If she picked up the habit of collecting camels, so what. How many could you possible get?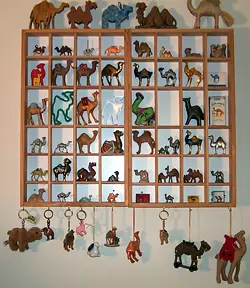 We now have over 250 camels scattered throughout the house, most of them in the living room. I keep losing shelf space for my items as the "herd" sometimes multiplies faster than a pack of rabbits. In one corner alone amongst four shadow boxes, there are over 120.
We have camels of all sizes and shapes. They are made out of paper, papier-mâché, metal, plastic, glass, porcelain, leather, brass, silver, wood, marble, cloth, rope, and wire. There is one from South Korea carved out of monkey wood, a very dense, hard wood that feels more like stone than wood.
There are figurines, pins, magnets, ornaments, rubber stamps, key chains, cookie cutters, stuffed, towels, candle holders, mugs, chopsticks, marionettes, photo frames, and candy holder. There are some unique ones like a camel towel holder. A camel menorah. Even a camel Halloween mask.
They come from all over: Egypt, Israel, Kenya, India, Japan, Korea, and Thailand. They range anywhere from a cheap paper origami to an expensive Lladro. For one special birthday, I bought her a camel charm necklace with a diamond in the hump.
Everybody has to have an entertaining passion. Even if it is a bit quirky. That's what makes life fun and helps relieve stress. We all have it when it comes to following college hockey.
This year, I set out to try to get to more games, and in the process I saw a lot of great hockey. My two favorites were the Geneseo at Oswego regular season contest and the Fredonia at Buffalo State playoff.
Also, what makes a passion so much fun is when you can share it with others. Another year of SUNYAC hockey is in the books, but it was great not just because of the action on the ice, but because of all you readers (even the ones who accused me of being a homer for just about every team in the league), the coaches, players, sports information directors, and fans I meet at the rink. I thank you all.
And, of course, a special thanks to my wife, who doesn't mind me collecting college hockey games the way she collects camels.