In a conference loaded with superstar players and high National Hockey League draft picks, Minnesota State's Travis Morin is neither.
Take one look at his resume and maybe he should be, as the Mavericks' senior forward has quietly become one of college hockey's most underappreciated players.
But don't tell Morin he's underrated.
"I don't have anything to say about that," Morin said. "It doesn't bother me. Whatever they have to say in the media, you take it with a grain of salt and let it roll off your back.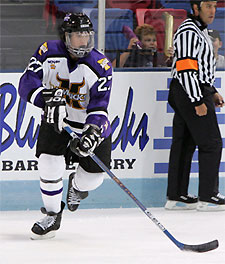 "If you get mixed up in worrying about what others think about you, you're going to end up playing worse."
Coming to Morin's defense are his head coach Troy Jutting and about 24 other Mavericks who say their captain is among the best players in all the land.
"If he's not the most underrated player in college hockey, he's dang close," Jutting said. "When you look at the youth of this team and when you see what Travis has been able to, not only on the ice, but in the locker room, I think that says a lot about Travis Morin as a hockey player."
The Brooklyn Park, Minn., native has the stats to back up his coach's claims. Tied for fifth in the WCHA with 39 points (17-22–39), Morin has enjoyed more on-ice production than more talked-about players like Jonathan Toews of North Dakota and Kyle Okposo of Minnesota — both top-10 NHL picks. He is tied with Toews' linemate T.J. Oshie. His 17 goals this season are tied for the team lead and fourth in the conference.
Perhaps the most impressive stat, however, is his consistency over his four seasons in Mankato. Morin's 133 career points make him the WCHA's active career scoring leader.
But as much skill and pride as Morin has on the offensive side of things, he's just as valuable to the Mavericks in his own zone.
"My line is looked at to score goals and be a plus every night, so we need to take as much pride playing defense," Morin said. "When we shut down teams defensively, it turns into good opportunities offensively."
Morin does things that don't show up in boxscores, too.
He logs as many minutes as any forward in the league because Morin excels as the Mavericks' most dynamic forward on the power play, as well as one of the better defensive forwards on the penalty kill.
It's also his work off the ice, however, where Morin gains a ton of respect from players and coaches.
Sophomore linemate Jon Kalinski credits Morin for his jump in production this season — Kalinski has also scored 17 goals in 2006-07, up from just four last year.
"Travis has had about 85 percent to do with it," Kalinski said. "We kill penalties together, we're on a line together and just playing with a guy like that is going to bring your points up. You're going to learn something."
As one of the youngest teams in the conference — MSU dresses as many as nine freshmen on any given night — Morin has been instrumental in the turnaround of the Mavericks this season. After a rough start during which the Mavs won only three of their first 18 games, Minnesota State has rebounded to finish 7-3-3 in its final 13 games.
Jutting credits the leadership of Morin.
"The kind of person he is for those freshmen and the things he does for his teammates," Jutting said, "and how he conducts himself and goes about his business has done a lot for these young kids and why we have gone from a very young hockey team that played that way, to a team that's still a young team, but not necessarily playing that way during the second half."
Morin chooses to lead his team in a different way. Unlike fellow senior captain Chad Brownlee — who tends to be more of the vocal leader — Morin tries to keep the team loose.
"Travis always likes to have fun," said Mavericks freshman forward Jerad Stewart. "He shows everyone how to still have fun while you are playing. Sometimes people get too caught up in how serious things are, but I don't think I have ever seen Travis not having fun at practice.
"He enjoys the game so much. It's fun to watch and learn from."
Morin's leaving the college game is not something Morin, or Jutting, is looking forward to.
"You hang out with these guys so much — going to school and living with them — that's the things I am going to miss," Morin said. "In the pro game, the relationships are so much different."
Jutting, however, has other things in mind, as in Morin on the ice.
"I wish I had four or five more just like him."