It was Kevin Costner's character Ray Kinsella who said in the 1989 blockbuster "Field Of Dreams" that the old-time baseball players were "guests in my corn."
This weekend, that could never be truer as all five CHA teams gather in Des Moines, Iowa, for the annual postseason tournament with an NCAA Tournament automatic bid on the line.
The tournament will be played at 95KGGO Arena, home of the United States Hockey League's Des Moines Buccaneers. Two ex-Bucs — Niagara redshirt sophomore defenseman Travis Anderson and Bemidji State freshman defenseman John Vadnais — played their junior hockey with Des Moines.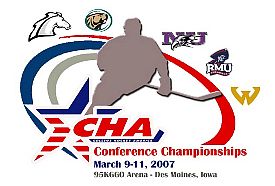 "The hockey world is rather united and everyone talks. I heard a spark of interest from them and I followed up," CHA commissioner Bob Peters said in the Des Moines Register. "If you go back to the history of hockey in Des Moines, it's a hockey town. That's one criteria, and the interest on the part of the Des Moines Buccaneers. They were interested and we were interested."
Bemidji State has won the past two CHA tournaments and gone on to the NCAA round of 16 as the No. 16 seed both years. Each time, the Beavers lost in the regional round to the eventual national champion.
Will that be the case this year? Read on, chaps.
This year, as with any other year, it's anyone's guess as to who will represent the CHA on the grand stage. The magic eight-ball has been brought out from behind the media guides and here is what this correspondent sees going down in Des Moines this weekend.
Friday — Quarterfinals
No. 4 Wayne State vs. No. 5 Alabama-Huntsville
Wayne State finished on a 5-0-2 run since the Chargers last beat the Warriors 3-1 on Feb. 9, and UAH is on a roll after beating and tying top-seed Niagara last weekend down south.
Chargers' assistant coach Lance West told the Huntsville Times that UAH has as good a shot as anyone to win the tournament, but "it's just a matter of if guys can get it together and make a run."
Wayne State more than doubled its league win total of a year ago (from three to eight) and doubled its overall win total from six to 12.
Season series: Each team won twice and lost twice.
Keys: For both teams, it's who gets the call in net. Two freshmen — UAH's Blake MacNicol and WSU's Brett Bothwell — give each school a bright future, but right now is what matters most.
Prediction: WSU outscored UAH, 15-14, in their four games, all of which were close. Overtime may decide this contest, but in any event, UAH head coach Doug Ross gets a rude welcome to retirement and gets to discover Huntsville's finest golf courses.
Saturday — Semifinals
No. 1 Niagara vs. Wayne State/Alabama-Huntsville winner
The Purple Eagles won the regular-season title without the benefit of a win in the final weekend and are a sour 1-4-3 in their last eight games, all CHA games, since sweeping Wayne State at home Jan. 26-27. NU had winning records against both of its potential opponents during the regular season and WSU and UAH both have been playing well recently.
Season series: Niagara/Wayne State: 4-1-1 in favor of NU; Niagara/UAH: 2-1-1 in favor of NU.
Keys: For Niagara, it's if the Purple Eagles can get a quick lead and unleash their well-documented fire power. Juliano Pagliero is solid in goal, but so, too, are WSU's Bothwell and senior Will Hooper. WSU doesn't have a top line, per se, and gets scoring from all four lines. Its defense is above-average and if WSU can shut down Ted Cook and Co., it's lights out for NU.
Prediction: Niagara ended the year on a rough stretch, but regains its composure here. Wayne State plays its tail off, as it always does, but falls.
No. 2 Bemidji State vs. No. 3 Robert Morris
This will be the game to watch. Bemidji State won just twice in its last 12 games (2-8-2), while the Colonials finished on a 0-5-1 string after winning five in a row. RMU is stacked with upperclassmen at both ends of the ice and on goal, but Bemidji has the league's top goalie in Matt Climie. Something has to give here.
Season series: 3-1 for RMU.
Keys: If Christian Boucher makes the saves he needs to make in goal, RMU is dangerous. Air Force found out the hard way last March that a 3-0 lead means nothing. The Colonials are never out of a game. BSU has tournament experience and championship experience. Those two are huge this time of year.
Prediction: Last year this was a gutsy call, but this year has RMU more mature and competitive. The Colonials in a mild upset here.
Sunday — Finals
No. 1 Niagara vs. No. 3 Robert Morris
Who's more dangerous? Conventional wisdom says top-ranked Niagara, which was nationally-ranked at various times this year, comes out on top. That's not to slight the Cinderella story that is RMU, but ask them, and they think they have as good a chance as any of the other four to win this thing.
Still, my gut says the Purps fly away with the title and make a decent showing at the national level. Part of me wants the Colonials, but a bigger part says NU.
Season series: RMU went 4-1-1 against Niagara in the regular season.
Keys: Again, goaltending and scoring first should figure in greatly here. Both teams have shown the ability to rally late in games, so no one is safe until the final buzzer sounds.
Prediction: Niagara in a one-goal nailbiter.
There it is, folks. Send me your thoughts, chirps, predictions, etc. at [email protected]. I welcome all fan mail and even hate mail. Bring it on!
And remember, that no matter who wins this weekend, they won't be in Heaven.
They'll be in Iowa.
CHA Hands Out Hardware Thursday
At the pre-tournament awards banquet Thursday, the CHA presented Niagara head coach Dave Burkholder with his second straight coach of the year honor and named NU senior captain Sean Bentivoglio player of the year and freshman forward Chris Moran rookie of the year.
Alabama-Huntsville senior defenseman and co-captain Shaun Arvai was named student-athlete of the year.
Also recognized at the banquet were the Easton Three-Star Award winners from each of the member schools: Grant Selinger (Alabama-Huntsville), Rob Sirianni (Bemidji State), Ted Cook (Niagara), Doug Conley (Robert Morris) and Nate Higgins (Wayne State), along with naming Cook the Easton Three-Star player of the year for the conference.
The coach, player and rookie awards were voted on by head and assistant coaches of all five CHA schools.
All Teams Jockey In Final Weekend
In final pre-tournament action last weekend, all five CHA teams played and made the standings picture a lot less fuzzy.
Beavers Take Both From NTDP
Bemidji State finished up its regular season two weeks ago at Wayne State and ended the schedule with two exhibition games against the U.S. National Under-18 Team Friday and Saturday at home.
The Beavers won both games, 6-2 and 3-2, and each night received praise from USA head coach Ron Rolston.
"Bemidji was really ready to play (Friday) night," said Rolston. "We were back on our heels from the start and they really exploited it."
"Our guys really worked hard (Saturday) night," Rolston said Saturday. "Bemidji plays a fast and tough brand of hockey and really challenged our guys on a number of levels this weekend."
"Coming into the weekend we wanted the sweep," BSU head coach Tom Serratore told the Bemidji Pioneer. "We wanted to have some difficult games and we wanted to have one game be a nailbiter because that's the way it's going to be in the playoffs. All those things happened. I think it's going to be a good confidence boost for us going into the CHA tournament next weekend."
To add to the USA alumni in the CHA, Vadnais participated in the National Team Development Program from 2002-03. He joins Rob Bonk (Niagara, 2000-04) and Nick Shrader (Wayne State, 1999-2003) as NTDP alums.
Niagara Gets Tie, Regular-Season Title at UAH
All Niagara needed last weekend was a single point at Alabama-Huntsville and a tie on Saturday night was the ticket.
"A goal that we set in the preseason was to win the regular-season title," Niagara head coach Dave Burkholder said. "But there still is some work that we have to do to reach our ultimate goal."
Friday, senior defenseman Mike Salekin had a goal and two assists for UAH as the Chargers put together back-to-back wins for the first time this season in front of 1,723 at the Von Braun Center.
David Nimmo's pinball-like goal with 4:33 remaining proved to be the game-winner.
"Not the prettiest thing in the world, but we'll take it this time of year," said Nimmo to the Huntsville Times. "We were just trying to go to the net and going hard and it had eyes. That's just one of those being in the right spot."
Then Saturday night in an emotion-filled game with pregame festivities for UAH head coach Doug Ross, the Chargers thought they wrote the perfect Hollywood script with an overtime goal, but the ref overturned it, saying the net was off its moorings before the puck crossed the goal line.
Warriors Sweep Season Series From RMU
Nate Higgins potted two goals and assisted on two others Friday night and scored again Saturday night as WSU wrapped up fourth place with a sweep at Robert Morris.
With the sweep, the Warriors took the season series from the Colonials, four straight. Wayne State topped RMU at home back on Jan. 19-20 to start the run.
Robert Morris, picked to finish fourth in the CHA this year, showed it has grown as a program and finished third in the league. Up until last weekend, RMU had a chance to win the regular-season title.
WSU finished one spot ahead of where it was picked and finished strong going into the tournament.
Momentum will be key. And Wayne State has it going full-steam.
MacNicol Happy In 'Bama
UAH freshman goaltender Blake MacNicol made 19 saves and won his third straight game last Friday.
But there's more to MacNicol than stats.
He left junior hockey with the Bay State Breakers in the Eastern Junior Hockey League for the chance to enroll at Huntsville this semester and seek out playing time behind Marc Narduzzi and Jordan Erickson. MacNicol said he doesn't mind giving up a year of eligibility to play half a season.
"That's what I've been trying to do my entire life is play college hockey," MacNicol said in the Huntsville Times. "Any other school if you were a freshman, you'd be sitting on the bench half a year anyway."
Bemidji Reels In MacIntyre From OPJHL
The Beavers will be adding a defenseman oozing with talent and leadership next fall in Port Hope Predators' blueliner Dan MacIntyre
MacIntyre captained the Predators in the Ontario Provincial Junior Hockey League this season and earned rave reviews for his efforts on the ice.
"He committed to our hockey club early last summer with the goals of coming to Port Hope to lead our hockey club to another championship and secure an NCAA scholarship along the way," Port Hope director of hockey operations Tim Clayden told the Northumberland Today. "The Predators have made great strides the past three seasons and are very proud of Dan's accomplishments."
"What I like most is it (Bemidji State) is only two hours from Fort Frances (Ontario, his hometown)," MacIntyre said in the same Today article. "We have worked at it (the scholarship) all season. The Bemidji coaches watched me play at the Showcase Tournament and have come down to Port Hope a couple of times."
MacIntyre, 20, said he plans to get his bachelor's degree in science and then go into dentistry.
Warriors Secure Jets' Blueliner
Second-year Fargo-Moorhead Jets defenseman Ryan Adams has committed to Wayne State for next season.
"I'm thrilled to know I have a place to play college hockey and reaching the Division I level is a fulfillment of my goal coming to play with the F-M Jets," said the 20-year-old Adams, a native of Deloraine, Manitoba.
In 51 games, Adams has 39 points, including 10 goals, and is second among defensemen in scoring in the North American Hockey League.
He's also the third incoming defenseman for the Warriors next fall, joining Jordan Bonneville (Cambridge Winter Hawks) and Brock Meadows (Salmon Arm Silverbacks). Matt Boldt, Dan Iliakis, Adam Drescher and Taylor Donohoe are graduating in May.