Off The Top Of My Head
• It doesn't seem right, but could it be that one of the most exciting seasons in recent history may end up costing the WCHA in the long run? More on that in a bit …
Revisiting Weekend One of the WCHA Playoffs
There weren't a whole lot of surprises in the opening round in terms of results. Sure, only three of the top five seeds won, but the top three got the job done and there was so much parity between the teams in the middle of the standings, the six and seven seeds winning was not stunning.
What was surprising, however, were the ways in which some of those teams punched their tickets to St. Paul and the Final Five this weekend.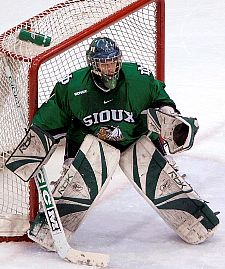 Almost everyone expected top seed Minnesota to take down Anchorage at home, but how many thought it would go to three games? Okay, maybe some did, because the Seawolves have been pesky in the postseason as of late.
And it wasn't a huge surprise that North Dakota swept Minnesota State in Grand Forks. The Mavericks turned it on in the second half of the season and figured to challenge their first-round opponent … until they drew the Sioux, perhaps the hottest team in the country.
Michigan Tech, another team looking good down the stretch, didn't seem like a huge underdog at slumping Colorado College, but how many expected just six goals in three games? The Huskies squeaked by and Michael-Lee Teslak gave up just three goals on the weekend. It's tough to win three games in three days, but if he puts up those kinds of numbers again this weekend, anything is possible.
And how about Wisconsin? I called the matchup with Denver a coin-flip situation, but the Badgers played like a champion that wants a crack at defending that title. They've still got a long ways to go, but with a surprising sweep of the Pioneers, they look determined and the Pioneers are left waiting to find out their NCAA fate for the second straight year.
And nothing was as exciting as the series in St. Cloud. The Huskies found themselves on the verge of elimination after losing Friday's opening game to Minnesota-Duluth. It took them overtime to force a deciding game Sunday and once there, it took three overtimes to declare a winner. Talk about being on the edge of your seat.
Yes, it certainly was an exciting weekend, up to par with the rest of the year, that set the stage for another great Final Five.
Play-In Drama
Sometimes, when people think about the opening-round, or "play-in games," in tournaments, they immediately lose interest. Even the WCHA opening-round game hasn't always been the most exciting matchup. But if you're heading to the Final Five this year, you may want to look at taking Friday off of work to get to town a night early.
The game between Michigan Tech and Wisconsin has plenty of intriguing storylines.
For starters, there are plenty of postseason implications. The Badgers are only going to the Big Dance if they win the Broadmoor Trophy and it all starts against Michigan Tech. And while the Huskies' NCAA hopes will mostly be decided by what happens in other tournaments around the country, it wouldn't hurt to put at least one more win on their resume.
Wisconsin will also be looking to avenge a sweep late in the regular season in Houghton. The Badgers have lost just twice in their last 10 games, and both of them came to the Huskies in a series that ultimately saddled UW with the seven seed.
Teslak stood on his head that weekend, too, earning a shutout and allowing just two goals as the Huskies chased Brian Elliott from his net with two goals in under two minutes to start the game.
It will be an interesting Thursday night as the weekend gets under way.
Breaking Down the Bracket
First, let's give a quick review of each team, including why it could or could not take home the Broadmoor.
No. 1 Minnesota
How the Gophers got here: After losing to Alaska-Anchorage in overtime on Saturday, it took them an extra game, but they advanced and remain the top seed at home — though not in their home arena — this weekend.
Why they will take home the trophy: After losing both games here a year ago, Minnesota settled for the No. 2 overall seed in the NCAA tournament and was upset by Holy Cross. The Gophers learned their lesson a year ago and head coach Don Lucia seems to have his team focused this year.
Why they won't: While the Gophers won the MacNaughton Cup and earned the top seed here, they had a series against every other team at the Final Five since the calendar turned to 2007. In those eight matchups, Minnesota was just 2-6-0. The Gophers split at Wisconsin and home against Michigan Tech (the teams they could face Friday), and were swept at home by North Dakota and swept in a home-and-home with St. Cloud, the teams they could face Saturday.
No. 2 St. Cloud State
How the Huskies got here: After losing Friday to Minnesota-Duluth, St. Cloud State won in overtime Saturday and in triple overtime Sunday to earn a spot in the Final Five.
Why they will take home the trophy: If there is anyone who can stand in the way of the hottest team in the league, it's goaltender Bobby Goepfert. After being stymied by the Sioux in the championship game at the Final Five a year ago, St. Cloud is back and looking for revenge, this time in the semifinal round. If they can get by North Dakota, they'd either be facing a Minnesota team that they had success against just a few weeks ago, or the winner of Wisconsin/Michigan Tech, which would be playing its third game in three days.
Why they won't: Goepfert and the Huskies just had a chance to cool down red-hot North Dakota, two weeks ago in the final weekend of the regular season. But, even at home, they settled for just one point. They've also won just twice in their last five games, and it took overtimes at home to get those two victories. And because they basically played the equivalent of four games last weekend, their legs won't be as fresh to open this weekend.
No. 3 North Dakota
How the Sioux got here: They maintained their recent trend and quickly disposed of Minnesota State last weekend in two games at Grand Forks.
Why they will take home the trophy: Plain and simple, they have lost just once since Jan. 5. North Dakota knows what it takes to win, especially as the three seed, because the Sioux did it just last year. As already mention, they took three of four points at St. Cloud just a couple weeks ago and they also swept the Gophers in Minnesota in the last weekend of January. Their only weakness in terms of the schedule is that they were swept by Michigan Tech and lost three of four games to the Badgers. Then again, Tech and Wisconsin would once again be in game number three of the weekend.
Why they won't: In a Final Five chock-full of solid goaltending, the Sioux are left out in that department. The other four teams boast four of the top five netminders in the league in terms of goals against average, while Philippe Lamoureux sits seventh. It's going to be hard to make these games into offensive slugfests, they could be in trouble.
No. 4 Michigan Tech
How the Huskies got here: It took three games, but the Huskies went to Colorado Springs in what was a do-or-die situation for both them and Colorado College in terms of NCAA tourney chances.
Why they will take home the trophy: Head coach Jaime Russell has had his team on a mission, particularly over the past couple months. It appears nobody has bought into it more than Michael-Lee Teslak. The Husky netminder who was 11th in GAA in league games a year ago is second this year. Also, the Huskies have always showed that they don't go into any game afraid of anyone.
Why they won't: They'd be playing three games in three days, their opponents after Thursday just twice. Also, the Badgers have had close to a normal week after ousting Denver in two games. The Huskies are on three days' rest, making the Broadmoor even that more unlikely. If they get by the hungry Badgers, they'd take on a Gopher team playing in its backyard. And if they got through to Sunday, they'd be playing their sixth game in nine days.
No. 5 Wisconsin
How the Badgers got here: While many people expected a tight series with Denver, few expected Wisconsin to advance in just two games. That's just what they did, with a pair of one-goal victories.
Why they will take home the trophy: The up-and-down Badgers really seemed to realize what was on the line last weekend, and everything fell nicely into place. They'll need to win it all this weekend to make the tournament, and seem motivated to do just that. With senior goalie Brian Elliott, the league's leader in WCHA games for the second straight year, they always stand a chance to win on any given night, and he seems to be leading a group of seniors on a mission that is trickling down through the ranks.
Why they won't: The Badgers have been all over the board throughout the season, so it seems a bit difficult to see them winning five straight games to win the Broadmoor. In fact, their longest winning streak this season was three games and their longest unbeaten was four, including their current streak. While they are more rested than most of the teams, they still face three games in three days. They were swept by the Huskies recently, as well and are 5-6-1 against teams in the Final Five.
How I See It Shaking Out
Here's how I see this weekend going down. Take them with a grain of salt … we've all seen my picks this year.
Thursday
Wisconsin 3, Michigan Tech 1: The Badgers ride their mission and their tournament dreams live another day as they avenge the sweep in Houghton behind solid work from Elliott.
Friday
North Dakota 4, St. Cloud State 2: A tight game through two periods, North Dakota exploits St. Cloud's more tired legs and the Sioux beat the Huskies for the second straight year.
Minnesota 3, Wisconsin 0: The Badgers' season comes to an end at the hands of their rivals, who clearly have more motivation than when the teams met at last year's Final Five
Saturday
Wisconsin 4, St. Cloud State 1: The Badger seniors haven't lost to St. Cloud since October of their freshman year, and know that this is their last game as collegians. That's clearly more motivation than that of the Huskies, who know their ticket is already punched.
North Dakota 5, Minnesota 3: The Sioux win the Broadmoor for the second straight year and take a 19-game unbeaten streak into the NCAA tournament.
Now, as we all know how my luck has gone, I have just ensured that Michigan Tech will win the Final Five.
NCAA Scenarios
With all the parity this year in the WCHA, it's been an exciting ride, but one that seems as though it could come with a price.
Taking a look at this week's PairWise and Bracketology, heading into this weekend, just two teams have locked up entries into the NCAA tournament.
That said, here's what the scenarios look like.
Locked up: With their resumes, both Minnesota and St. Cloud are locks for the national tournament, and in this week's Bracketology, both would get No. 1 seeds, though that's not for sure with all of this weekend's action.
Locked Out: Four teams — Alaska-Anchorage, Minnesota-Duluth, Minnesota State and Colorado College — are all certainly out of the tournament. The Tigers will be a Team Under Consideration, and looked at one point like they were headed to the dance, but played their way out of the tournament down the stretch and what little hope was left flew out the window when they lost to Michigan Tech last weekend.
(Pretty) Clear Necessities: North Dakota and Wisconsin both know what they need to do this weekend. The Badgers' only chance to defend their title will come if they win the Final Five and earn the automatic berth. North Dakota is probably in the NCAA tournament, and one win this weekend would seal it up for good.
Not So Clear: Denver and Michigan Tech are on the bubble, and could be in or out. Furthermore, the lines are not clear at all. Denver will have to sit back and watch the Final Five, as well as all other action around the country that could play a role in its bid for a berth. The Pioneers would love Wisconsin to beat Michigan Tech, and it appears they would be out if Tech won the play-in game but didn't win the Broadmoor. Check out this week's Bracketology for more wild and wacky scenarios, including those of Michigan Tech, which could lose right away and still get in, or win twice and still be left out.
It's going to be a wild weekend, especially for those two teams sitting on the edge. Simple solution for Wisconsin and Tech: Do the unthinkable and win three games in three nights and you're automatically in.
My Thanks To You
With this final weekend of WCHA action, it means it's the final column of the year. It was a wild one and one where I learned a lot. I know I didn't live up to Todd Milewski-like standards, but I hope that I at least helped you pass some time on Friday afternoon while waiting for the weekend's games to start. Thanks for stopping by every week and enjoy the final few weekends of 2007. Hopefully the WCHA will boast a national champion for a sixth straight year.