Grand Rapids, Mich., site of the Midwest Regional, could see history made this weekend.
The first game Friday at Van Andel Arena matches Notre Dame — 2006-07's most striking success story — against an underdog the likes of which the NCAA tournament hasn't seen in almost 30 years in Alabama-Huntsville.
The Chargers finished last in the CHA regular season and rallied from two-goal deficits or more three times in the CHA tournament to give head coach Doug Ross the ultimate going-away present in his final year.
But the defense-minded Fighting Irish, backboned by Hobey Baker finalist David Brown, may prove the ultimate test of UAH's magic-making capabilities as Notre Dame seeks its first-ever Frozen Four berth under second-year head coach Jeff Jackson, who knows a thing or two about NCAA tournament success from his days at Lake Superior State.
The other semifinal pits Boston University against Michigan State, led respectively by longtime friends Jack Parker and Rick Comley. The Terriers and Spartans — no strangers to the national stage — haven't met since BU beat MSU at the 2002 Great Lakes Invitational.
Each is coming off a loss to its archrival in the conference semifinals, but while BU's NCAA ticket was already firmly in hand at that point, Michigan State had to earn its way in with a third-place victory last Saturday.
Both the Terriers and the Spartans reached regional finals last season, but only one will get that far this time.
Notre Dame vs. Alabama-Huntsville
Friday, 5 p.m. ET, Van Andel Arena, Grand Rapids, Mich.
Notre Dame Fighting Irish
Record: 31-6-3, 21-4-3 CCHA (first)
Seed: No. 2 overall, No. 1 Midwest
How in: CCHA tournament champion
2006 NCAA tournament: none
It's a good week to be Jeff Jackson.
Not only did the second-year Notre Dame head coach win the CCHA playoff championship for the first time in program history, but his Irish are playing a few hours away from home in their second-ever NCAA appearance, and saw someone that made him very happy.
"I had a guy in from an architectural planning firm," said Jackson. "It's the best news I've had all week."
That the Irish have come so far so fast is in itself remarkable; that they've done so in the Joyce Center, an outdated multipurpose building on a campus where football is king, is even more surreal.
Notre Dame is this year's Cinderella story, having gone from a 13-win, eighth-place CCHA finish in 2005-06 and just five wins total in 2004-05 to become one of the most consistent teams in the nation this year. After ND's 2-1 win over Michigan Saturday to capture the Mason Cup, Hobey Baker finalist and senior goaltender David Brown said that Jackson is the reason for the team's turnaround.
"As soon as Coach came, he instilled the sense of professionalism that he brought with him. He really helped us to regain that pride in the program that we'd been missing, and changed the culture that we had currently. He improved that dramatically and really had everyone take more pride in wearing the Irish uniform.
"He started the ball rolling in the second half last year, and we really had a full year under him this year which really helped. We hit the ground running at the beginning of the year, which we wanted to do, and I haven't looked back since."
Brown certainly hasn't looked back. As a sophomore in 2004-05, Brown played 15 games and earned a .870 save percentage. In 31 games last year, Brown's save percentage was .915; this year, it's .931, with a nation-leading 1.58 goals-against average.
The Irish allow just 1.65 goals per game on average, but Jackson is quick to point out that Notre Dame is far more than the sum of that smothering defense. The Irish can score, and with six players who have registered 10 or more goals, Notre Dame's offense is eighth in the nation. They may not be household names, but sophomores Erik Condra (14-33–47) and Garrett Regan (14-12–26) and freshmen Ryan Thang (18-21–39) and Kevin Deeth (17-22–39) certainly will be.
As balanced as is Notre Dame, Huntsville "is pretty balanced, too," said Jackson. "They're a little bit of a run-and-gun squad. They're pretty deep offensively."
That back-and-forth kind of game — "bunny-rabbit hockey," as Jackson calls it — is not something Jackson wants Notre Dame to play. He knew the only way to beat Michigan for the league title was to stifle the Wolverines' explosive offense. "Maybe next year we'll play bunny-rabbit hockey, but we can't right now."
Forget that Alabama-Huntsville has 13 wins this year to Notre Dame's 31. When it comes to tournament play, said Jackson, nothing matters but the two teams on the ice in any given game.
Although the Irish have been "pretty good at not looking past opponents all season," said Jackson, "Huntsville's not gotten the notoriety that other opponents" in this weekend's field have.
That — combined with having won their first-ever CCHA championship tournament title — may put the Fighting Irish in danger in Grand Rapids.
"We lost to Robert Morris, didn't we?" asked Jackson. "And Bowling Green, who happened to be last in our conference this year, played us as hard as any team."
Alabama-Huntsville Chargers
Record: 13-19-3, 7-11-2 CHA (fifth)
Seed: No. 16 overall, No. 4 Midwest
How in: CHA tournament champion
2006 NCAA tournament: none (first-ever NCAA appearance)
So, what happens if Alabama-Huntsville scores first?
In their three wins at the College Hockey America tournament two weekends ago, the Chargers came from behind in all three games, winning two in overtime, to claim their first CHA title and NCAA tournament bid.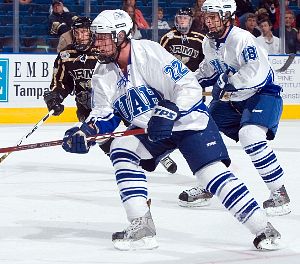 Next up: the country's No. 1 team, Notre Dame.
"Well, we definitely have our work cut out for us," said UAH head coach Doug Ross, who is retiring at the end of the tournament. "But I'm extremely pleased we get to go to Grand Rapids for a couple reasons. I'm from Michigan and it's where I wanted to go for the regionals. And secondly, it's an easy trip for our fans to make."
Ross and Notre Dame head coach Jeff Jackson, like the majority of Division I coaches, are friends and colleagues. They have crossed paths in the past, but never in the NCAA tournament, where it's win the game or load up the quiet bus.
"I know Jeff and I know what kind of a team he has over there," Ross said. "We saw them play down in Tampa when we were there (for the Lightning College Hockey Classic), but we didn't get to play them. As far as a game plan, if we stay out of the box and get our opportunities, which we will, and score on our opportunities, I think we will be OK.
"The (CHA) tournament win was definitely a confidence-builder, but I hope we don't go down early to Notre Dame, but if we do, we just have to do what we did in Des Moines and that's respond. That's how we've played all year."
UAH senior forward Brett McConnachie said even though it's the Chargers' first crack at the round of 16, nerves won't play a role in the game Friday night.
"We thought maybe we'd get Minnesota," McConnachie said. "Then when we heard it was Notre Dame, we thought maybe the Minnesota thing was just to intimidate us. I think we can maybe get a couple early goals right off the hop. Yeah, we're the No. 16 seed, but we can't go in with that type of mentality. This is just another game for us. If we go in thinking we're going to lose and we're the lowest seed, we'll be in trouble."
The Chargers come into Grand Rapids as the only team in the whole tournament with a losing record (13-19-3), the first team to do so since 1978. Many college hockey pundits don't expect UAH to advance, or even get a goal on Hobey Baker candidate David Brown of Notre Dame.
Talk like that only "fires us up," according to McConnachie.
"We're going up there and we're going to stick to the same routine we've had all season," said Ross. "We'll probably design some new drills and adjust to how Notre Dame plays, but other than that, it'll be just like preparing for another weekend on the road."
"We've never played in front of big crowds like Notre Dame has, so maybe that'll be to their advantage," noted McConnachie. "But we're on the big stage, too, and we're excited and we'll be ready to go. We really have nothing to lose and Notre Dame has everything to lose."
Scoring first would be key for the Chargers, but even if they fall behind, stay tuned — the game's far from over.
Boston University vs. Michigan State
Friday, 8:30 p.m. ET, Van Andel Arena, Grand Rapids, Mich.
Boston University Terriers
Record: 20-9-9, 13-6-8 Hockey East (third)
Seed: No. 7 overall, No. 2 Midwest
How in: At-large
2006 NCAA tournament: lost in regional final
Last season Boston University was the hottest team coming into the national tournament with an 18-1-2 record in its last 21 games. That's not the case this year, as the Terriers are 2-4 in their last six.
In the best-case scenario for BU, that might not matter. After blowing out Nebraska-Omaha in its 2006 regional semifinal, BU laid an egg against BC — a team that had endured a 1-5-1 stretch in its last seven regular-season games before making it to the national championship game.
"BC was in the same boat last year and went on a great tear; Maine did it two years ago," Terrier coach Jack Parker said. "There was a lot of talk about the third seed of Hockey East being the team that went on the Frozen Four. We'd like to see that happen to us, but it doesn't automatically happen; you have to make it happen."
BU has been working toward that since last Friday's debacle in the Hockey East semifinals. They eschewed the NCAA Selection Show in favor of practice, brought the team into the video room, and made sure the team took a long look in the mirror before even worrying about who they might face. Parker said, "I want to make one thing clear, boys, we're in this room by ourselves, and all our enemies are here."
By Tuesday afternoon, Parker's outlook had brightened considerably. "I liked our practices this week; I certainly didn't like our last game," Parker said. "I loved our two games before that, so I'm always wondering which team is going to show up. It will be interesting to see how we perform. We've earned an opportunity to win a national championship, and now the question is whether we can take advantage of that opportunity. We'll soon find out."
For fans less familiar with the Terriers, expect them to play a defense-first style; they are second in the nation in goals-against. Goaltender John Curry is smallish but athletic and quite unflappable. A Hobey Baker finalist and a likely pick for the Hobey Hat Trick and possibly the big prize, Curry is the backbone of the team.
Perhaps he's even an ironic reason for the lack of focus on offense at times. "They've relied an awful lot on him and don't think that on any given night we have to be sharp because what's the worst that can happen? 0-0?" Parker said "Everybody relies on their goaltender, but everybody's got to be more competitive if we're going to take advantage of this opportunity."
The Terriers have an outstanding offensive defenseman in sophomore Matt Gilroy and the league's best defensive defenseman in Sean Sullivan; both were first team Hockey East all-stars this season. Senior Kevin Schaeffer will return from a sprained knee this weekend, playing for the first time in the post-season. That will give BU a lift.
The offense is less predictable. Pete MacArthur is the leading scorer and has one of the quickest releases of any shooter in the country, but he is also streaky and could score four goals this weekend or none. Chris Higgins is the most electrifying player and the best candidate for a highlight-reel goal. Kenny Roche and Bryan Ewing are more physical, grinding forwards. Brandon Yip and Jason Lawrence have considerable skill as well.
Less heralded contributors include Luke Popko, a freshman who is probably already the team's best defensive forward as well as a good faceoff man. Keep an eye on him when BU is shorthanded.
Playing Michigan State, BU appears to be matched up with extremely similar foe. "I called [MSU head coach] Rick [Comley] this morning and said, 'I can't believe you're still coaching,"' Parker said. "He's done a great job at Northern Michigan and at Michigan State . He's been a terrific coach for a long period of time, and he's had the same type of problems.
"Very similar type of teams: We're not great offensively; we're opportunistic offensively. We're both very solid defensively, rely on great goaltending and solid defense. So it will be very interesting to see how we play against each other. And he said he's had the same types of ups and downs with mental approach, too. So it will be interesting to see who actually shows up for his team as well."
Will it be one-and-done for BU or a repeat of last year, with a stirring win followed by a bitter loss? Perhaps. But the Terriers also can beat anyone in the country when the whole team comes to play. Stay tuned.
Michigan State Spartans
Record: 22-13-3, 15-10-3 CCHA (fourth)
Seed: No. 9 overall, No. 3 Midwest
How in: At-large
2006 NCAA tournament: lost in regional final
Rick Comley wants to get one thing straight: he has nothing against the CHA and AHA.
The Michigan State head coach was quoted in our "Bracket Reax" story as having said that he would "like to see" a "play-in game [between the CHA and Atlantic Hockey]."
Comley said this week that that's not quite what he said or meant.
"I have no feeling about Atlantic hockey. They're a good league, they're working hard, they have their own ideas about scholarships.
"But my personal opinion is that once a league drops below six [members], they should have a right to be in the national tournament — it's good for college hockey and I support that — but there should be a play-in.
"I certainly apologize if I offended anyone in the CHA or the Atlantic. We all support growth in college hockey, but every group of five can't have an automatic bid."
Having gotten that out of the way, Comley turned his attention to the Spartans, for whom nothing was automatic this season.
"This is a team that's had to work hard for everything," said Comley. "We've lost a lot of really good players."
The one Spartan that everyone misses this season is last year's captain, Drew Miller. With his 18 goals and 25 assists in 2005-06, Miller was more than just the leading scorer on the MSU squad; he was their spark, their heart and soul, and when he decided to forego his senior year, the Spartans had to rethink their identity as a team.
Enter the Lergs, Bryan and Jeff, who did what they could to spur the team this year. Junior Bryan Lerg (23-12–35) not only leads the Spartans in goal-scoring, but leads the nation in game-winning goals (eight). His cousin, sophomore Jeff Lerg (2.53 GAA, .909 SV%) has backstopped the Spartans to 22 wins.
Comley sees Jeff Lerg as one big key to advancing this weekend. "I think goaltending is our strength, although his numbers aren't national numbers. He's a fierce competitor.
"We also have to rely on our balance. Our leading scorer is seventh on Michigan's team. We don't have that [T.J.] Hensick or that type of player."
MSU lost, 5-2, to Michigan in a CCHA semifinal last weekend, before beating Lake Superior State, 6-5, in overtime in Saturday's third-place game. Both contests were unusual, each for different reasons. The Spartans had a goal called back early in the Michigan game — a play which led to Justin Abdelkader's blocked penalty shot and a momentum swing Michigan's way — and the Lakers would not die in the consolation contest.
Scoring first in any contest, said Comley, is key to MSU's game. "We felt we did score first [against Michigan], but it didn't count. On Saturday, I think we had the curse of the consolation game. You have one team, that very often their season is over and they can play very loose, and the other playing to stay alive next week."
Just as the CCHA championship weekend wasn't a fair indication of Spartan hockey, neither was MSU's record leading up to league playoffs, said Comley. The Spartans went 3-4-2 in February, including a Tuesday night road loss to Ferris State. The CCHA instituted Tuesday games during the 2005-06 season to compensate for two weeks of playoffs preceding the championship tournament. Comley is not a fan of Tuesday games.
"The two bad stretches worked around the Tuesday game, and we didn't handle either stretch very well" said Comley, whose team went 0-2-1 in Tuesday contests. "Those stretches just killed us. If you're following with road games — the whole sequence just never worked for us."
This week, Comley said he sees "an enthusiasm and freshness" from his team going into Grand Rapids. "We looked really good in practice."
Comley also said that style of play is an enormous factor in MSU's game against Boston University. "They'll be the most physical team we've played. We're better when we play physically as well."