This year's West Regional is the consensus pick as the toughest of the four according to pundits and fans alike, and for good reason.
The grouping in Denver includes the NCAA tournament's top overall seed in Minnesota, one of its hottest teams in North Dakota, a perennial powerhouse that seems to get better in the playoffs in Michigan, and a dangerous underdog playing near to home in Air Force.
The first game Saturday pits Minnesota against Atlantic Hockey tournament champion Air Force in a game which obviously calls to mind last season's upset of the Golden Gophers by Holy Cross, but there's little resemblance between this year's Gopher squad and the one that fell last March.
When several key contributors left school early after last season, it caused the 2006-07 version of the Gophers to be rebuilt around new faces, and familiar ones stepping up their roles. That combination led the Gophers to a school-record 22-game unbeaten streak and the WCHA regular-season and tournament titles after a lull late in the regular season.
Their opponent, Air Force, will not be taken lightly after coming through the AHA playoffs as the fourth seed to claim the school's first-ever NCAA tournament bid. The Falcons scored 11 goals last weekend despite getting none from Hobey Baker finalist Eric Ehn, proving that AFA can win with other players leading the way.
The second semifinal, between North Dakota and Michigan, is a rematch of last year's West Regional semifinal won on home ice by the Fighting Sioux. UND would again seem to be the favorite despite its lower seed, having lost just one of its last 18 games before falling to Minnesota in the WCHA championship.
Michigan — never an easy opponent in the NCAA tournament — will look to a high-powered offense, but will need continued strong play from netminder Billy Sauer if the Wolverines are to advance at the Pepsi Center.
Minnesota vs. Air Force
Saturday, 1:30 p.m. MT, Pepsi Center, Denver
Minnesota Golden Gophers
Record: 30-9-3, 18-7-3 WCHA (first)
Seed: No. 1 overall, No. 1 West
How in: WCHA tournament champion
2005 NCAA tournament: lost in regional semifinal
It's been a rollercoaster season for Minnesota, but the Gophers seem to be climbing to the next peak at the perfect time.
After falling to Maine in the first game of the season, the Gophers went on a school-record 22-game unbeaten streak, racing out to what seemed an insurmountable lead in the WCHA.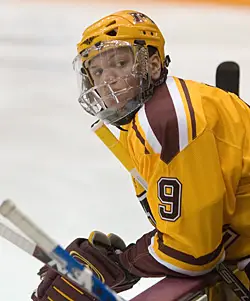 A 2-4-0 stretch in January reopened the race, but they held on despite going 1-3-0 to end the regular season.
A national championship would give them a hat trick of titles after they won four straight postseason games to take the WCHA playoff title.
"Right now we're probably playing some of our best hockey of the season, and so hopefully we can put (the rough stretches) behind us," Mike Vannelli said. "We're really just starting to play the way we did in the beginning of the year, and the way we're going to be needing to play in the playoffs."
It's already been a much different postseason from a year ago, when the Gophers lost twice at the Final Five and made a quick exit from the NCAA tournament, a surprising first-round loss to Holy Cross.
"(The Final Five showed) we've still got it," Vannelli said. "It's been a little bit frustrating, I'll admit, the past few weeks and even months, to hear everybody talk about maybe we're slipping or this team's the best team in the country right now, or this and that.
"I think [Saturday] we came out and proved that we can play with anybody. It's just a good feeling."
The Gophers bring with them a good mixture of young talent and veteran leadership.
Freshmen Jay Barriball and Kyle Okposo have been some of the league's best, combining for 80 points, and sophomore Blake Wheeler had 38.
But Minnesota also had three upperclassmen score more than 30 points, senior Kellen Briggs stood tall between the posts and the older players provided invaluable leadership.
"I just think (the seniors are) consummate team players," Minnesota head coach Don Lucia said. "Kellen has tied the record for most wins in the history of the WCHA as a goalie, Mike Vannelli's improved throughout his career to become a second-team all-league player.
"But for me, more than what they've done individually, it's just their leadership and bringing all these young guys into the fold and trying to teach them and show them what it takes to be a successful Gopher hockey player."
The key all year for the Gophers has been playing as a team. Not only have the points come from just about everywhere in the lineup, but they have remained rock-solid while using a pair of goaltenders.
Briggs and Jeff Frazee played 25 and 19 games, respectively, and both put up numbers worthy of All-WCHA selections.
And the whole team has stuck together despite an ever-changing lineup.
"You look at this team, we're down four players from what we started the year at," Lucia said. "I think what (the team has) done this year is a tremendous accomplishment and a real credit to these players and how they've really stuck together this year."
Now, with the top seed in the tournament, they've got just one more goal to achieve.
Air Force Falcons
Record: 19-15-5, 13-10-5 Atlantic Hockey (fifth)
Seed: No. 15 overall, No. 4 West
How in: Atlantic Hockey tournament champion
2006 NCAA tournament: none (first-ever NCAA appearance)
There's a quip that Air Force coach Frank Serratore frequently uses when asked about all the travel his team must do to play an Atlantic Hockey schedule.
"We're the Air Force, not the bus force."
So it's ironic that the Falcons will indeed bus to their first-ever NCAA game, played at Denver's Pepsi Arena, just 70 miles from the Air Force Academy in Colorado Springs.
"We're elated to be at home," Serratore said. "It's amazing for the whole thing to come together the way it has. The one year that Denver and CC slip together — the one year the regional is here, for us to have the opportunity to play this game with Minnesota in Denver, it's like it's been scripted."
The Falcons, making their first appearance in the NCAA tournament, hope the script calls for a major upset like the one last year's AHA champion, Holy Cross, pulled off against these same Gophers.
"It's a one-game deal, and that can be scary," said Serratore. "(Minnesota coach) Don Lucia and I grew up together. We're close friends. I called Don [after learning of the pairings] and said 'Didn't you learn your lesson last season? Don't mess with Atlantic Hockey.'"
The upset-minded Falcons know their task is a daunting one.
"[Minnesota] is such a power. Look at the NHL players they have," said Serratore.
"They're a high-skill team. We can't afford to play not to lose," said sophomore forward Mike Phillipich, who was the MVP of the Atlantic Hockey tournament with five points in two games last weekend. "We have to play our game."
Phillipich's line, which includes senior Andrew Ramsey (47 points) and Hobey Baker finalist Eric Ehn (64 points), has accounted for almost half of the Falcons' goals this season.
They sparked an offense that scored 11 goals last weekend against the top two goalies in Atlantic Hockey. Air Force finished fifth in the regular season but earned a fourth seed and home quarterfinal game because regular-season champion RIT was not eligible for the postseason.
The Falcons won their first-ever home playoff game, and as the fourth seed, came to Rochester and upset Sacred Heart and Army to win the title.
"It was a magical weekend," Serratore said. "I thought we may be a team of destiny, but I was afraid to say so at the time."
Air Force has used four goaltenders this season, including walk-on Ben Worker. The senior was a practice goalie for his first three years, but started the bulk of the Falcons' games down the stretch this season and won the semifinal over Sacred Heart.
Serratore then turned to freshman Andrew Volkening for the championship game, and the rookie responded, making 23 saves en route to a 6-1 win over archrival Army.
Senior captain Billy Devoney anchors the defense, which is holding opponents to 22.4 shots per game. Air Force has outshot its opponents in 35 of its 39 games.
"We've shown we can skate with anyone," said Serratore. "We outshot Denver. We outshot Notre Dame. If we'd gotten some power-play goals, we could have beaten CC and Denver [both one-goal losses]."
If go you strictly by the seedings, Air Force should be playing Notre Dame in Grand Rapids. The Falcons lost 2-0 to the Fighting Irish earlier in the season. But Serratore said immediately after winning the AHA title on Saturday that he hoped his team would be sent to Denver, so matter who they played.
"We think it's great for us and our fans," he said. "CC and Denver have been to a pile of these, but this is our first. There's a thousand or so people that have been here through four win seasons. They've seen the good times and the bad times and now they can drive up to the Pepsi Arena and see us play."
Michigan vs. North Dakota
Saturday, 5:30 p.m. MT, Pepsi Center, Denver
Michigan Wolverines
Record: 26-13-1, 18-9-1 CCHA (second)
Seed: No. 8 overall, No. 2 West
How in: At-large
2006 NCAA tournament: Lost in regional semifinal
After a well-played 2-1 loss to Notre Dame last week in the CCHA championship game, Michigan head coach Red Berenson had already moved on, and had done so with a gleam in his eye.
"I feel good about our team," said Berenson. "We should take something out of this game and this weekend. I think we're going in the right direction.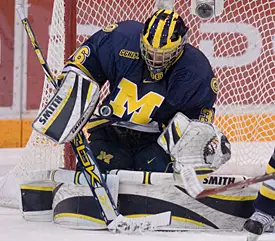 "If we have the right attitude next week, no matter who play or where we play, we could be a factor in the tournament."
From nearly any other coach in college hockey, such an assertion might be pure chutzpah. After all, the Wolverines had lost rather convincingly to North Dakota, 5-1, in the 2006 tournament, and Michigan has been suspect in net in stretches this season.
But even after he learned that the Wolverines would face the Fighting Sioux in a Western rematch of last year's tourney, Berenson was still confident.
"I think we're 'in' the tournament. We're playing as well as we've played all year. If we can take something from that last weekend and build on it, we can do something."
Berenson did hedge his bets, slightly. "We haven't played North Dakota this year, and they're maybe the hottest team in the country."
That slight hesitation aside, what gives Berenson such confidence? The most productive and tenacious offense in the nation, a veteran team with tournament experience, and a sophomore goaltender whose performance improved dramatically in the second half.
The Wolverines are loaded with players who score goals. This is an offense that claims seven goal-scorers with 10 or more, including Hobey Baker finalist senior T.J. Hensick (21-45–66), junior Kevin Porter (23-33–56), sophomore Andrew Cogliano (23-25–48) — and the list goes on.
Michigan's fearless offense creates scoring opportunities for nearly anyone on the ice. Freshman defenseman Chris Summers had three of his five goals in playoff action; sophomore blueliner Jack Johnson has 16 markers.
Of course, that wide-open offense often leaves the Wolverines vulnerable to odd-man rushes the other way, a system that can allow nearly as many goals as those scored. Sophomore goaltender Billy Sauer (2.93 GAA, .900 SV%) has learned by experience this season; in the second half of the season, Sauer's goals-against average has been 2.44, his save percentage .914. Sauer was 13-5-1 in the second half.
"I don't know that he was getting rattled or that he was making more mistakes" in the first half, said Berenson. "Our goals against have come down and we're playing better team defense."
The Wolverines easily handled Northern Michigan in their first-round CCHA playoff series, outscoring the Wildcats 12-4 in two games, and Michigan beat Michigan State, 5-2, before that close title contest against Notre Dame.
When the Wolverines score a lot of goals — even when they allow nearly as many — they win … but an 8-2 loss to Minnesota in the College Hockey Showcase in November serves as a cautionary tale, and a primer to anyone whom Michigan may meet the rest of the way.
"We have a good team and we're in a tough bracket, but they're all good teams in tough brackets," said Berenson. "You don't play an easy team this time of year."
North Dakota Fighting Sioux
Record: 22-13-5, 13-10-5 WCHA (third)
Seed: No. 10 overall, No. 3 West
How in: At-large
2006 NCAA tournament: Lost in national semifinal
North Dakota hopes the third time is the charm.
The Fighting Sioux have advanced to the Frozen Four in each of the last two years, and now seem poised to contend for an elusive national title.
They were the hottest team in the league, and perhaps the country, since 2007 arrived. Between the desire to earn a championship and coming off just their third loss since Dec. 16, North Dakota has plenty of motivation.
"It was definitely a bitter pill to swallow when we saw (the Gophers) lifting the Broadmoor Trophy, and hopefully we can use that as motivation," said Ryan Duncan, the WCHA Player of the Year. "We'll remember what happened, and who knows, maybe we'll get a chance to see them again."
If the Sioux have been hot since Jan. 1, Duncan was the spark that lit the fire. He had 17 goals and 13 assists in the second half of the season.
But what's scary, as he admitted, is he may not even be the best player on his line. While he had 53 points, fellow sophomore linemates T.J. Oshie and Jonathan Toews had 44 and 43, respectively, on what may be the most dangerous line in the NCAA tournament.
"I'm not sure if I'm the most deserving player on my team or line for this award," Duncan said. "There's no doubt that they share this award with me."
It's hard to believe that North Dakota wasn't even looking at home ice in the WCHA playoffs before the holiday break, let alone an NCAA berth.
The Sioux were 7-10-1 after the second week of December, at which point they said enough was enough.
"More than anything, we came together as a group," Taylor Chorney said. "We kind of made a decision right before Christmas. We had a tough series against Michigan Tech and we had a little meeting after that. We just decided from then on we were going to just come together and do whatever it took.
"Every day since then we've laid it on the line and we've done a lot to get better."
Though it occurred much earlier in the season, the situation is strikingly similar to Wisconsin, which last season held a meeting late in the year after being swept at Minnesota State and then used that as motivation all the way to a championship.
North Dakota certainly has the offense to get there, with five more players — including three more sophomores — behind the top line scoring 20 points or more.
If there is a weak spot, it may be between the pipes, though Philippe Lamoureux continues to get better and put together a solid season pretty quietly.
He finished 19-11-4 with a 2.32 goals against average and a .915 save percentage. And while he's given up three goals or more nine times since Jan. 5, the Sioux have lost just two of those contests.
"Phil is a guy that's extremely well-prepared. He continues night after night to go out and battle," North Dakota head coach Dave Hakstol said. "He stays within his routine. He's a very good practice goaltender. He's very structured in what he does.
"(And) he seems to be carrying that to each and every game right now. The guys have faith in him, and the guys battle hard for him."
Could this be the year that North Dakota puts all the pieces together?