The wildcard regional in this year's NCAA tournament is in Rochester, N.Y., where top-seeded Clarkson has the opportunity to display its resurgence on the national stage.
The Golden Knights looked good all year and finished strong under head coach George Roll, who has led the team to its first NCAA appearance since 1999 — the last of nine national-tourney bids in 10 years. Clarkson, which drew a favorable location in the East Regional, is grouped with three teams featuring substantial upside but also question marks as the round of 16 gets going.
Second-seeded St. Cloud State has never won an NCAA tournament game and will have to shake off a disappointing two-loss weekend at the WCHA Final Five that in all probability cost the Huskies a No. 1 regional seed.
No. 3 seed Maine has a similar tale, losing four straight games to fourth-seeded Massachusetts that caused the Black Bears to sweat out the Hockey East championship from the sidelines. Maine was among the top teams in the nation early in the season, but the loss of netminder Ben Bishop was a factor in the Black Bears' late woes.
Meanwhile, UMass, a fashionable underdog in this year's draw after its best season at the Division I level, makes its first-ever appearance in the NCAAs. The Minutemen, looking to write a similar story to Clarkson's, will play the Golden Knights in the first round Friday, followed by SCSU and Maine in the nightcap at Blue Cross Arena.
Clarkson vs. Massachusetts
Friday, 2:30 p.m. ET, Blue Cross Arena, Rochester, N.Y.
Clarkson Golden Knights
Record: 25-8-5, 13-8-4 ECACHL (second)
Seed: No. 3 overall, No. 1 East
How in: ECACHL tournament champion
2006 NCAA tournament: none
The Golden Knights lived up to their league-topping stats in the ECACHL tournament, knocking off Dartmouth and Quinnipiac in thrilling fashion. The league's best offense posted nine goals on the weekend, and the ECACHL's top defense only improved on the 5-4 Friday squeaker with a 4-2 performance on Saturday. The only aspect of Clarkson's weekend that posed any concern was the special teams, which allowed two power-play goals in nine attempts and only scored once in 11 man-advantages.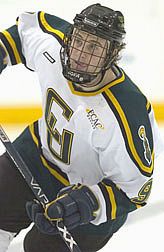 "We brought our intensity to another level," said head coach George Roll, finally enjoying the fruits of four years of recruiting labor.
The Knights skate NCAA tournament ice for the first time since the 1998-99 season, and like their league brethren from 10 miles away, had their second consecutive winning season this year after four down years.
Shawn Weller and Nick Dodge both rank among the nation's top scorers with 40 and 39 points, respectively, and their nine power play goals also put them among the country's elite. David Leggio — named this season's top goalie in the ECACHL — sits at 11th in division one with a 2.20 goals-against rate, and fifth with a .929 save percentage … one-thousandth ahead of his first-round counterpart, Massachusetts's Jon Quick.
Massachusetts and Clarkson played earlier in the year at Amherst, a 3-3 draw in only the second week of the season. Chances are, the teams have evolved a bit since then.
"We have some familiarity with them," said Roll of the Minutemen. "They have dynamic forwards, one of the best goalies in the East … I think we have very similar teams."
The programs didn't exchange game footage this week, which will doubtlessly lend the first-round matchup a certain poking, prodding, guess-and-check quality. Each team will be trying to subject the other to its will, to its desired style of play, which may favor the quicker and deeper Knights. The blind strategizing will also increase the chances of catching moments of deliciously wide-open hockey, potentially rich with scoring chances between two talent-laden offenses.
Roll felt a little bit of the sting this season, and during the NCAA selection process, in what he felt to be a nationwide lack of respect for the ECACHL and its two tournament representatives. And it is no exaggeration to state that any one of the four teams in last weekend's league finals could have done serious damage to unwitting or unvigilant opposition.
"[Clarkson and the ECACHL] need to come out and win one of these things," Roll said.
Fortunately for the Knights, the mathematical precision of the PairWise Rankings could not be debated. Clarkson's number-one seed — third overall in the final rankings — earned it a spot at the Rochester regional, only four and a half hours from Potsdam.
"I think it is important [to be close to home]," said Roll. "It does make a difference," he said, citing the majority "home crowd" support in Albany last weekend.
As far as Roll's outlook on his team vis-a-vis the tournament, he said that control and confidence are the keys.
"The biggest concern is how we react to the situation," he said, emphasizing poise and discipline in the face of foreign and dangerous adversaries. "The preparation and the work ethic will be there.
"I think when you get to this stage, whether you're a one or a four, you gotta be ready to play."
From the coach on down, this is a team with well-deserved momentum and a sense of purpose behind it. When Clarkson is dancing on the Big Stage, the nation will take notice.
Massachusetts Minutemen
Record: 20-12-5, 15-9-3 Hockey East (fourth)
Seed: No. 13 overall, No. 4 East
How in: At-large
2006 NCAA tournament: none (first-ever NCAA appearance)
It's been a year of firsts for the Massachusetts Minutemen. They completed their first 20-win season, riding a six-game winning streak that included four straight over Maine before losing to New Hampshire in a double-overtime Hockey East semifinal contest.
This also marks their first NCAA tournament, a milestone that had many at UMass holding their breath while watching the scoreboard last Saturday.
"I'm told after the fact we were in a fairly safe harbor regardless of what happened in the Clarkson and Quinnipiac [ECACHL championship] game," UMass coach Don "Toot" Cahoon says. "But I was relieved, obviously, when Clarkson won the tournament, because that game was the assurance that we were going to be in some [regional].
"I'm just pleased to be part of it and we're just hoping that we can make a good account of ourselves."
The team's obvious go-to guy is goaltender Jon Quick, who stymied the high-powered Maine offense to get UMass into the Hockey East semifinals. Once there, he stopped 38-of-40 shots by the even more highly-powered New Hampshire offense before the Wildcats finally got the game-winner in double overtime.
This isn't a one-man team, though. Down the stretch, UMass did an excellent job denying some very talented teams their fair share of grade-A opportunities.
"When we've been defensively good, it's been because we skate," Cahoon says. "When we skate, we pressure the puck pretty well and we consistently pressure the puck in all three zones.
"Obviously, Quick is the X-factor. He's the guy that makes the big save and gets us [through] some of the mistakes or breakdowns that inevitably occur. You can get away with quite a bit when you have someone like that back there."
Although no UMass scorers rank in Hockey East's Top 12 and only Chris Capraro (10-25–35 ) and Cory Quirk (13-18–31) make the Top 25, the Minutemen have collectively been quite productive.
"One of our problems over the last couple of years going into this season was getting any type of consistent scoring," Cahoon says. "We had to try to establish a power-play that could create opportunities for itself. That took a little bit of time, but through committee almost we've been respectable in that area.
"What we ended up doing was not try to create one or two lines that were known as scoring lines, but create more balance in our production by spreading our point producers throughout the whole lineup. We have Matt Anderson and Chris Davis, who have been top-line players, playing on the "fourth line," not necessarily the fourth line but they play on a line that rotates fourth in the sequence.
"So we've done it more with balance than with any offensive overload type of principle."
The Minutemen now face the same team they were rooting so hard for last Saturday.
"Clarkson had such a great year," Cahoon says. "They had 26 wins and were up near the top of their league all year long and then obviously won the playoff championship. It was hard for us not to pay attention to what they were doing.
"They have real good depth up front. They have three lines that seem to be consistently scoring goals. And they have very good special teams. I think that is the biggest strength to their team."
As for the possibility that his team and Maine could advance and face each other for a fifth time in four weeks, Cahoon doesn't even want to discuss it.
"That's unfortunately the makeup of the draw, just like with BC and UNH," Cahoon says. "But at this point I haven't given any thought to Maine and I'm sure Maine isn't giving an ounce of thought to UMass. Their focus is on St. Cloud and our focus is completely on Clarkson."
St. Cloud State vs. Maine
Friday, 6 p.m. ET, Blue Cross Arena, Rochester, N.Y.
St. Cloud State Huskies
Record: 22-10-7, 14-7-7 WCHA (second)
Seed: No. 6 overall, No. 2 East
How in: At-large
2006 NCAA tournament: none
The St. Cloud State Huskies may not have closed out their season as well as they hoped, but at this point, they aren't dwelling on the past.
They were the only team that really had a chance to catch Minnesota for the WCHA regular season title, but went 2-2-3 in their final seven games and settled for second.
The postseason hasn't been any easier.
It took St. Cloud three games, including two victories in overtime, to get by Minnesota-Duluth and reach the Final Five. And once there, they lost both contests-to North Dakota and Wisconsin-to finish fourth.
But the Huskies have put that behind them, and enter this week's East Regional as a fresh start.
"It's just a minor setback," Huskies freshman forward Ryan Lasch said. "We have to look forward from this and regroup for the tournament."
"It's definitely a second chance," John Swanson said of getting an at-large berth into the field of 16. "A lot of good teams out there aren't going to get a chance to play. … I think it's a second chance for us to turn things around."
Head coach Bob Motzko knows that to dwell on what has happened in the last month would be a recipe for disaster.
"I think it's pretty simple: if that's going to crush us, then we're not going to go very far," he said. "We have to rally our troops and go back."
Lasch and the team's other young players have been plenty busy lately. Eight of the team's last 12 goals have come from underclassmen, and all eight came from the sophomore Swanson or Lasch and fellow rookie Andreas Nodl, who leads the team with 28 assists and 46 points and earned the league's Rookie of the Year award.
While the youngsters have certainly been reliable, Motzko would like to see some of his experienced veterans step up and lead the way through the NCAA tournament.
"We've got to have some other guys come up now offensively besides those young guys who continue to put things through for us," he said.
One veteran who has been there for the Huskies all year is senior goaltender Bobby Goepfert.
Goepfert was named to the All-WCHA first team for the second straight year. He was 11-6-7 in league play with a 2.19 goals against average and .929 save percentage.
Furthermore, half of those losses came in the first few weeks of the season as he battled getting comfortable in a new brand of pads before switching back to his old brand.
He is the kind of netminder that can carry a team through the tournament, but St. Cloud hopes that isn't necessary.
And it won't be, if the Huskies can find a way to fight through the mental taxation of the long WCHA season and find a way back to the way they were playing when they won 11 straight games between mid-November and early January.
"We've had a mental grind, but there is energy in there," Motzko said. "You just have to get over it. I think you can get it back quickly, right now we've got to just fight, and we have to try to get a win.
"And we know what to do; we've been doing it most of the season."
Maine Black Bears
Record: 21-14-2, 14-12-1 Hockey East (fifth)
Seed: No. 11 overall, No. 3 East
How in: At-large
2006 NCAA tournament: lost in national semifinal
The Maine Black Bears' season appeared to teeter on the precipice after losing four straight to Massachusetts, the first two to end the regular season and lose home ice, and the second two to get bounced from the Hockey East playoffs. The vanilla PairWise — before bonus points, that is — prompted postgame press conference questions of whether the team would hold out enough hope to continue practices.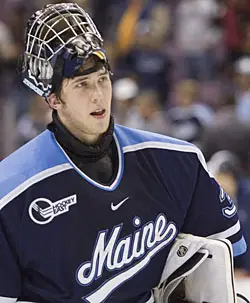 The almighty bonus points, however, left Maine in a much more secure position than initially thought and that precipice wasn't nearly as close as had been assumed. Even so, there may be a feel of "getting a second life" in the Black Bear locker room.
"We're thrilled to be in the tournament and to have a second opportunity to play some hockey," Maine coach Tim Whitehead says.
For those fans from other conferences who might need an introduction to the Black Bears, Whitehead offers a nutshell description. "Our strengths this season have been offense, including power play, and our weaknesses have been team defense, including penalty kill."
In a nutshell, indeed.
Maine's offense trailed only New Hampshire's within Hockey East, averaging 3.35 goals per game, with seniors Josh Soares (19-22–41) and Michel Léveillé (18-23–41) leading the way along with Hockey East Rookie of the Year Teddy Purcell (16-24–40). The power play led the nation with a 25.3 percent conversion rate.
On defense, however, Maine allowed 2.51 goals per game, middle-of-the-pack numbers within Hockey East and a far cry from those of Black Bear teams in recent years that made a significant run at the national title. There are a few stalwarts like senior defenseman Mike Lundin, but the strength doesn't extend six-deep.
"It's been no secret that we've had a couple of tough years of recruiting the last couple of years and that's hurt our depth on our team in all three positions," Whitehead says. "But on the positive side, the veterans that we have in our line-up at all three positions when we're healthy can really play the game.
"That's been the key for us. When We've been able to stay healthy, we've been a strong team. That's what we're hoping to be able to do this weekend, go out there full strength and really surprise some people.
"We feel that we've got a really good club that can do something."
The number-one question mark in terms of health is goaltender Ben Bishop, who had started 41 straight games until injuring a groin on Feb. 3. He's been in and out of the lineup since then with his last action coming on Feb. 24.
"He's 50-50," Whitehead says. "We're still hoping that he can play. That would give us a big lift, obviously.
"But on the flip side, if he's not ready to go, David [Wilson] has gained some very valuable experience in big games. He'll be much more prepared if he's thrown into the fire on Friday than he was in the last half of the season. Each game of experience under your belt helps you prepare."
The Black Bears know that St. Cloud is hardly an ideal foe to face while still trying to right the ship.
"They're a great team," Whitehead says. "Their success this season speaks for itself.
"They're strong at all three positions. [Bobby] Goepfert certainly is an elite goalie. They've got three elite defensemen and two elite lines. They've also got real good depth at all three positions. They present a very good challenge because they have not only elite players, but they have strength in numbers as well.
"We understand how tough this challenge is going to be, but at the same time we've been given a second opportunity to play some hockey here, and we're excited to meet the challenge head on."