Part IV: High School
(This series reads best in sequence: Part I – Beginnings, Part II – Youth Hockey and Part III – Summer Hockey.)
---
Attending our local public high school was not an option if Ryan had any aspirations of playing collegiate hockey. Its team played at too low a level, hardly surprising given the small population it drew from but not conducive to continuing on at the next level.
As a result, we looked at the Catholic schools, even though we weren't Catholic, and the preps. Ryan took the required entrance exams and we visited the schools. He performed well on the exams, especially the mathematical component, and even at that age was lights-out impressive in interviews. Throughout the process, my wife Brenda and I tried to remind ourselves that we had to consider what would be in Ryan's best interest.
Normally, this would have needed no reminder; it would have been left unsaid. There was, however, one bogeyman lurking in our prep school closet.
Brenda and I didn't want Ryan going away to a boarding school. Brenda's attitude equated to "over my dead body." Mine was only slightly more open-minded. If an opportunity so outrageously attractive to Ryan's academic and athletic future presented itself, we might have to consider it no matter how much it might be anathema to us.
For many families, boarding school doesn't seem to be such a big deal. I make no presumption of speaking for them. To each his own. But for us, it was, at best, a potentially necessary evil and, at worst, a nightmarish possibility.
Some boarding schools were worse than others. The first one we visited allowed kids to go home for only three weekends a semester. We were sweetly reminded, "You can always visit him on Saturday afternoons," an admonition that conjured images for me of a correctional facility. Ryan would have also encountered problems getting away for the Sunday games that his Central Mass Outlaws team played outside of the high school season.
To my mind, that isn't a boarding school; it's a jail. Send your kid there if you hate his guts.
Other schools displayed far more flexibility. Even so, Ryan leaving home was a very unattractive option. And in Brenda's mind, it wasn't an option at all.
It seems to me that when a kid leaves home for a boarding school, you've gone from being 100 percent parent to only 10 or 20 percent with the school taking over the rest. The teachers and administrators who assume that responsibility are doing so for a large number of kids, all of whom are at an age where tantalizing but destructive new possibilities beckon. How effectively can that small group of adults guide all those students at such a curious stage in their lives down the right paths and away from those which destroy? How can they come close to matching two parents' love?
Brenda and I strongly felt that we could be better 100 percent parents, in terms of love, guidance, values and everything else parenting involves, than any prep school could be. I only grudgingly kept the door open for a boarding school with other positive factors that could make a life-long difference that might compensate for Ryan losing so much of us.
For a while, we kept one such possibility on our list, but eventually it, too, fell off and we were left with Pingree School, a day school with no boarding population, and several boarding schools that kept a few slots open for commuting students.
---
Until Ryan and I went back for final revisits, we thought he'd be going to what I'll call School X, having earned one of those highly contested commuter slots. The school's hockey program seemed ideal, playing in Division I compared to Pingree's mix of Division I and II games. The coach seemed quite interested in Ryan.
Revisit Day, however, went spectacularly at Pingree and disastrously at School X. At Pingree, Ryan liked the students, who seemed engaged and interested in their classes. Two of his friends from the New England Generals already went there and their friends eagerly tried to convince Ryan that Pingree was his best option. He felt very much at home.
At School X, however, the actions of the hockey player who took Ryan around with him prompted disgust. The kid described how the residents of his dorm hid their drugs and engaged in other prohibited behaviors. Then, as he and Ryan walked from one class to another, the kid said to a girl who was walking by, "Hey, show us your (bleep)!"
What struck Ryan was that the girl wasn't shocked. This wasn't unusual; she'd heard it all before.
Ryan's disgust at the various behaviors earned him, if not enemies, at least a cold distance from his potential future peers. It provided a stark contrast to Pingree, where he had old friends and had quickly made new ones.
Ryan told Brenda and me that he would not be comfortable in School X's environment. We discussed it for a while and concluded that strength of schedule didn't really matter anymore. Not at all.
In our search for the best school, we had mistakenly looked only at the academic and athletic combination, ignoring the social component. Yet when today Ryan looks back on his years at Pingree one of his favorite characteristics is the sense of community he felt there.
With these schools coming at such a crucial developmental stage, not to mention costing almost as much as colleges, parents and student-athletes need to evaluate every angle. Not just the academics. Not just the athletics.
With a less mature son, Brenda and I might have regretted that oversight.
---
As a freshman at Pingree, where he first acquired the nickname "Hendu," Ryan didn't play very much. Veterans dominated the roster, especially up front. He also was small within his own age group and tiny by their standards: 5-0 and barely 100 pounds.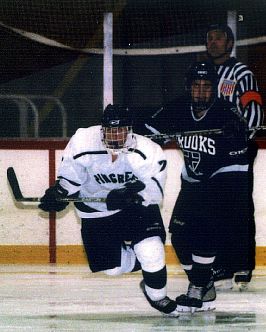 The skills were there, but when you're "five-nothing and 100-nothing" you're going to be physically dominated in prep school. Ryan had to adjust to not only the size but also the speed at this level.
"I remember him as a kid who the puck hit all the time," Pingree coach Buddy Taft says. "Those are the kids who can play at the next level because if the puck is hitting them, it means they're in the right place.
"Now with Ryan as a freshman, that was one of the more dangerous things. He was always in the middle of the play. But he was really small."
In many a practice, he'd get crushed by a defenseman twice his size. But he learned how to avoid such hits the next time. He also worked on his strength training.
A year later, he centered one of Pingree's top two lines, killed penalties, and contributed on the power play. He scored his share of goals, but what really emerged was the abilities he'd shown at other levels, namely seeing the ice so well and setting up linemates for prime scoring opportunities.
"I really credit kids who are undersized when they come here," Taft says, "because they've developed so many skills to compensate for their lack of size that when they finally get some size they're so much better of a package."
Ryan also tried to master all aspects, no matter how minor, of Pingree's systems and how they might be adjusted in certain situations. On Dave Brien's teams, Ryan had been like another coach on the ice. He strove to reach that same level at Pingree.
"Talk about a kid who wouldn't stop working," Taft says. "He wouldn't stop asking questions."
That also held true off the ice. Taft, the Pingree Dean of Students, acted not only as Ryan's hockey coach but also as his advisor. As such, he spoke frequently with Ryan away from the rink and about topics ranging far beyond hockey.
"His level of intellectual curiosity and social perspective was so much more developed than most of the other kids," Taft says. "He was a really unique kid."
---
Despite all his efforts and all our planning, Ryan's future could have unraveled quickly in September of his senior year. The quirks of athletic fate certainly hadn't been kind to Ryan's older sister Nicole.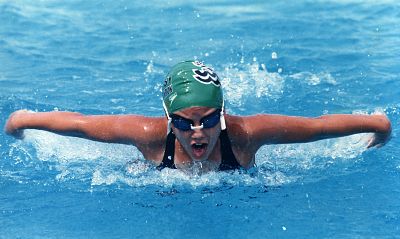 She'd fallen in love with competitive swimming as a six-year-old and become one of New England's top distance swimmers. She didn't have the long arms of a sprinter — thanks to her parents being 5-9 and 5-1 — but she had developed the technique and endurance to excel in events like the mile freestyle and the 200-yard butterfly, events that would put an untrained adult into traction.
Nobody ever outworked Nicole. As a seven-year-old, she swam 200 lengths of the pool as part of a fundraiser, refusing to quit because her sponsors had pledged on a per-length basis. Year after year, her team recognized her with the Hardest Worker Award. On more than one occasion, her coach allocated a practice lane just for her so that she could pursue a more grueling sequence than everyone else.
Nicole had all that energy, endurance and drive.
Until, that is, mononucleosis struck in December of her sophomore year in high school. It took her down hard. She just couldn't get healthy. Even after missing the several weeks that are part and parcel of being a mono victim, she still couldn't get healthy. One illness after another struck, most notably strep throat.
The following December she was again diagnosed with mono. That's supposed to be impossible. After you get it the first time, the antibodies produced are supposed to prevent a recurrence. But the mystified doctors said that was what the tests showed. From the one nightmarish December to the next she avoided a trip to the doctor or to a hospital in only one month.
A few months later, doctors removed Nicole's tonsils, considered a potential gateway for the recurrent strep throat infections. Only then did she begin to recover.
For 15 months, Brenda and I, who would have done anything for Nicole, had been able to do nothing. In that span of time, she missed 87 days of school and barely touched her toes in the water.
It changed everything for her. She never swam competitively again, her energy levels changed forever. The girl for whom school had always been so easy fell behind and was in a constant scramble to catch up. Most of her teachers cooperated, but one in particular — may she rot in Hell for her sadistic laziness — would give her five minutes after school and then tell Nicole she was on her own.
Nicole is now a wonderful young woman with a bright future. She possesses a sharp mind, a brilliant sense of humor and many interests. I'd love to be in her shoes at her age. But her life was unalterably changed when mono struck.
A similar fate could have befallen Ryan. A maniacal driver, who would later be prosecuted on several counts, almost stole Ryan's dreams just as cruelly as illness had taken Nicole's.
I was driving while Ryan, en route from one game to another, sat in the front seat and Brenda in back. We were in the middle lane of Route 495 when a car fishtailing violently out of control appeared suddenly in my rear view mirror. Estimated later to be traveling at about 100 miles per hour, it veered sharply to the left, disappeared from view for a split second, and then crashed sideways into us, steel grinding against steel.
I fought to maintain control as the car angled us toward the rightmost lane and then spun us perpendicular to the highway, off the blacktop, and down the grassy bank where we flipped over onto our side.
We came to rest with Ryan, sitting in the passenger front seat, hanging above me, suspended by his seatbelt. The three of us unbuckled, maneuvered to stand on the driver's side doors, and opened the passenger side door, pushing it up enough for us to climb up and jump out of the car.
Brenda and I both suffered some neck stiffness for a while and I had some cuts on my arm from the broken driver's side window. In time, though, we would be fine.
Ryan didn't suffer so much as a scratch.
In accidents like this one, the percentages involving coffins or wheelchairs are high. If an 18-wheeler had been in the rightmost lane as we were forced across it, we would have all been killed. In The Big Picture, we'd have been very lucky if we'd emerged with only a single broken wrist or leg.
But if that "lucky" broken wrist or leg had been Ryan's, how much would he have lost? He was about to enter the most important season of his life in terms of college recruiting. Had he been sidelined for that, he would have been lucky in terms of The Big Picture, but his dreams of collegiate hockey could have easily been ended.
---
Instead, Ryan capped off his career at Pingree with a big senior year. It was a talented team that included players like Chris Higgins and Danny Rossman who would go on to Boston University and New Hampshire, respectively. Although Pingree didn't win the championship, it enjoyed a very successful season.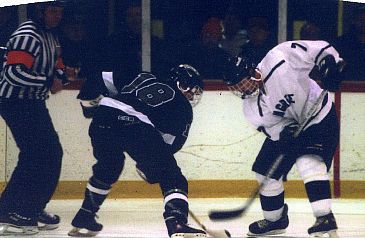 Ryan and "Higgs" worked particularly well together. Higgins, who would catch the eye of BU coach Jack Parker during a holiday tournament, possessed an outrageous goalscoring ability. If you put the puck on his stick, it went into the back of the net. He created plenty of chances all by himself, but he became even more productive when paired with a gifted playmaker like Ryan.
As a sophomore and junior, Ryan had played between talented linemates, most notably Josh Molk, who remains to this day Ryan's best friend. But no one filled the net like Higgins. As a result, Ryan's point totals climbed.
However, it may have been in his role as captain that Ryan shined the brightest. There would be no hazing of freshmen, no divisions between upperclassmen and the younger classes, no berating of less talented players.
"It wasn't just the leadership he provided to that team," Taft says. "It was the legacy of leadership. Kids learned leadership from him.
"In the next couple years, kids who weren't as good at it as Ryan had a vision of what they should be doing. He set the target for other kids of what it meant to be a leader: the idea of inclusiveness and making kids feel at home and comfortable enough to perform at that level."
One parent of a freshman was so impressed with Ryan's treatment of his son that he wrote a letter of recommendation to Tufts, his alma mater and one of Ryan's top choices.
That element of character proved a factor in the college selection process that followed.
---
Part V continues the series with a look at college selection.