It had happened only twice before in his collegiate career and both of those had come with asterisks.
Dan Bertram spoiled a few fans and perhaps himself when he scored two goals his first game in a Boston College uniform. He repeated the feat two weeks later in another BC win. In the two and a half years since those October 2004 performances, however, Bertram has managed only singletons.
Until, that is, this year's biggest game to date, a semifinal matchup against North Dakota. Twice, the junior scored goals to tie the contest after the Fighting Sioux had taken the lead.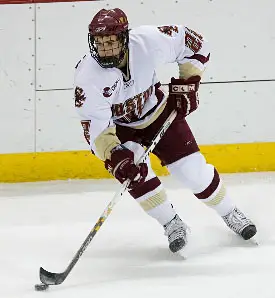 "Danny has been in more of a defensive checking role," BC coach Jerry York says. "But he can be a scorer and we want him to be a scorer. He scored some big goals for us tonight."
Both came as part of the second power-play unit.
North Dakota had taken a 1-0 lead midway through the first period, but five minutes later Bertram was in the right place at the right time.
"Ben Smith tipped it and there was a rebound lying there," Bertram said. "I didn't even see where the goalie was. I just whacked at the low corner. I didn't even know it went in until I saw someone celebrating."
The Fighting Sioux retook the lead early in the second period, however, and the score remained 2-1 until Bertram whacked another goal in off his backhand.
On the night, BC would finish with 45 shots and 17 on the man advantage, but for 53 minutes only the second power-play unit, and Bertram in particular, could put the puck away.
Brian Boyle, a member of the first unit, said, "I had a few chances in front of the net, Joey [Rooney] had a couple and a lot of guys had chances in front of the net, but Danny really contributed because he buried those chances. That was huge for us.
"The one greasy goal he got in front was huge because we had a power play and we were tic-tac-toeing the puck pretty good and we had some chances and hit the post a couple times, but then finally toward the end of [the power play] he buried that greasy goal. [It was] a garbage goal, but it was huge for us."
Over the Eagles' 13-game winning streak, the man advantage has taken its production to another level, converting on 34.6 percent of all chances. More often than not, though, it was the first unit that was scoring.
"Our first unit has done a great job so it's nice for our unit to come in and chip in in a big game like this," Bertram said. "It shows that they can fall back on us if the first unit is having a tough time or just can't get the puck in the net."
As for Bertram himself, he couldn't have picked a better time to get back into the two-goal-game column.
"Our team is winning and that's the most important thing, but it's always nice to contribute on the score sheet," he said. "Lots of games you can contribute off the scoresheet doing little things. But I was happy to contribute like this tonight."
Making the breakthrough even sweeter, though, is that both of Bertram's two-goal nights as a freshman included an empty-netter. Hence the asterisk. These two in the NCAA semifinals amounted to his first no-asterisk, two-goal game.
"I guess those others were cheap ones," Bertram said.
But there was nothing cheap this time.
"Tonight's game was that much more important because it was that much bigger stage and helped the team that much more to win," he said.
No asterisk.
Just a two-goal ticket to the national championship game.