Yale senior forward Kristin Savard is the recipient of the 2007 Hockey Humanitarian Award, it was announced Friday.
Savard, of Framingham, Mass., is the 12th recipient of the award, which was created to recognize college hockey players who give back to their communities in the true humanitarian spirit.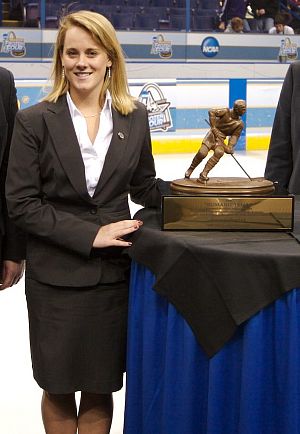 Savard founded "Teaming Up," Yale's effort to raise awareness for improving maternal health in the developing world — a project she hopes to expand to other schools and teams. Approximately 600,000 women die each year from pregnancy-related complications, and 99% of these deaths occur in developing countries. Most of these deaths are preventable.
"After hearing such startling statistics, you can't help but wonder what more can be done — how can you make a difference?" Savard said. "As I considered how to go about raising awareness, I realized that my strongest resource at Yale was our hockey team."
Led by Savard, Yale raised money to enable the women of the Keiskamma community in South Africa to partake in the UbuMama program. UbuMama ("motherhood") is an arts-based initiative in which women produce a maternity gown depicting the challenges of motherhood. The garments are used as instruments to gain support for the cause.
Savard also helped organize efforts to raise funds by other teams at Yale, including the women's swimming and diving team and the women's lacrosse team. She plans to apply for grants and continue looking for ways to fund the project to continue its growth.
"Kristin Savard is an extraordinary student-athlete," said Yale head coach Hilary Witt. "I am confident that, long after she graduates this spring, she will continue to do her part to make the world a better place."
In addition to her work on Teaming Up, Savard is in her second year serving on Yale's Thomas W. Ford '42 Student-Athlete Community Outreach Committee, an organization designed to bring Yale student-athletes and the New Haven community together. Among the committee's projects are a holiday toy drive and two annual Yale Athletics Youth Days in which local children use Yale's facilities with coaching from student-athletes.
Savard and her teammates also participated in "Skate with the Players" events, giving local youths the chance to skate with Yale players. The team has also taken part in the Relay for Life, raising money for the American Cancer Society.
Savard spent two years as a tutor for first-graders at a New Haven elementary school, and worked at Dynamic Skating hockey camps.
"What impresses me the most about Kristin is that she does all of these things in the most humble way," said Witt. "She does not brag about her community involvement or expect others to pat her on the back. She puts her time and effort into these projects because she feels it is the right thing to do and that she can make a difference."
A political science major, Savard is a three-time ECAC All-Academic selection. She has been a part of a renaissance on the ice for the Bulldogs, who won more games in her four seasons (54) than any other four-year period in school history. During her time at Yale, the Bulldogs set the school record for wins in a season (16, 2004-05) and made their first trip to the ECAC semifinals (2004-05). Savard finished her career fourth all-time at Yale in assists (54), tied for fifth in points (93) and eighth in goals (39).
"For everything that hockey has given me, I cannot give back enough," Savard said. "For the opportunity to be at Yale, for the friends I have made and the lessons I have learned, I cannot give back enough. But I will do what I can."