Conventional wisdom says that if a college hockey player can turn professional, there's a better than even chance he will.
Perhaps one reason North Dakota is ranked No. 1 in preseason national polls and has been picked by coaches to win the WCHA is the four players who didn't go pro when they had the opportunity to do so.
After making it to the Frozen Four and coming up short in their freshman and sophomore seasons, Fighting Sioux forwards Ryan Duncan and T.J. Oshie and defensemen Taylor Chorney and Joe Finley defied conventional wisdom and returned to UND for their junior seasons.
Coach Dave Hakstol wasn't surprised by their decision.
"It reinforced what we know about them," he explained. "They have their feet on the ground and realistic approaches to their careers. They put a lot of thought into their own particular reasons for returning to school."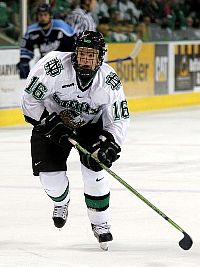 Within days after Michigan State defeated Boston College for the national championship last April, Chorney, Duncan and Oshie told Hakstol that they'd be back next season. Finley later announced his decision to return.
Some were skeptical that the players would live up to their pledge and instead succumb to the allure of NHL dollars during the off-season. It didn't happen.
"When you say something like that, you mean it because you know how much it means to everyone in this town," Chorney said of the Grand Forks community. "We have so much support here and everybody cares so much about this program that there's no way you could ever go back on something like that. When you make that type of decision, it's 100 percent. You're committed to your teammates."
Each player is a proven veteran with pro potential. Duncan, who has 47 goals and 46 assists over two seasons, was last season's Hobey Baker winner, a first team All American and the WCHA's player of the year. Oshie, a first-round draft choice of the St. Louis Blues, was UND's second leading scorer with 52 points and a member of the NCAA West Regional all-tournament team.
Chorney, who captained the U.S. World Juniors team, is a second-round draft choice of the Edmonton Oilers, a second team All American and was second in scoring last season among UND's defensemen with 31 points. The 6-7, 245-pound Finley is one of the biggest players in college hockey and a first-round draft choice of the Washington Capitals.
Finley remembers watching last season's Frozen Four national championship game on TV with his teammates in Grand Forks after Boston College knocked UND out of the tournament two days earlier with 6-4 victory.
"A few of us were talking about how special that was for Michigan State and how disheartening it was for us, the Fighting Sioux," he recalled. "There was no doubt in my mind — and I think I can speak for the rest of the guys — that coming back was the only thing to do."
The manner in which the Sioux lost to the Eagles at the Frozen Four didn't sit well with the team, either. Tied 3-3 with less than five minutes in the game, an untimely penalty on Finley led to a power play goal. A costly Sioux mistake gave Boston College an easy empty net goal that sealed UND's fate. For the second straight year, the Eagles ended the Sioux season one game short.
"For me, that game was pretty tough," Oshie recalled. "We were in it until the last five minutes and then it seemed like there was nothing we could do to get the win."
"The final game is one that I personally haven't forgotten about over the whole summer," Finley related. "It's probably been in the front of our minds as we're doing off-season workouts. We've used the phrase 'unfinished business' before and that's exactly what it is. Over the past two years we've let something slip away that was pretty important."
Chorney agreed and added, "If we would have left after that game, I would not have been satisfied with the two years I spent here. There's been so many good times, but that one thing's just been hanging over all of us that we've lost those two games the last two years. We all came back for that reason just to get another crack at it."
"One of the things you want to accomplish is to win a national championship," Duncan said. "That's a tradition here at North Dakota. Not only last year, but the last two years, we had great teams with the potential to win national championships. But for some reason or other, it just didn't work out."
Each player decided to return for his own reasons.
"I wanted to be with my teammates another year," Oshie said. "I wanted another year to grow with them, develop as a hockey player and, hopefully, do something special. Last year was probably the closest group I've ever been a part of. It's an unbelievable feeling playing on a team that's so close."
For Finley, it was UND's hockey program, the coaching staff, the facilities, the education and the relationships with other students and members of the community.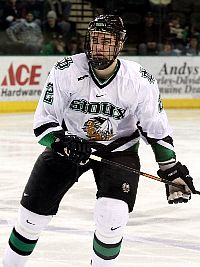 "They're second to none in anything I've ever been a part of," he said. "They were very big factors in coming back."
Chorney sought advice from his father, Marc Chorney, a UND defenseman from 1977 to 1981.
"You see guys leave early and it's kind of cool. You see them sign big contracts and you think, 'Maybe that could be me pretty soon,'" he said. "That kind of wore away pretty fast.
"I remember right after the game talking to my dad about it and I just felt like I still owed so much to the university. They've given so much to us — the facilities, the unbelievable school, the unbelievable coaches. I just don't think we've given enough back. One more year, we've got to lay it all on the line and, hopefully, contribute to the tradition."
For the 5-6, 159-pound Duncan, an undrafted free agent, it appeared his stock couldn't go any higher after winning the Hobey. But he, too, passed up the opportunity to sign a pro contract in the off-season.
"I thought about what would be best for my future hockey career," he explained. "The best thing for me was to come back and play another year of college hockey. Once you turn pro, there's no coming back. It's a once-in-a-lifetime opportunity.
"I just felt like I wasn't ready to make that jump yet," Duncan added. "I may only have a small window of opportunity when I get to the NHL, so I want to make sure I'm ready to make the most of it."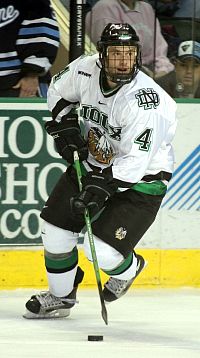 Two players from UND's talented sophomore class decided not to return for the 2007-2008 season. Forward Jonathan Toews, drafted third overall in 2006 by Chicago, signed with the Blackhawks during the summer. Defenseman Brian Lee, a first-round draft choice of the Ottawa Senators, also signed a pro contract.
"When we heard they were leaving, we — the whole team — were the first ones to say 'Congratulations,'" Oshie said. "We were really excited for them, although we wanted them to stay."
Even with the return of four key juniors, UND has holes to fill with the early departure of Toews and Lee and the loss of three seniors to graduation.
"One benefit that our team has this year is a good group of veteran guys — juniors, seniors and sophomores — who have already been through the WCHA schedule and have a taste of the national tournament," Finley said.
Still, nobody's taking anything for granted, and there's a long season ahead before the Sioux can even begin to think about the possibility of winning an eighth national championship.
"I don't think it's on our team's minds right now," Duncan said. "It's something you want to build toward. Hopefully, if we do get to that point, we've built ourselves up and developed enough as a team that we don't have to think about it. We won't have to change anything because we'll be doing the same things we've been doing all year."