Teddy Purcell led the Maine Black Bears with 27 assists during an eye-opening freshman season and easily took home the Hockey East Rookie of the Year Award.
The problem, as it turns out, was that Purcell opened a few too many eyes at the NHL level.
Purcell was held scoreless in five of Maine's final eight games — a time when the Black Bears were most in need of his playmaking skills — and Black Bears coach Tim Whitehead thinks he knows one of the major reasons why.
Shortly after the season was over Purcell inked a pro contract with the Los Angeles Kings — a blow to Maine's immediate future, to be sure, but also a confirmation of what Whitehead witnessed going down the stretch of last winter's college hockey season.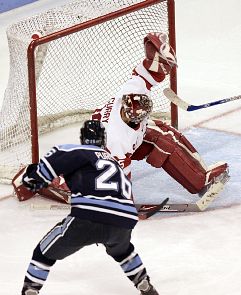 "Any time you lose a Hockey East Rookie of the Year after only one year, it's really disappointing," said Whitehead. "Here at Maine we're fortunate to get some elite players, but quite frankly we don't get as many elite players as the Michigans and the North Dakotas of the world and it's a big blow."
The Black Bears coach believes that his star scorer was ultimately distracted by countless NHL scouts and executives who came calling while Maine's season was still under way — and doesn't have a lot of doubt that the interference from those pro hockey execs was a bit of a slap in the face to his squad while their season was still going on.
"One month into the season he was named Hockey East rookie of the month and that was the last really clear-headed state of mind he was able to maintain for the rest of the season," said Whitehead. "He was under intense scrutiny and pressure from NHL teams over the entire season and I was impressed with how he was able to deal with that pressure and stay composed — though his production did tail off at the end of the season. I believe that was a direct result of the pressure from the NHL teams courting him.
"That's the way the landscape is now," added Whitehead. "It's very unfortunate."
The plundering of college hockey teams and poaching of top-shelf players — particularly undrafted free-agent types who will cost NHL teams little to sign — was always a hazard of the profession when it comes to recruiting and retaining talent, but the new NHL Collective Bargaining Agreement has taken it to a different level.
NHL teams can cast out a wide scouting net and sign a handful of college underclassmen dreaming of starring in pro hockey, and then just hope one pans out without expending a great deal of money.
BU coach Jack Parker also dealt with a pair of free agent player heavily wooed by NHL teams this summer — junior defenseman Matt Gilroy and senior forward Peter McArthur — but eventually both players spurned the offers and returned for another season in Hockey East.
"Everybody is in a rush to get to someplace that they're not quite ready for, and neither of those guys thought they were ready for the NHL," said Parker. "They wanted to have big senior and junior years for their team and knew that we were going to have a solid team this year. They wanted to be a part of it. All of those things added up to them staying in school."
Both players discussed their difficult decisions with Parker before ultimately returning to the Terriers, but the choice wasn't a difficult one for the fiery MacArthur, who will be both the on-ice and spiritual leader for the Scarlet and White this season.
Parker has acquired a great deal of hockey wisdom along with his 762 career wins on the Commonwealth Avenue campus, and MacArthur simply listened to his clear-headed advice.
"I got a pretty fair offer that I was comfortable with, but in the end it came down to a discussion with Coach Parker. He's always right about that kind of stuff," said MacArthur. "I've never told him this, but I actually didn't think I was ready to play at BU my freshman season and was going to stay in junior for another year. But he talked to me and told me that I was ready to play at that level, and he ended up being completely right about that.
"He told me that another year of getting bigger and stronger in college would help me down the line in pro hockey, and I think he's right about that," added MacArthur. "He's always right about that stuff."
Parker was also probably in the right when he phoned several NHL teams toward the end of last year's college hockey season, and politely asked that their team representatives find their way out of his team's locker room during BU's postseason run.
"At the end of the year, I had to call a couple of NHL teams and tell them to get their scouts and assistant GM's away from our dressing room during the late season and tournament time and instead just talk to them at the end of the year," said Parker. "When you're a free agent everybody can talk to you so it makes it more of a competitive, free-for-all kind of situation. When you're drafted they can still haunt you, but it's not at the same level as someone with any ties to an organization."
Parker believes that the gifted Purcell made a mistake leaving an excellent Maine program when he's clearly not ready to play at the NHL level, but thinks the exodus of free-agent college hockey talent to the pros is a cycle that will eventually pass.
"There isn't any question that it's hurting college hockey. Before they'd have to give [a free agent] around an $800,000 bonus to sign and now they make an $85,000 bonus," said Parker. "There's no big attraction there and no skin off their nose. They can sign ten players for the price of one, put them all in a soup kettle and see which one they want to pick them out. That's not good for the other nine because they're only picking one.
"The proof will be in the pudding," added Parker. "You'll see some kids that left school for what? To play in the American Hockey League or the East Coast Hockey League for four years? I think the pros will eventually realize it's not a good thing for them."
In the meantime a program like Maine — which has always specialized in undrafted, diamond-in-the-rough players — watches a key piece of its hockey future move on to the pros and must begin to ponder if a change in recruiting philosophy is required until NHL clubs call off the prospect hunt.
"I understand that it's going to happen more now with the way things are, and it hurts us in the area of finding undrafted, free-agent college hockey players, which has always been our forte," said Whitehead. "Prestin Ryan, Frank Doyle, Dustin Penner, Teddy Purcell, Michel Leveille, Josh Soares, Colin Shields … just off the top of my head those are a group of guys that were all undrafted guys who became elite, All-American type players at the University of Maine.
"It's very difficult to get NHL teams to respect the world of college hockey and respect what we're trying to do during the season," added Whitehead. "Unfortunately, there are fewer and fewer NHL teams that respect the integrity of the player's team, his role on the team and the process of what we're trying to do.
"Hopefully it's just a cycle. I know that we're not the only team that's dealing with this situation. It's been a pretty hot topic for the last couple of years at the coaches' convention. It's one of those things where we need to maybe stop talking about it and instead find some ways to actually address the situation. There are only so many players out there and NHL teams are trying to get them out of college hockey."
The watch has already begun for the next wave of undrafted players who will follow the lead of Purcell and UNH's Trevor Smith before them.