Though coach Mike Eaves doesn't necessarily like to think of his squad as a defensive one, the University of Wisconsin Badgers will seemingly always have that reputation.
However, with a scoring defense that has been in the nation's top ten for the past four years, it's easy to see why the reputation exists.
Looking at this year's roster, it looks like the Badgers will once again be a strong team defensively, with most of the returning senior leadership on the blue line. Though the Badgers lost an excellent netminder in Brian Elliott, Eaves feels like he has a capable replacement in junior Shane Connelly.
"We're in the same position as we were two years ago with Brian after Bernd Br�ckler graduated and nobody knew a thing about Brian Elliott," said Eaves. "The big question that year was whether Brian could play back to back games and he stepped in and stepped up to the plate."
"Shane Connelly is ready to be that guy. It's his time now."
The Badgers do have a few offensive questions; namely, whether the nation's top freshman in NHL third overall pick Kyle Turris can make an immediate impact.
Up Front
If the Badgers struggle somewhere, it's in their offense. Their team offense ranked last in the WCHA last year and was higher than only seven other teams in the country, many with reputations as bottom-dwellers in their respective conferences.
What also doesn't help that the Badgers lost four of their top five scorers — three to graduation — as well as sophomore Jack Skille to the Chicago Blackhawks.
As a result, the Badgers will look to get some veteran leadership as well as points from Ben Street and Matthew Ford and hope for sophomore Michael Davies to have another year atop the Badgers' scoring charts. Turris, this year's impact freshman in not just the WCHA but in all of college hockey, comes in with a lot of expectations and should make a splash right away to live up to his hype.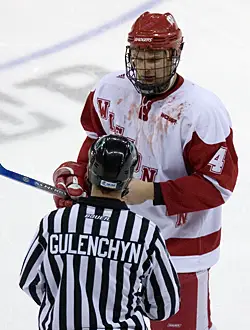 On the Blue Line
Wisconsin also lost some key defensive components, but is aided by returning three senior defensemen in captain Davis Drewiske, alternate captain Kyle Klubertanz and Josh Engel. The Badgers also return last year's leading offensive defenseman in sophomore Jamie McBain.
The Badgers also have some talent coming in defensively, starting with NHL first-round pick Ryan McDonagh. Other incoming freshmen Brendan Smith and Cody Golubet will also be looked towards to bolster the blue line.
In the Crease
As mentioned above, Connelly has been tabbed as the replacement for Elliott. While losing Elliott will hurt, Connelly performed admirably in his starts last year, going 4-1-2 with a 1.11 goals against average and a .952 save percentage. Connolly also had three shutouts last year, one against eventual national champion Michigan State, one against Providence and one against Minnesota-Duluth.
Therefore, Connelly can play; the only question is if he can play back-to-back nights all season long.