The University of Minnesota Golden Gophers are once again coming off a successful season, winning the MacNaughton Cup in the NCAA and coming within a game of the Frozen Four.
They are also once again coming off a summer filled with early departures, losing two players to the NHL and one to Canadian major juniors. However, considering the vast number of players the Gophers lost last summer, this year wasn't so bad.
"We're encouraged by the fact that we have a large number of players returning, even though we did lose a couple players," said coach Don Lucia. "We have a good nucleus coming back certainly, especially up front with a returning group of forwards."
For a change and as a result, the three freshman forwards coming in may not get as much playing time as in years past.
"We have three freshmen coming in, but they might have to take a back seat to some of the returning guys and next year might be their turn more than this year," said Lucia.
Despite the holes on defense left by the aforementioned departures, one should never count out Lucia's squad as the team has never had a losing season during his tenure.
Up Front
Due to early signings last year, Minnesota had to dress six freshman forwards on a regular basis last season.
This year, however, the Gophers were able to retain all five of their top offensive forwards, who will once again be looked at to lead the way on the scoresheet.
Leading the way up front experience-wise will be senior Ben Gordon. After Gordon, look for juniors Blake Wheeler and Ryan Stoa and sophomores Jay Barriball and Kyle Okposo to light the lamp this season. The latter two both hit the 40-point mark last season and barring any sophomore slumps, should at least equal those totals this year.
On the Blue Line
While the Gophers seem to lose key players every year, the blue line got hit the hardest.
"On the blue line, that's going to be the biggest question mark for us," said Lucia. "Losing Mike Vannelli, losing Erik Johnson, losing Alex Goligoski; those are three tremendous college defensemen.
"[There are] over 100 points back on the blue line that we're going to have to replace and so I think that's going to be the big challenge, to see how these young freshmen do."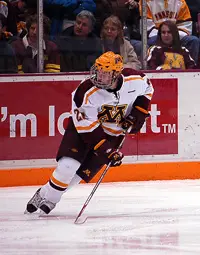 Possible — and probable — freshman options are Stu Bickel, Cade Fairchild and Kevin Wehrs, all three of whom will undoubtedly see a good chunk of playing time this season.
More importantly, however, the team is going to need to see a step up in the development of players such as senior Derek Peltier, junior R.J. Anderson and sophomore David Fischer.
In the Crease
Though the Gophers lost the WCHA all-time wins leader in Kellen Briggs, they return a more than capable netminder in junior Jeff Frazee, who has gotten ample playing time in his first two years.
"[He] played some very big games for us last year, including winning the Final Five and an outstanding game in the NCAA tournament a year ago," said Lucia.
"Alex Kangas as a freshman will be pushing him and how much time they get will be dependent upon how they both play."