Last year was a bitter pill for the University of Denver Pioneers to swallow.
Even after a first-round WCHA playoff exit at the hands of the University of Wisconsin Badgers, the Pioneers were on the cusp of an NCAA berth until the last conference playoff game was played. Due to the numbers, the Pioneers missed the NCAA tournament and a chance to play a virtual home game at Pepsi Center during the West Regional.
As the team would later find out, one more win would have not only propelled them into the tournament, but likely into a second seed.
"It was a tale of two seasons for us," said coach George Gwozdecky. "The only thing you can learn from a disappointment like, for example, what we went through last year, is that every game's important, whether it's in October or in March. That really cements the understanding of that when you come as close as we did."
With the Frozen Four being held at Pepsi Center virtually in the Pioneers' backyard, the team is using it as a motivating factor to do well, which they have a chance to do if they don't run into the same fatigue problem as last year.
"We really had to ride our young freshmen quite a bit," said Gwozdecky. "I think we fatigued — or they fatigued — and especially that last month of the season, we struggled for our consistency."
With seven sophomores and a whopping 13 freshmen, Gwozdecky will have to hope that playing 15 minutes up I-25 will be a very strong motivating factor.
Up Front
If you count junior Patrick Mullen as a defenseman, Denver has one — count 'em, one — upperclassman up front, in senior Tom May.
However, the Pioneers were able to rely on their freshmen last year with success, leaning on the dynamic trio of Rhett Rakhshani, Tyler Ruegsegger and Brock Trotter, all three of whom should continue to blossom in their sophomore campaign.
As for this year's breakout freshmen for the Pioneers? Keep an eye out on Tyler Bozak, Anthony Maiani, Jesse Martin and Kyle Ostrow.
On the Blue Line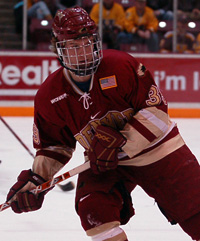 While the young defensive corps was an issue for the Pioneers last season, the blue line should be much improved this season with a year of WCHA play underneath everyone's belt, even with the early departure of Keith Seabrook to the Western Hockey League.
Senior captain Andrew Thomas will anchor the blue line along with junior Chris Butler.
"Chris Butler, who I think is as good as any defenseman in the country, will really be the two-way guy for us," said Gwozdecky.
Others to look for on defense will be juniors J.P. Testwuide and Julian Marcuzzi, as well as utility player Patrick Mullen, sophomore Cody Brookwell and freshmen Chris Nutini and John Ryder.
In the Crease
For the first time in Peter Mannino's college career, it appears as if he'll have the net all to himself.
The senior spent the last three years splitting goaltending duties with Glenn Fisher. However, as the only experienced goaltender alongside two freshmen, it looks like the job's all his. While Mannino has never had to carry the whole load by himself, he did help backstop the Pioneers to their seventh national title his freshman year and has consistently had over a .900 save percentage his entire career.
If Mannino goes, down, however, the Pioneers will probably end up falling back on freshman Marc Cheverie (20-9-2, 3.10, .825 in 34 appearances for Nanaimo/BCHL).