While the University of North Dakota lost a couple of key players in forward Jonathan Toews and defenseman Brian Lee, the story for the Fighting Sioux is more about who didn't leave.
"We probably had about four other guys who had the opportunity to go and each had their own individual reasons for staying, I'm sure," said head coach Dave Hakstol, who signed a five-year deal over the summer.
The two most notable returnees are the top two scorers from last year — junior Hobey Baker winner Ryan Duncan and fellow junior and linemate T.J. Oshie.
So, while most teams have to figure out who their starting goaltender will be or where their offense will come from, it almost seems like Hakstol's biggest problem will be who to put on a line with the two juniors now that Toews is gone.
"I think we could put [Wisconsin] Coach [Mike] Eaves there and he'd get points," Hakstol quipped during the WCHA media teleconference call.
With a strong returning defensive corps and a workhorse in goaltender Philippe Lamoureux, the Sioux should once again be one of the elite teams not only in the WCHA, but in the nation.
Up Front
Last season, North Dakota's top line of Duncan, Oshie and Toews was one of the, if not the most feared line in college hockey.
With Toews gone to the Chicago Blackhawks, Hakstol is going to have to fill his spot on the line, as he is planning on keeping the two remaining members together.
"I think we have two or three different options there early on," said Hakstol. "I think [freshman] Matt Frattin is a guy that could play there." Hakstol's other options include junior Brad Miller and sophomore Chris VandeVelde, who came on late in the season.
Other forwards to add into the Sioux's scoring mix will probably be juniors Matt Watkins and Andrew Kozek, senior Rylan Kaip and freshman Darcy Zajac.
On the Blue Line
The Sioux also got lucky in that Lee was the one main departure from the defensive corps — they return five of six starting defensemen from last year's squad.
The blue line will be anchored by senior Robbie Bina, who became a strong two-way defenseman after returning from a neck injury.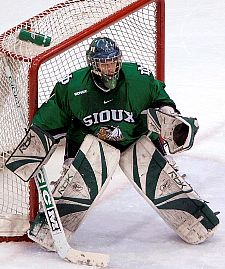 Bina will be joined by juniors Taylor Chorney, Joe Finley and Zach Jones as well as sophomore Chay Genoway. The quintet could gain one more veteran blueliner in Kyle Radke if Hakstol chooses to use the versatile senior on defense rather than as a physical presence up front.
If Radke stays up front, freshmen Derrick LaPoint and Jake Marto will battle it out for the sixth defensive spot.
In the Crease
The Sioux will have to worry about finding a new goaltender next year.
This year, however, the position once again belongs entirely to Lamoureux, a senior who tied Jon Casey's school single-season record with 37 games played last year. Lamoureux went 21-12-4 with a 2.42 goals against average and .913 save percentage.
Junior Aaron Walski and sophomore Anthony Grieco will battle it out for the number-two spot behind Lamoureux. However, any action they might see will be limited, as Lamoureux has no problem starting game after game — he started in the Sioux's last 25 games in a row at the end of last season.