While a lot of the teams in the WCHA are young this year, most have at least a modicum of senior leadership.
With the Minnesota State Mavericks, however, it barely feels like it, as Troy Jutting's squad returns just three seniors from last season, the fewest in the league.
As a result, Jutting will have to rely on his underclassmen — and particularly his sophomores — more than perhaps anyone else.
"We'll be a young hockey team, but a lot of experience actually with those young kids because of the number of freshmen that we had to play last year, a group of kids that I felt came along," he said. "We only lost three of our last 13 games heading into the playoffs last year."
Those young kids will also get a trial-by-fire of sorts, as the team plays its first six games on the road.
"Not only do we have nine of ten on the road [to start the season], but we have three of the longest trips of the season right away off the start with going to Tech, going to Anchorage," he said. "But in a way, that can be good too, because it gives you a chance to get out and kind of bond as a team — especially a young team."
"A team that I'm excited about, but a league that will be no different than ever, I think extremely strong top to bottom."
Up Front
Though the Mavericks lost their leading scorer in Travis Morin to graduation, they still return their fourth-highest scorer in junior Jon Kalinski, who tied Morin for the team lead in goals with 17.
"I think Jon will become one of the premier players in this league this year," said Jutting. "He's going to be one of those players that the WCHA kind of develops and develops along to the point where they become an elite premier college hockey player."
Besides Kalinski, Jutting will also look to junior Mick Berge and senior Joel Hanson for offense early as the rest of his young team develops its legs.
On the Blue Line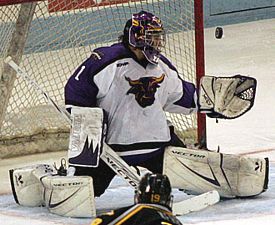 The biggest question mark for Minnesota State will be its defense since, as Jutting succinctly put it, "losing Steve Wagner obviously hurts us, hurts us a lot."
As a result, he will have to hope returning players such as sophomore Nick Canzanello and junior Brian Kilburg can step up offensively to fill Wagner's large skates (6-23-29). Incoming freshmen Channing Boe, Kurt Davis and Ben Youds will also be expected to make a big impact right away.
In the Crease
The Mavericks are actually the most set in the nets, which will probably end up serving the team well in their tough opening schedule. Junior Mike Zacharias is back after a breakout sophomore season and fellow junior Dan Tormey has fully recovered from the wrist injury he suffered last December.