Coach Bob Motzko — and arguably goaltender Bobby Goepfert — brought back the St. Cloud State Huskies to the level of the Husky teams of the early 2000s last year, making the NCAA tournament for the first time in four years.
However, the team still has the stigma of being unable to win an NCAA tournament game, falling 4-1 to Maine in Rochester on what could be described as an atypical night for Goepfert.
With Goepfert graduating, if the Huskies want to get back to the dance in late March, they're going to have to find a way to fill a lot of holes.
"We do have so many holes this year and unknowns. We have 17 freshmen and sophomores, we have a handful of guys that haven't played a lot of minutes and the only way we're going to know is we've got to throw them over the boards," said Motzko.
The Huskies do have a strong base to draw from because of their recent success, which Motzko thinks will serve them well.
"We've got outstanding leadership and that's going to be very important this year because it's going to be tested. There's no question," he said. "I think we're probably one of the teams in the league that's set with the most unknowns right now, especially from the defensive side."
Up Front
While the Huskies have many holes to fill, the ones on offense are comparatively tiny.
St. Cloud State returns three of its top four scorers up front, including WCHA Rookie of the Year Andreas Nodl and WCHA All-Rookie Team member Ryan Lasch as well as senior Nate Dey. The team also has potential offensive firepower in the new forwards.
"We have seven new forwards in our line-up," he said. "We think we have a lot of options up front to create offense."
A few of those new forwards that could contribute are freshmen Tony Mosey and Brian Volpel and possibly Minnesota transfer junior Brent Borgen.
On the Blue Line
Though the Huskies have an anchor in senior captain Matt Stephenson, the team lost a big chunk of its defense last year, losing Casey Borer, Grant Clafton and Justin Fletcher to graduation, with the latter helping the team offensively as well.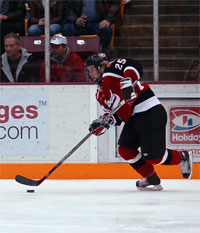 As a result, Motzko is forced to revamp his entire defensive corps.
"The key to our team right now is just what kind of defensive team we can become," he said. "We're going to have to find a way to become a defensive team to stay in this."
Part of that change is putting Aaron Brocklehurst and Chris Anderson back on defense for good, as both seniors had several stints up front last season.
Sophomore Garret Raboin is expected to have a breakout season and freshman Brett Barta could have an immediate impact.
In the Crease
Out: Bobby Goepfert, a two-time All-American and Hobey Baker Award top-10 finalist.
In: Jase Weslosky, a freshman who played in all of six games last season, sophomore B.J. O'Brien, who only saw ice time in practice and unproven freshman Dan Dunn.
Motzko does have confidence in Weslosky, who reportedly came back to school almost 20 pounds heavier after a great off-season, which bodes well.
"I don't know if he's the guy that can go every night, but we know we can throw him in there," said Motzko. "We're going to probably have a platoon-type system with our goaltending to start the season until we can figure it out."