When you think of the 2006-07 Bowling Green Falcons, two things come to mind immediately:
1. Jonathan Matsumoto was a superstar.
With 11 goals and 22 assists, the Falcons junior led the team in scoring. He also had six power-play goals.
2. In every possible way, BGSU was a last-place team.
Last year's Falcons were last in four critical statistical categories: goals scored per game, goals given up per game, power-play conversion, and penalty killing.
Seems bleak, eh? Matsumoto signed a contract with the Philadelphia Flyers at the end of his junior year, while the Falcons anchored the basement two years in a row and actually had fewer league wins in 2006-07 than the previous season.
Well, sometimes numbers lie. Matsumoto may have led the team in scoring, but senior forward Derek Whitmore is the Falcons' leading returning goal-scorer, with 19 to his credit last year, as many goals with the man advantage as Matsumoto had, one more game-winning tally than Matsumoto had (two total), and a shorthander.
With the departure of Matsumoto and the loss of Rich Meloche and James Unger to graduation, the Falcons lose just 20 goals.
That's the good news.
The bad news is that BGSU scored just 75 total goals last season. The Falcons had absolutely no game from the dots on down to the goal in the opponent end.
But there's more good news: with only three departed goal-scorers, BGSU returns 13 other players who scored at least one goal last season.
Okay. So it's tough to spin. But a trio of sophomores — Kai Kantola, Todd McIlrath and Tomas Petruska — look promising. Rookie Jacob Cepis had 34 goals last season for Cedar Rapids (USHL) last season.
Returning junior goaltender Jimmy Spratt had a good-ish second half, and the Falcons return their entire blue line.
Admittedly, it's all hard to spin.
"Twenty-three of our players are back from last year," said head coach Scott Paluch, "led by our captain Derek Whitmore. Our most improved player from last year, Jimmy Spratt in goal, is back and building on an outstanding second half.
"We had a really good second half. It didn't add up to as many wins as we would have liked.
"We were a pretty good team in the second half."
Did you get that? The buzz phrase is second half.
In fairness to the Falcons, they were a tougher team down the stretch. They beat Michigan, 3-2, lost a couple of one-goal games to Notre Dame in early February, they took Nebraska-Omaha to overtime in the first game of the first round of the CCHA playoffs … but they were also shut out three times and lost seven games by three or more goals in the second half.
Follow the Leader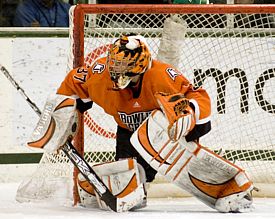 The path the Falcons have taken is almost inconceivable to keen observers of the CCHA. When BG brought Scott Paluch home to rebuild the program, they couldn't have picked a better candidate. The man is an excellent ambassador for the school, and he had a proven track record as Jerry York's assistant through some pretty golden years at Boston College.
But the task may have been more difficult from the start, and the transition between pre-Paluch hockey and the kind of game Paluch wants to play has been longer than anticipated.
One positive step toward achieving Paluch-ness at BG is the hiring of new assistant coach Todd Reirden (1990-94), who joins Doug Schueller (1997-2001) and Paluch (1984-88) to comprise the first-ever all-alumni coaching staff for BGSU. Reirden has to stay, because coaching turnovers cannot be helping the Falcon cause. Stability — a cornerstone of Paluch's coaching philosophy — would be a great gift to the program.
Red Light, Green Light
Where does one begin addressing BG's defensive woes? It's not all about the net, but having a more consistent backstop wouldn't hurt.
This year, the Falcons bring in Nick Eno, a Buffalo Sabres draft pick who had a .902 save percentage and 3.60 goals-against average in 25 games played with the Green Mountain (Vermont) Glades of the EJHL.
Home Free
Last year's team was so young that it's tough to know how well they really played. There are a dozen sophomores on this year's squad, and Paluch — an optimist and genuine nice guy — likes what he sees for the coming year.
"A lot of last year's players are back with us, drawing on that experience. We fee real good about our team. Our off-season has been outstanding from a team-building and conditioning standpoint.
"We are ready to prove the rankings wrong."
BGSU's cluster — which includes Ferris State and Western Michigan rather than Miami and Ohio State, or Michigan and Michigan State — provides a better opportunity for the Falcons to gain a few more league points.