There are two hard-fast rules when it comes to Michigan hockey:
1. Don't get too comfortable with your favorite player.
Andrew Cogliano and Jack Johnson are gone, fleeing for the greener pastures of professional hockey rather than sticking around to graduate.
2. Never underestimate Red Berenson.
Even as Notre Dame ran away with the CCHA regular-season title in 2006-07 and the Wolverines were nearly written off because of their sketchy goaltending, Berenson's team somehow managed to finish No. 2 in the league standings, one sticky point ahead of third-place Miami.
And Rule No. 1 above wouldn't be possible without Rule No. 2. Berenson is a victim of his own success, having created since the late 1980s a college hockey dynasty that breeds excellence and attracts many future NHLers.
Follow the Leader
There is no question that Michigan is Berenson's team, no matter how much assistants Mel Pearson and Billy Powers are involved in the coaching process — and they are — no matter who does the recruiting, no matter who laces up on game night. And the influential veteran head coach is none too pleased about the way these young marquee players show their loyalty.
Berenson ended his 2007-08 CCHA media day monologue with a short but pointed rant. "I don't think these players should leave early. I'm glad to see Kevin Porter come back for his senior year. Nothing has changed at Michigan."
Nothing, of course, except for that loyalty thing.
After winning the 1996 NCAA championship, every one of the Michigan 9 — that fabulous junior class — opted to return for his senior season. A decade later, and it's hard to really get to know some of Michigan's stars, and hard to want to, knowing that they'll be with us all too briefly.
This year, we said goodbye to two would-be juniors, forward Cogliano and defenseman Johnson … and their 40 goals, thank you very much. Both were fun to watch, but for very different reasons, and the untimely demise of their college careers hurts a team that also bid adieu to senior forwards T.J. Hensick and David Rohlfs — and their 40 goals — and senior defensemen Matt Hunwick and Jason Dest (and their seven goals, in case you're counting).
It is a source of continued frustration and disappointment for Berenson that players like Cogliano and Johnson — and Jeff Jillson, and Mike Comrie, and a list of Wolverines before them — forego their remaining college eligibility for the promise of some cash. It's not just that Berenson wants this talent to stick around; he also wants to see these guys graduate, and enjoy the experience of four years in school.
Yet, in spite of the turnover, Berenson has taken his team to 17 consecutive NCAA tournament appearances. He's the MacGyver of college hockey, and it's a good thing, too.
The Wolverines welcome a dozen new recruits to Berenson's program this season.
Red Light, Green Light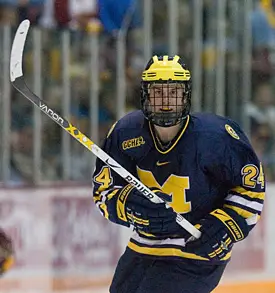 One dozen freshmen. That's something new for Michigan.
"Last year … we knew we'd be a good team because of T.J. Hensick and Matt Hunwick and Jack Johnson and Andrew Cogliano and our big senior class, but all those guys are gone," said Berenson.
There will be four newcomers on the blue line, six new forwards, and a couple of goaltenders. "Certainly, the depth of our team should be good, but the experience will be a question mark. So this will be the most interesting season in the recent past for the coaching staff at Michigan and certainly for the players."
Before you get all teary-eyed about the lack of experience, consider this: all six of Michigan's new forwards are NHL draftees, including Max Pacioretty, Montreal's first-round pick who netted 21 goals last season for Sioux City (USHL).
The most interesting pickups for the Wolverines are probably the goaltenders. Junior Billy Sauer has struggled for two seasons now, never reaching a .900 save percentage in overall play, and in 40 games last year he never felt as solid as a top-tier goalie should.
Joining Sauer will be Brian Hogan, whose career save percentage in 85 games for the Lincoln Stars (USHL) is .902. He put up better numbers in 2005-06 (.916) than he did last season (.889).
Also along for the Michigan ride is Shawn Hunwick, the younger brother of last year's captain, Matt — and he looks just like him. Last year with the Alpena IceDiggers (NAHL), Hunwick's save percentage was .904 (3.06 GAA).
All the Way Home
Everyone is calling for Michigan to have a "rebuilding" season. The Wolverines are fourth in both the CCHA's preseason coaches and media polls — I have them third — but no one should underestimate Michigan in this or any season.
"I like the incoming freshmen from what I know of them and what I've seen," said Berenson. "We've got a long season … a tough schedule."
Lots of freshmen, tough schedule, sure, but my money's on Berenson and his 23 years behind the Michigan bench. Before it's all over, I may regret my third-place pick of this year's Wolverines.