In 2006-07, there were two words to describe the Ohio State Buckeyes:
1. Average.
The Buckeyes finished seventh in the CCHA with a record of 12-12-4, were a hair below .500 overall, had team stats that ranged anywhere from third to eighth in conference play, and scored as many goals as they allowed overall (120).
2. Injured.
While there weren't as many sustained injuries as there had been in the previous two seasons, OSU spent half of 2006-07 without Tom Fritsche.
After improving to just seventh from 10th — two years after making the NCAA tournament — and losing a first-round home CCHA playoff series, the summer of 2007 was, as head coach John Markell put it, "an offseason where we had to do some work."
"We had issues that needed to be taken care of," said Markell. "It was a tough year with young goaltending and the loss of Fritsche and obviously some injuries.
"Then we thought we could go a little further in the playoffs than we did, that's for sure."
The loss in three games in the first round to visiting Northern Michigan — in the old OSU Ice Arena, not the shiny Schottenstein Center — is something that will sit with the Buckeyes for the entire season to come.
Follow the Leader
For fans of Buckeye hockey, 2006-07 was an interesting season. First, Ohio State was forced to start freshman goaltender Joseph Palmer after junior and would-be starter Ian Keserich bolted just before the beginning of the season.
Then Fritsche, who led the Buckeyes in scoring his freshman and sophomore seasons, played just 19 games after sitting out the first half of the season severe ulcerative colitis, diagnosed during the summer of 2006.
On top of that, the coaching staff changed the way the team played after OSU did everything but score goals for its 10th-place finish in 2005-06. The changes didn't work and early in the campaign Markell and his staff had to undo all the work they'd done over the summer.
"We weren't scoring goals and we tried to change our systems a little bit," said Markell. "It was a little bit of a risk that we took as coaches and it I have to say that it didn't work out."
It took OSU nearly half a season to adjust to the transition game to which the coaching staff had returned, but the Buckeyes had a better second half because of it.
Red Light, Green Light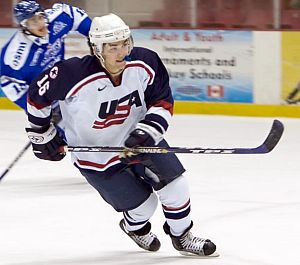 When the transition game, goal scoring, and defense were finally settled for OSU last year, goaltending remained inconsistent. Last year, Joseph Palmer worked hard to bring his save percentage up to .890. This year, having experienced World Junior action, Palmer will improve even further, said associate head coach Casey Jones.
"He made good progress last year as a freshman," said Jones, "and we expect a big jump in his play this year."
Pushing Palmer will be fellow sophomore sophomore Nick Filion (.847 SV%) and rookie Dustin Carlson, a 21-year-old freshman who played 46 games with the Alexandria Blizzard (NAHL), where he posted a .917 save percentage and 2.80 goals-against average.
In recent years, the Buckeyes have recruited young, true freshmen, but for this season OSU is bringing in a few players, like Carlson, who are more seasoned. "We've gone with older kids and younger kids — a good mix. These older guys come with experience, strength."
This year, the Bucks bring in 14 newcomers. Among them are three players from the greater Columbus area: Todd Rudasill of Powell, Patrick Schafer of Hilliard, and Markell's son, Ryan. Other new Ohio natives are John Albert (Concord) and Chris Reed (Solon). Schafer, a forward, had 20 goals with the Omaha Lancers (USHL) last year.
Ryan Markell, also a forward, had 18 goals with the Trenton Sting (OPJHL), and Reed, a defenseman, had four goals with the Ohio Junior Blue Jackets.
The Buckeyes will carry the maximum of 30 players on their roster, a hedge against the injuries that have plagued OSU for several years.
All the Way Home
In all, there will be nine native Ohioans on the OSU's roster this year, the most during Markell's tenure.
"I'm excited about … the kids from Ohio," said Markell. "They all went away and improved their games and they came back and they have a passion to play for Ohio State University, and that's where it is. That's five [freshmen] that want to put the sweater on for Ohio State."
The Buckeyes may be a team that can sneak in under the radar this season, if they get the consistency they crave. "There's no mystery to it," said Markell. "You have to stay healthy, and your goaltending has to be there."
Added Jones, "We'll try to be the same type of team we've always been in the CCHA: a hard-working team, tough to play against, and we'll play within ourselves."