What two things immediately come to mind when you think of the Ferris State Bulldogs?
1. They play a rather, um, tough brand of hockey.
Ferris State was the third most-penalized team in CCHA play last season with 18.71 minutes per game, and the 13th most-penalized team in the NCAA.
2. The Bulldogs don't really score any goals.
FSU was tied for eighth in team offense in CCHA play, and the Bulldog power play was seventh-best in the conference.
Does anyone else see a pattern here?
If Ferris State wants to compete for home ice, wants to crack the top tier of the CCHA ever again, then the Bulldogs have to play more disciplined hockey.
Their reputation for genuine toughness is well-deserved and well-earned; they play a hard, physical brand of hockey that often forces opponents to change strategies. When they take the body and play disciplined hockey, they can play with anyone, as evidenced by their record last February.
The Bulldogs went 6-2-0 in the month of February, a month in which they swept Ohio State and split with Michigan State and Notre Dame, three teams ahead of them in the standings. The games with the Buckeyes were predictably, um, testy, but key to the wins against the Spartans and Irish were the number of penalties taken, just eight minutes in each contest.
Head coach Bob Daniels said that the Bulldogs would "like to build on" that hot run. "We felt we had a real good finish to the season."
Follow the Leader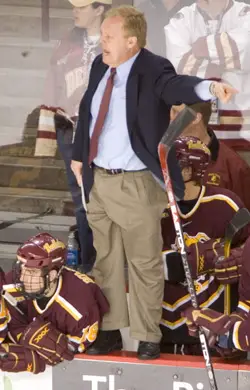 One way to do that would be to follow the steady presence of the first three-year captain the history of Bulldog hockey, senior defenseman Adam Welch. FSU lost two defenseman to graduation, but Daniels thinks that the blue line is the strength of this year's team.
"I would say we're probably in the top four in the league, top 10 in the country in terms of defensive corps," said Daniels. "We are real deep in that position. We have a couple newcomers [but] we are very comfortable on defense."
Seniors Jim Jorgensen and Alex Spezia and junior Chris Zarb bring experience to the group.
Red Light, Green Light
The last line of defense is up for grabs for FSU this season, as the 'Dogs bring to Big Rapids an anticipated rookie goaltender.
Pat Nagle helped the St. Louis Bandits win the North American Hockey League's Robertson Cup this past May, making 27 saves in the 8-4 win over the Mahoning Valley Phantoms. His performance earned him a spot on the all-tournament team. Nagle posted a .920 save percentage with a 2.32 goals-against average for 2006-07 with St. Louis.
Nagle joins junior Mitch O'Keefe, who struggled last season after a solid rookie year (.905 SV% 2005-06) and senior Derek MacIntyre, who was 7-3-0 last season with a .889 save percentage.
Daniels said that the Bulldogs have "high hopes" for the goaltending this year. "We are hoping some increased competition in that area will lead us to realize a little more consistency in that position."
All the Way Home
As optimistic as Daniels is about the defensive end of his team's game, he's realistic about the prospect of scoring goals.
"Up front is the real question mark," said Daniels. "We've got some players with potential, but that's what it's been and they need to realize that potential now.
"We've got some opportunities there with Adam Miller, Aaron Lewicki, Cody Chupp, Brendan Connolly. I think they all have ability to be the scorers in this league, but now it's a matter of doing that."
Ouch. Nothing like being called out by your coach. Miller, Lewicki, Chupp, Connolly accounted for 37 of 107 goals last season. Apparently, Daniels thinks these young men can do more, and with Mark Bomersback, Zac Pearson and Matt Verdone gone, every Bulldog forward will have to do more.
(And you all remember how Verdone responded last season when called out in these very pages, by this very reporter, don't you?)
The Bulldogs will likely jockey for position mid-pack with one or more of their clustermates, but they will never be an easy pass for any team this season. They just never are.