If statistics can be trusted, two things are true of last year's Alaska Nanooks:
1. The Nanooks didn't shoot the puck enough.
Alaska's shot percentage was just .089 last season, the Nanooks were tied for eighth in goals per game in league play, and their power play was eighth in conversions.
2. The Nanooks didn't stop the puck enough.
Alaska gave up 3.21 goals per conference game last season, and collectively the Nanook goaltending was effective 88.7 percent of the time in overall play.
In spite of a first-round upset of Western Michigan in the CCHA playoffs last season, this math added up to a .339 win percentage in conference play for UA. What's worse than this? Losing your only two players to score more than 10 goals in the season.
Kyle Greentree led all Nanooks in scoring as a junior last year with 21 goals and 21 assists, but opted to sign with Philadelphia rather than return to Fairbanks for his senior year.
The Nanooks lost second-leading scorer Curtis Fraser to graduation, and four more goals from defenseman Darcy Campbell when he decided to leave for NHL pastures (Columbus).
That leaves a handful of returning players — Aaron Lee, Adam Naglich and Braden Walls — who netted six goals last season, and a couple of promising players in junior defenseman Tyler Eckford and sophomore forward Dion Knelson, who each scored five.
"Tyler Eckford is a defenseman that is very good for us and will be good in the league," said first-year head coach Doc DelCastillo. "Dion Knelson is one of the better young players in the league [who] played for the Canadian National Under-18 team in the spring."
Alaska brings in a pair of players who had great numbers in juniors last year. Dustin Sather, a 21-year-old rookie from Alberta, had 41 goals and 63 assists for the Grand Prairie Storm of the AJHL last season, while another rookie of legal drinking age from British Columbia, Kevin Petovello, also had 41 goals (26 assists) for the Victoria Grizzlies of the BCHL.
Follow the Leader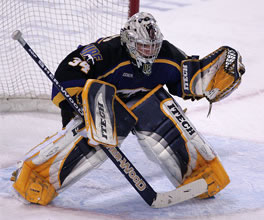 Another newcomer who will be a big boost to UA's offense is its new head coach. DelCastillo's pedigree is a good one. After having played for St. Cloud State (1988-92), DelCastillo coached in the USHL before returning to his alma mater in 1998 as an assistant; he's spent the last five years in Omaha and undoubtedly learned much under the tutelage of head coach Mike Kemp.
DelCastillo was responsible for recruiting at Nebraska-Omaha (does the name Scott Parse ring any bells) as well as coaching the Maverick power play, which was first in the league. And UNO's offense was fourth-best in the country last year.
Red Light, Green Light
The Nanooks return junior goaltender Chad Johnson and senior Wylie Rogers, who both came and went in the UA net last year.
Castillo called UA's goaltending situation "solid," and added, "I feel we have the best goaltending tandem in the league" with Johnson and Rogers.
You have to give the guy credit for spin. Johnson and Rogers are both competent, and both are capable of excellence — but neither consistently. And there's another goaltending tandem in the CCHA that can probably do these Nanooks one better.
Home Free
Even though the Nanooks never want to play the travel card, UA was a much, much better home team than road team last season, although the 'Nooks had a losing record both home and away, being a game under .500 in the Carlson Center and too many to count everywhere else.
In all, DelCastillo has good players to work with, at a good school dedicated to Nanook hockey, in a city that breathes and eats the sport. Score more goals, make more saves … the textbook recipe for improvement.
Oh, and a more disciplined approach on the ice would be a good idea. Last year, the Nanooks averaged over 18 penalty minutes per league game. They paid the price on the scoreboard.
One more note about Alaska — and it's not about the number of sets of brothers playing for the program. DelCastillo has five daughters: Britni, Brandi, Bryna, Brook and Brylei.
Boy.