What is the measure of a good program? The Mavericks have two answers to that question.
1. You produce coaches that other people want.
Nebraska-Omaha said goodbye to assistant Doc DelCastillo, who is the new head coach for Alaska. Also, UNO welcomes back Nick Fohr, whom the Mavericks had already sent out into the world to earn a little coaching experience.
2. You produce players that other people want.
Two years ago, Maverick Bill Thomas left the program early to sign with the Phoenix Coyotes. Last year, the Mavericks' all-time everything, Scott Parse, left for the AHL the moment his college eligibility was over.
In just 10 short years as a Division I program, UNO has steadily and consistently improved to the point where we CCHA fans can't imagine life without the Mavericks. It's difficult for any CCHA team to compete against the powerhouse teams for top talent, but throw the relative remoteness of Omaha into the mix, and the task becomes harder. The brief history of the program is a factor as well.
But as Mike Kemp is proving, all it takes is about a decade to put yourself on the map.
Follow the Leader
In recent years, the Mavericks have had to contend with minor offseason dramas as well as coaching and player turnover — none of which is good for a blossoming program. But this year, the departure of DelCastillo does the Mavs good for a couple of reasons.
First, of course, it sends a UNO-trained head coach to another D-I program, where he will have the chance to make a mark of his own. Second, it brings back a UNO alum to earn valuable coaching experience of his own.
"The opportunity with Doc leaving gave me a chance for the first time to bring a former player on as and assistant coach," said Kemp. "It's a thrill for us to have Nick Fohr, who played on our second through fifth teams at UNO, in a full-time coaching position.
"He served under Enrico Blasi at Miami for one year as a graduate assistant, had spent three years as our director of hockey operations and will now step into a full-time coaching position, which for me is very gratifying to have one of our own guys move up the coaching ladder."
And stabilizing. Because of Fohr's deep ties to the UNO program, he's likely to stick around for a while to help the program continue to grow.
Red Light, Green Light
It's difficult to overestimate the impact a player like Parse had on UNO's program. He's the kind of guy who elevates the level of play of every man around him whenever he's on the ice, whether it's the play of his own teammates or that of his opponents.
"We have some big shoes to fill in our program, losing Scott Parse who was our four-time team MVP, three time First Team All-CCHA selection, and holder of every scoring record in our school's history," said Kemp. "That's going to be a big hole to fill, along with Alex Nikiforuk, who was another one of our high-scoring forwards that we lost to graduation."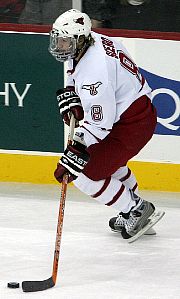 Between Parse and Nikiforuk — who's playing in Finland, by the way — the Mavericks lose 38 of their 153 goals from a year ago.
Um, wait a minute. Over 150 goals in 2006-07? It seems that UNO had more offensive weapons than just two last season. In fact, the Mavs not only had the second-best offense in the CCHA last year behind Michigan, but the fourth-best in the nation. UNO's power play was smokin' hot, converting at 20 percent in league play, and the Mavericks return five players who netted 10 or more goals from a year ago.
"We have three seniors that have been consistent scorers, Bryan Marshall, Brandon Scero … and Mick Lawrence returning," said Kemp. "We'll look for those guys to give us some offensive punch throughout the course of the season."
Add to that mix a few newcomers worthy of mention, including Joey Martin, who had 30 goals in 48 games with the Aurora Tigers (OPJHL) last year, Rich Purslow, who had 27 goals in 60 games with Des Moines (USHL), and offensive-minded defenseman Alain Goulet, a sixth-round draft pick of the Boston Bruins this year.
The Mavericks will have no problem scoring, and they return sophomore Jeremie Dupont as their likely top goaltender. Goal has been something of an issue for UNO in recent years, but Dupont looked solid down the stretch, and will be pushed by junior Jerad Kaufmann and senior Eric Aarnio.
"We feel that position can give us some stability for what we consider to be a very difficult cluster in a very difficult CCHA league," said Kemp.
The one area where the Mavericks are genuinely questionable is in defense. With such an outstanding offense in 2006-07, it was a pity that the Mavs possessed an average defense.
"We'll be relatively green back on the blueline," said Kemp. "Juha Uotila will be a junior defenseman who has shown some offensive ability back there. Eddie Del Grosso returning from an All-Rookie Team in his first year at UNO and Mark Bernier are our only defensemen with any experience. We'll be playing five freshman defensemen this year who will all be vying for playing time."
All the Way Home
Last year, the home and road Mavericks were like two different teams: 13-6-2 at home, 5-10-5 on the road.
The Mavericks face three tough opponents on the road in the first half of the season, beginning with Miami and ending with Notre Dame. Between two trips to Ohio in late October and early November, the Mavs welcome Michigan to the Qwest Center for two — hardly a comforting way to begin the season.