There are two ways to define the 2007-08 Northern Michigan Wildcats:
1. Young.
This is a roster that includes 17 sophomores and freshmen.
2. Really young.
Not only will the Wildcats play as many as 15 underclassmen per game, but the average age of the NMU team is just over 20 years. Five of the 11 newcomers are still teenagers, a gutsy move by the coaching staff for a team so green.
"We like the young kids, we like the talent, but those people also have to prove themselves," said head coach Walt Kyle. "Our greatest strength is going to be our youth and our energy and our greatest weakness is probably going to be our inexperience."
Truer words were never spoken.
Follow the Leader
It's difficult to follow the leader if you don't know who the leader is. Not only do the Wildcats have 17 underclassmen, but most of NMU's upperclassmen have yet to make some noise in the CCHA.
"We think these kids are going to fill in there at some point," said Kyle, "but they're also again unproven to us and we're anxious and waiting to see what those guys will do."
Last year's 30-goal scorer, would-be senior Mike Santorelli, now graces the roster of the Milwaukee Admirals of the AHL. Darin Olver and his 14 goals are lost to graduation, which leaves junior Nick Sirota as the only returning 10-goal scorer — and that's how many he netted last year, 10.
"I don't think that we're a team that's going to score a lot," said Kyle. "We don't have very many returning goals. We're a team that's just going to have to compete and play hard on a nightly basis.
It would, however, be nice to score a few goals, and to that end the Wildcats have recruited several new forwards. Mark Olver (who proved easy to recruit) had 29 goals with the Omaha Lancers (USHL) in 57 games last year, Jared Brown had 30 goals in 60 games for the Lincoln Stars (USHL) and Andrew Fernandez had 14 goals in 56 games for the Selkirk Steelers (MJHL).
The rookie class of forwards also includes Mike Maltese, a 22-year-old freshman who stands over six feet tall and weighs 200 pounds, and Erik Gustafsson, who played in the Sweden Superelit league for Timra. We know from the Timra team page that his favorite food is tacos and his nickname is "Gurra." There were many other interesting facts available from this page, if you can read Swedish. And he likes The O.C..
Defenseman Erik Spady, 10-goal scorer with the Salmon Arm Silverbacks (BCHL) in 56 games, is sure to be a crowd-pleaser in Marquette; he also earned 117 penalty minutes.
Red Light, Green Light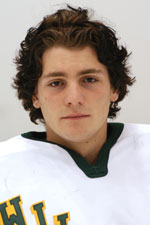 Among the many question marks for the Wildcats this season is netminding. Gone is the inconsistent Bill Zaniboni, and sophomore Brian Stewart — who looked terrific in NMU's first-round playoff upset of Ohio State — will be challenged for the starting position by rookie Reid Ellingson, a product of the Minnesota high school system.
If, as Kyle said, the Wildcats will be thin on goal-scoring, someone had better emerge from this little group to start consistently and well, or it will be a long, long season in Marquette.
Home Free
The start of the CCHA season will be a primer in 2007-08 Wildcat hockey. While NMU plays three of its first four league series at home, two of those three will be against Michigan and Miami, and the one road series later this month is a trip to East Lansing.
NMU is coming off a 15-24-2 season, the Wildcats' first losing season since 1996-97. To reverse that trend, the kittens will have to become 'Cats in a big hurry.
"Leadership, chemistry, and discipline are the things that our team is going to have to have if we're going to emerge and be a factor," said Kyle.