What can anyone say about the Miami RedHawks? Two things, for sure:
1. They're loaded and experienced in every position.
In 2006-07, Miami finished second in the CCHA with an offense that scored more than three per game, two of the most consistent goaltenders in the league, and name-brand players everywhere on the ice — and nearly everyone returns.
2. Head coach Enrico Blasi has studied a certain scene in Bull Durham a little too well.
"Really, our focus hasn't changed over the past couple years," said Blasi. "We're going to continue to focus on our daily improvement and worry about the things that we can control, and be the best team that we can be."
We've got to play 'em one day at a time. I just want to give it my best shot.
Okay, Coach. But who's to argue with any of it? The RedHawks have become proven that they are a program that has arrived, and Blasi means what he says. Blasi's philosophy is to work on the things the team can, genuinely, control.
Obviously, he's doing something right. At a certain point last season, it was obvious that no one was going to catch the runaway Fighting Irish, but the RedHawks were in the hunt for first place until that point — and they swept Robert Morris.
The keys to Miami include leadership, an explosive offense and stellar goaltending.
Follow the Leader
Miami captain Ryan Jones is Blasi's kind of company man: lead by example, speak cautiously.
When the RedHawks earned their first-ever NCAA tournament win last year against New Hampshire, Jones was instrumental in keeping UNH's penalty kill, second-best in the country, scoreless in seven tries.
In 42 games last season, Jones 29 goals, with 10 on the power play, one shorthanded, and five game-winners. He was tied in the team for plus-minus (+18), and had 40 penalties for 88 minutes on a team that was average in terms of minutes in the box.
After notching a hat trick against Ferris State in December, Jones said, "The biggest thing was that we won the game and it doesn't matter who scores the goals."
When he netted his 20th goal of the season by scoring on the formidable Laker Jeff Jakaitis, Jones said, "He definitely had the step on me and I just got lucky and made a good guess on the puck."
Maybe Bull Durham is required viewing for the RedHawks.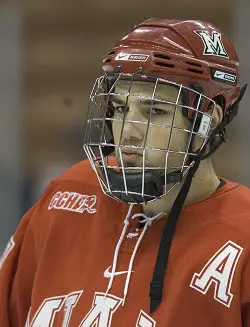 Whatever you think of the team's rhetoric, the brand of leadership evidently gets results.
Said Blasi, "We feel that the leadership and commitment displayed by our returning players will give us an opportunity to compete in a very competitive league, day in and day out."
Red Light, Green Light
Miami plays a working-class brand of hockey, like many teams in the CCHA, but with a potentially lethal offense and goalies no one wants to face.
Aside from Jones, returning this year are senior Nathan Davis (21-29–50), junior Justin Mercier (10-15–25) and sophomore Jarod Palmer (11-19–30), plus a slew of other players who have great puck potential.
Miami's fast transition game also lets the RedHawks' talented defensemen contribute to the scoring. That kind of play produces exciting, end-to-end hockey that can sometimes leave a team vulnerable at the other end, but the RedHawk defense is fast and solid, and Miami is backstopped by the best goaltending tandem in the CCHA.
Junior Jeff Zatkoff's .919 save percentage in 2006-07 was 17th-best in the nation last season, third-best in the CCHA, while Charlie Effinger — who missed time with mononucleosis — fell below his sophomore levels with a save percentage of .896. Zatkoff played the final seven games of the season, including both NCAA tournament appearances.
Home Free
There is absolutely no way that the RedHawks can fly under any radar in the CCHA, especially after earning that NCAA win — which, admittedly, surprised many people east of Pittsburgh.
With the fabulous new Steve Cady Arena, the 'Hawks now have a home that announces their presence with as much authority as they do themselves, on the ice. Last year, Miami had just three home regular-season losses and five total in The Cady. Those last two, of course, hurt the most; the RedHawks were swept at home in a pair of 2-1 games by Lake Superior State in the second round of the CCHA playoffs.
Don't think they've forgotten.
There is little left for Miami to do except to keep on keeping on. Even the head coach of the defending national champion Michigan State Spartans knows that the RedHawks are in control of their own destiny this season.
"They really are primed for this year," said Rick Comley.
They are, and you can bank on Enrico Blasi and the RedHawks knowing that, too.