Alabama-Huntsville had a Cinderella run last season in winning its first College Hockey America championship.
But the new-look Chargers will be hard-pressed to retain their title this year and have a new head coach with a tall order ahead.
Danton Cole takes over for Doug Ross, who retired at the end of last season. He inherits a team with just two seniors, five juniors on the roster and a dozen freshmen.
Cole also hired Dennis Williams as his assistant, replacing Lance West. Williams was the head coach at Division III Neumann College last season.
"It's a bit of catch-up, for sure, trying to figure out the freshmen and get everyone on the same page" said Cole. "So far, I have a very good feeling about the team and everything is going well. I have no complaints so far."
"It's a whole new era," senior forward Tyler Hilbert said. "We're all freshmen and we all have a clean page."
The similarities Ross and Cole share are uncanny. Cole and Ross are both Michigan natives (Ross from Dearborn and Cole from Pontiac) and Cole coached Ross' son and former Charger, Jared, with the Motor City Mechanics of the United Hockey League in 2005. Last season, Cole was an assistant coach at Bowling Green — Doug Ross' alma mater.
Cole said taking over for the legendary Ross doesn't add any extra pressure.
"I'm very comfortable with myself and my approach to educating these young men," Cole said. "I think there's pressure taking any new job where the person before you was there for a while. Look at Dave Lewis when he replaced Scotty Bowman [with the Detroit Red Wings in 2002]. That couldn't have been easy. That being said, I'm comfortable with where we are at right now. The players have bought into the system and we're establishing a work ethic."
The two seniors, Hilbert and defenseman Matt Montes, are among a handful of holdovers from last season. Forwards Josh Murray (the top returning scorer with 16 points a year ago), Joe Federoff, Kevin Galerno and Matt Sweazey and defenseman Scott Kalinchuk (also 16 points last season) make up the junior class.
UAH has 12 new freshmen this year, including goalie Wyatt Russell, son of Hollywood actor Kurt Russell and actress Goldie Hawn. He'll vie for time in between the pipes with fellow freshman Cameron Talbot, last season's Ontario Provincial Junior Hockey League MVP, and returnee Blake MacNicol, who played all of six games last year after joining the team mid-season.
"Experience-wise, Blake has established himself, if only in those six games," noted Cole. "The goalie who is in the best place at game time will play and I would imagine we'll be going into our goalies this year and have a fairly even split. They all need experience."
As for Russell, he's obviously been asked about his famous family, but Cole said he tries to deflect that talk to his own time.
"Wyatt just wants to be one of the guys," said Cole. "Some people want to talk to him about (his family) all the time and he handles himself well in those situations. He doesn't make a big deal about it and just wants to go out and accomplish things on his own."
Several other freshmen have Cole anxious to see game action as he said defensemen Ryan Burkholder, Mike Ward and Matt Baxter have shown promise, as has forward Andrew Coburn.
"The freshmen have looked good in camp," Cole said. "I'm really happy with our forwards. But even though you can play and look sharp in practice, the real test is when the games start."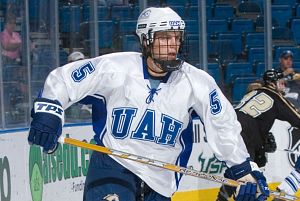 "The 12 freshmen will need a push, just like I did when I was brought up," Kalinchuk said. "I just want to help out when I can."
Kalinchuk also reflected on last season's 13-20-3 overall record (7-11-2 CHA) that ultimately brought UAH the CHA title and then a double-overtime loss to Notre Dame in the regionals.
"Last year, I think we finally got the monkey off our back," he said. "Some say we did it the wrong way, but I think we just found a way to get it done at the right time. We showed up when it counted."
David Nimmo, Grant Selinger and Brett McConnachie combined for 43 of the team's 112 goals last year, but all have graduated. Sophomore Kevin Morrison scored nine goals a year ago as a freshman on a senior-heavy team and Hilbert has high expectations for him.
"It would be great to see Morrison step up this year," Hilbert said.
Cole knows that his team isn't thought of as a contender, as evidenced by the fifth-place finish in the CHA preseason coaches' poll. He also has a theory of what success is for a young squad such as his and how to get on the path to finding that success.
"Obviously, we want success and as a coach, we're concerned with wins and losses," said Cole. "We just want to go out and get things right and if we don't, well, we learn our lesson and hopefully don't make that mistake again. I don't really worry about wins and losses until after Christmas. There aren't a whole lot of shortcuts in this game, but we believe in what we're doing and we're doing things the right way.
"I believe in what we're building here. Maybe in a few years we make the NCAA tournament without winning the league tournament."
Cole went on to hype UAH as a whole.
"This university is a hidden giant," he added. "I believe we can recruit and get the school on the market. One of the things that attracted me here was the academics. The business and engineering programs are phenomenal and the area is great. I wouldn't have moved my family down here if I didn't think so."
Hilbert is about to enter his final hurrah with the Chargers and though the team is a bit green, he sees plenty of optimism.
"As a senior and one of the leaders, I have to let everyone know how bad we want it," said Hilbert. "We need to go out and play our heart out. Everyone underestimates us and last year, we were better than what our record was.
"We want to go out and prove everyone wrong again."