As far as Robert Morris is concerned, last year is in the rear-view mirror and the focus is on the upcoming season.
The Colonials lost the College Hockey America title game to Alabama-Huntsville after going into the contest as the favorite.
"We're not bringing that up," said senior forward Ryan Cruthers. "We have 14 seniors and we're all hungry to win. Last year doesn't matter."
And with a veteran-laden roster, RMU (14-19-2 overall, 9-10-1 CHA in '06-07) has players that have been together all four years of the program from the dark beginnings to the bright present. Goaltender Christian Boucher is one of those players and, though his numbers may have dropped the past couple years, Colonials' head coach Derek Schooley sees no reason to worry.
"Christian Boucher is a bona fide No. 1 goaltender," Schooley said. "People always want to ask questions about why his numbers are down, but we've played a harder schedule each season. He continues to be solid for us year after year and I can't say enough about him."
"I've heard that, too, about my numbers," added Boucher. "This is the best I've felt in years. I feel confident I can help take this team to where we want to go and that's to the national tournament."
On the tough schedule note, RMU gets right into the fire the first month of the season. The Colonials face No. 9 Boston University and Wayne State (0-4 against them last year) this weekend at the Nye Frontier Classic in Anchorage, Alaska. Then next weekend, Robert Morris plays two at Wisconsin followed by two at home with Wayne State. The November schedule has Niagara and Ohio State on the docket and December has Colgate and Quinnipiac.
"We don't play a slug schedule," Schooley said. "It's definitely not an easy start. We'd love to be 6-0 after the first six games as I think every team would, but if we can come out of our first six games at .500, anything above that is gravy. And looking at Wayne State, we have the worst record against them in the CHA since we started."
Robert Morris lost just four players from a year ago with forwards Doug Conley and Aaron Clarke, defenseman Bryan Mills and goalie Joe Tuset all graduating. Tuset was then brought back as an assistant coach.
New to the Pittsburgh area this year include forwards Kyle Burton (40 goals last year), Branden Gay (27 goals) and Scott Kobialko (52 points) from the Alberta Junior Hockey League and Nathan Longpre (65 points — 10th in league) from the North American Hockey League. Boucher will get pushed by Quinnipiac transfer Wes Russell and Jim Patterson, another AJHL alum. Defenseman Denny Urban played in the United States Hockey League last season and will look to play in the top six for his hometown Colonials this year.
Robert Morris' returning forwards bring back valuable experience and skill for the young guys to mentor under. Cruthers led the team with 17 goals among 37 points last year and also won over 60 percent of his faceoffs. Chris Margott potted a dozen goals and David Boguslawski added 10. Sean Berkstresser recorded 26 points. Joel Gasper will be a tri-captain this year after being an assistant last season.
"We're going to incorporate the younger guys into the lineup right away," Schooley said. "We want to get them experience and not only have them develop this year, but we want to plan for the future, too. The younger guys will definitely push the older guys."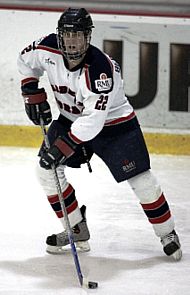 Six senior defensemen dot the RMU blueline — Andrew Bonello, Jeff Gilbert, Jake Sparks and Eric Trax and the two other captains, Rob Cowan and Chris Kaufman (six goals led all defensemen). Along with Boucher, this looks to be the strength of the Colonials.
"Show me another school in the country with that kind of experience on defense," bragged Schooley. "We have a core of solid defensemen and up to our forwards. We're a deep team and we're a quick team that I think can score a lot of goals. Of course, on the flip side of that, we need to not allow so many goals. In our exhibition with Ryerson, they scored five, but we scored eight. We need to stop allowing so many goals, especially with our early season schedule the way it is."
Schooley added that playing national powerhouses and ranked teams is what he wants. In looking at RMU's 2006-07 season, the highlight is obviously the team's win over then-No. 2 Notre Dame on Jan. 7, "a definite confidence booster," according to Cruthers.
Is another upset in the making?
"We want to play this upper-echelon teams to show we belong," said Schooley. "If we can compete with them, that can only increase not only your program, but also the visibility of the university. Playing these top teams can only make us better. The seniors have done this before and it's not an overwhelming schedule for them. It's nothing they haven't done before. It's exciting for our guys and to be associated with top-level schools is what we're all about."
Winning a championship won't hurt, either.
"Our team goal is obviously to win the CHA," Cruthers said. "We want it now more than ever. Last year, we let it slip away. We have a rough schedule this season, but we're getting looks from other teams and we're building confidence from that. Knocking off some of these ranked teams can only help us. I think we have a special team here and if we play well early, maybe we can get on a hot streak going into league play."
Most college players are on the four-year plan. If all goes as planned for Robert Morris, diplomas won't be the only item the seniors leave with next spring.