It may be a trying season for Bemidji State, as the Beavers may struggle to score goals.
If they had a weak defense coming back, that would be a recipe for catastrophe, but BSU has a stellar back end returning and three goalies who present a good problem for head coach Tom Serratore.
Senior Matt Climie looks to have an inside edge on the No. 1 job in goal, but junior Orlando Alamano has played well the past couple years and freshman Matt Dalton won 27 games in the United States Hockey League last season with five shutouts to boot.
So who plays? And when?
"Any three of those guys could be a starter on any team in the nation," Serratore boasted. "It's hard for them because they all want to play, but we'll see how it shakes out. Not only do I want a guy who can go out and stop pucks, but I also want a guy that the players want to play in front of. Practice is important, too, but we'll see what happens."
Despite losing in their first game of the College Hockey America tournament last spring to Robert Morris, the Beavers don't plan on using that game as motivation for this year. They'd rather forget about it.
"It's hard to say that we'll use that game as motivation for an entire season," said Serratore. "A weekend, maybe, but for a whole season, bottom line is we need to play hard and look at what our deficiencies were last season and not let those happen this year. What happened to us at the end of last year we deserved because we were not playing good hockey at the end of last season."
The Beavers (14-14-5, 9-6-5 CHA) only won two of their final 12 regular-season games a year ago. One can assume their early season schedule this year may be in their favor as BSU hosts Army this weekend and Merrimack next weekend.
"The upperclassmen need to set the tone early," senior defenseman and co-captain Dave Deterding said. "We need to know that every day we need a good practice and we need to start some up-tempo habits. I think we're going to have to learn to score goals as no one guy can do all the work, but I love the chemistry on this team. Everyone gets along."
Senior forward Jake Bluhm will also wear the "C."
"We definitely don't have any high-end scoring and we don't have a Luke Erickson (13 goals last year) or a Brendan Cook or an Andrew Murray," said Serratore, alluding to past BSU goal-scorers. "I think we'll get our scoring by committee this year and we'll have to manufacture some offense. And how do we do that? By getting to the net, by getting pucks through and by being difficult to play against, that's how. We've got a veteran defense and three good goalies and that's where our strength will lie."
Sophomore defenseman Chris Peluso played a solid freshman season and is also the lone CHA player to have been drafted by an NHL team as Pittsburgh took him in the seventh round in 2004. Freshmen Dan McIntyre and Tyler Pederson are the newcomers to the blueline, but will look for time behind sophomores John Vadnais and Kyle Hardwick, junior Cody Bostock and senior Riley Weselowski.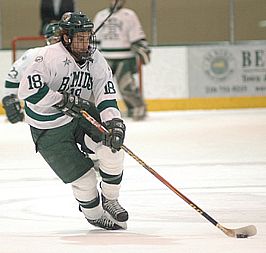 Bemidji State's freshman class oozes potential. One name that stands out, however, is forward Emil Billberg, a 19-year-old native of Sweden. BSU has had European players in the past and Billberg looks to be the latest overseas connection.
"We've always had success with the Europeans," Serratore said. "Emil pretty much fell into our lap. But he's a 1988 birthdate and he'll have to make some adjustments not only to the level, but in playing in North America. He'll have a huge learning curve."
Junior forward Travis Winter returns as the Beavers' top scorer after registering 12 goals and 29 points last season. Senior Blaine Jarvis scored ten. After those two, the rest of the returnees combined for just 35 total goals.
Forward Rob Sirianni and his 29 points last season have also moved on to the professional rung of the hockey ladder.
"No job is safe and we all know that," said Climie. "We kind of had a sour taste in our mouth after last year and it was a long summer. It kind of forces you to take a step back and look at things."
"We just want to have a fast start and remedy what went wrong last year," Deterding added.
Along with the freshman class, BSU also adds forward Matt Francis from St. Cloud State. Francis sat out last year and is now eligible for the Beavers.
One issue that will be talked about at length this year is the Bemidji State arena issue. A bill was passed recently that would allow for a new rink on campus. But a snafu has arisen and those plans may be in jeopardy. With Bemidji State president Jon Quistgaard saying the team may be next to go if acceptance into the WCHA is denied, a lot may happen on the BSU campus this season.
On the ice, however, is where Serratore is most focused.
"I've always said that there are three phases to a season — the time where you do everything right, the time where you seem to do everything wrong and the time when it's 50/50," said Serratore. "You just hope that when you are doing everything wrong, the team you're playing against is doing everything wrong, too. You just hope to start on the right foot, get through the phases and end on the right foot."