There are more questions than answers for College Hockey America as the conference's ninth season is about to get under way.
The majority of the questions center around Wayne State's departure after this season and what that means for the future of the CHA. There don't seem to be any answers — and if there are, no one is talking.
Still, there is a season to be played with the five CHA schools vying for an automatic bid to the NCAA tournament. In two of the past three tournaments, the CHA champion took its first-round regional opponent to overtime before bowing out. Bemidji State did that to Denver in 2005 and the Cinderella Alabama-Huntsville Chargers took Notre Dame to double overtime last March.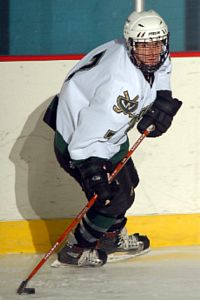 Along with the disappointing, but not unexpected, news on WSU, Danton Cole joining the league as UAH's new head coach can be looked upon as a positive news item in the CHA.
Too, like every year, the coaches differ on who is the cream of the crop in the league.
"It's a tight league we play in," Wayne State head coach Bill Wilkinson said. "Both Niagara and Bemidji have their goaltending back and every time out, you have to come to play and come to win. You can compare all you want on paper, but you get it done on the ice."
No one expects WSU to tank the season as the players "are playing D-I hockey for a reason," according to Bemidji State head coach Tom Serratore.
"I don't expect those kids to fold up shop," Serratore added. "It's a unique situation Wayne State is in."
So who's the favorite this season in the CHA? Alabama-Huntsville was on nobody's radar last season and look what the Chargers accomplished.
"Last year, everybody said that anyone could beat anyone and Huntsville went out and proved it when it mattered," said Niagara head coach Dave Burkholder. "I think it'll be a close finish from top to bottom. The polls don't mean a whole lot, but every game means something."
Case in point: Robert Morris beating then-No. 2 Notre Dame last season in a major upset.
Another reason to follow the CHA: Niagara brings back two-thirds of the country's top line from a year ago in juniors Ted Cook and Les Reaney. The Purple Eagles have also won the past two regular-season championships, and that in itself has a couple schools leaning towards them this year.
"I think Niagara deserves respect for what they've done the past two seasons," Bemidji State senior co-captain Dave Deterding said — not to mention the fact that the CHA tournament will be held next March at Dwyer Arena on Niagara's campus.
Pretty much every team was a favorite heading into the CHA tournament in Des Moines last March, but perhaps no team less so than the Chargers, who finished last in the CHA standings and were the No. 5 seed in the tournament. Three games later, three wins later, and the school finally got the proverbial championship monkey off its back.
"This year is different, though," said UAH senior forward Tyler Hilbert. "But we're not worried. We don't have many upperclassmen, but we are showing promise. There is a lot to see from us."
So, does UAH repeat this year? Can the new coach pull off the near-impossible with a roster full of freshmen? Or is simply learning the CHA enough of a chore this early in the season for Cole?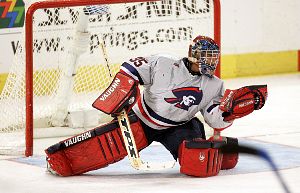 "The past few months have been a crash course for me," said Cole. "I don't know a whole lot about all the other teams, but last year it was nice to follow Huntsville and see what they did in the tournaments."
The CHA has long been an unpredictable league — one that can easily be predicted until games prove otherwise.
"Look at last year and you talk about balance," Serratore said. "Not one team had double-figure wins (in league play). From first to fifth, there's just a goal differential. It all depends on who's playing well in March and who can win this sucker."
Every CHA team has won the postseason tournament, save for Robert Morris, but that may change this season. RMU has returned essentially the same team each season since beginning the program in 2004, and has a team full of seniors this year.
But is that enough?
"We definitely believe this is our time," said senior goalie Christian Boucher. "Every year we've been getting better and this year, we want to make that trip to the national tournament."
Seemingly as unpredictable as ever, this year looks to follow that annual protocol. But in any event, picking winners of games goes out the window starting this weekend. That much is certain.
As for next year? One year at a time, people, one year at a time.
Below are individual previews for each of the five CHA teams, listed in order of predicted finish. Each individual preview can be accessed by clicking on a given team's name.
Robert Morris
Last season: 14-19-2 overall, 9-10-1 CHA
Head coach: Derek Schooley (34-60-9, 4th season)
2006-2007 team offense: 110 goals scored (3rd)
2006-2007 team defense: 129 goals allowed (4th)
2006-2007 power play: 45-226 (19.9 %)
2006-2007 penalty kill: 205-249 (82.3 %)
2007-2008 predicted finish: 1st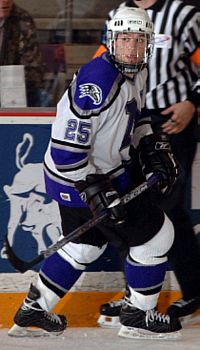 Niagara
Last season: 18-13-6 overall, 9-5-6 CHA
Head coach: Dave Burkholder (106-96-18, 7th season)
2006-2007 team offense: 126 goals scored (1st)
2006-2007 team defense: 128 goals allowed (3rd)
2006-2007 power play: 51-251 (20.3 %)
2006-2007 penalty kill: 191-236 (80.9 %)
2007-2008 predicted finish: 2nd
Bemidji State
Last season: 14-14-5 overall, 9-6-5 CHA
Head coach: Tom Serratore (103-86-25, 7th season)
2006-2007 team offense: 97 goals scored (tied-4th)
2006-2007 team defense: 109 goals allowed (1st)
2006-2007 power play: 31-201 (15.4 %)
2006-2007 penalty kill: 181-228 (79.3 %)
2007-2008 predicted finish: 3rd
Wayne State
Last season: 8-10-2 overall, 12-21-2 CHA
Head coach: Bill Wilkinson (113-143-26, 9th season)
2006-2007 team offense: 97 goals scored (tied-4th)
2006-2007 team defense: 125 goals allowed (2nd)
2006-2007 power play: 36-209 (17.2 %)
2006-2007 penalty kill: 183-234 (78.2 %)
2007-2008 predicted finish: 4th
Alabama-Huntsville
Last season: 13-20-3 overall, 7-11-2 CHA
Head coach: Danton Cole (1st season)
2006-2007 team offense: 112 goals scored (2nd)
2006-2007 team defense: 137 goals allowed (5th)
2006-2007 power play: 38-189 (20.1 %)
2006-2007 penalty kill: 198-255 (77.6 %)
2007-2008 predicted finish: 5th