It was a pretty typical year for Boston University in many ways last season. The Terriers picked up their usual Beanpot, earned home ice in Hockey East, and made the NCAA tournament. The failure to do any more than that was a disappointment given that it was the swan song for goaltender John Curry, and the fact that the ultimate NCAA champion ousted them in the first round of the NCAAs was a tough pill to swallow.
This year it's the usual question for the Terriers: they should be a very solid team, but will they have what it takes to win a league championship and/or reach the Frozen Four? They have won just one Hockey East championship in the last 10 years, and a Frozen Four has eluded them since 1997. It would be sweet for veteran coach Jack Parker to get back there again before he retires, presumably in the next few years.
This year's model looks as promising as ever. "I think we're going to have a good club," Parker said. "I think we've improved areas that we needed drastically to improve like our power-play situation and our overall team offense. It remains to be seen whether the added goals will help us in terms of more wins because a) it's a very, very tough league, and b) we won't have John Curry in the net.
"But we think we're going to get solid goaltending from [Karson] Gillespie and [Brett] Bennett, a senior and a sophomore, who are both talented kids and were heavily recruited but neither has had much experience. That's the question mark."
Peter MacArthur and Chris Higgins headline the returning forwards while Matt Gilroy is the offensive standout from the defensive corps, but Parker noted that we could see a great leap forward from a few other upperclassmen.
"I think Jason Lawrence will be a guy to make a big jump from last year to this year. He had an off season last year [with a 5-13-18 scoring total]; we expect him to be a 12 to 15-goal scorer, and I think he will do that for us," Parker said. "I also believe that Brandon Yip will have a huge jump because he didn't play that much last year. He only played 18 games and probably half of those he was at 60 percent, so he will be a guy to add a lot to our lineup."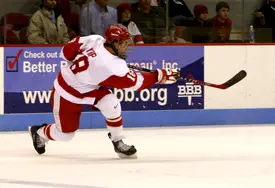 Four freshmen also could be highly visible in a hurry. "Up front the two guys who will impact us the most will be Colin Wilson, centerman from the Ann Arbor Under-18 Team, second-leading scorer on that team last year and the leading scorer in the World Championships, a very, very talented kid. We think he's going to be able to step right into one of our top lines and be a power-play guy for us. And the same holds true for our other guy, Nick Bonino, another center-iceman who can play left wing, another very, very talented player, probably more offensive-minded than any other freshmen we have coming in, real good stick skills."
But if you go by the 2007 NHL Draft, the two biggest prizes among the recruits are a pair of blueliners who went 14th and 45th overall respectively, both to the Colorado Avalanche. "On defense we have two defensemen, Kevin Shattenkirk and Colby Cohen — both guys that we'll rely upon to give us a different look on the power play, both offensive defensemen," Parker said. "We think that they'll be able to step in on the points on the power play for us-play together, who knows? The big question is how they'll adapt to a more physical and intense environment on the defensive end."
Leadership also was brought into question during occasional funks last season, so new captain Brian McGuirk will be an important factor for the Terriers as well. Perhaps starting the season with a very long trip to Alaska will be a good team-building opportunity; that's why the team is going. After a dearth of offense for significant stretches last season, the Agganis Arena faithful will be eager for more consistent production, especially on the power play. Neither goalie has the upper hand for now, but one should emerge after a lengthy look-see with a platoon in the early going.