Offense: Clarkson tied Quinnipiac for the most goals scored in the league last year with 74. Seven of that team's top eight scorers are back for another year in the green and gold. So, things are looking good for the Knights.
With the acid of the first-round NCAA loss to Massachusetts still on their tongues, the Knights have both a chip on their shoulder and a target on their chest. The ECACHL tournament champs fell flat on the national stage, and are dying to make up for that failure this time around.
"A lot of the seniors are returning this year to see if we can't get to the next level," said Roll, concluding his initial recruit rotation with Clarkson. "Without a doubt, last year's successes motivated the guys for this year. The guys are not content with how last year ended."
Shawn Weller was the sole defector, leaving the program early to sign with the Ottawa Senators, taking with him last year's team-best 19 goals and 40 points.
"He is not replaceable," Roll said, praising both Weller's hockey abilities and character. "Selfishly, sure, I'd like him back, but I think it was the right move for him."
Second-best was a mere one goal and one point short of Weller's achievements, though, and Nick Dodge is well complemented by his other forwards. Chris D'Alvise and Steve Zalewski each notched 16 goals last season. David Cayer scored 11 in his junior year, and Matt Beca potted 10.
Now a junior, Shea Guthrie was a menace by making sure that every teammate without the puck was still a major scoring threat, and proving it with 23 assists. Nineteen different players lit the lamp for the Golden Knights last season, and 13 of them still have their nameplates up in the Cheel Arena locker room.
Clarkson welcomes a large nine-man class to campus this fall, including wingers Scott Freeman and Brandon DeFazio out of the Ontario Provincial league. Each stands 5-foot-11, each was born in 1988, but Freeman outperformed DeFazio a bit with 97 points in 43 games and a Divisional MVP award on his mantle. DeFazio is more of a toughie with 135 penalty minutes last season, and 6'2″ league-mate Michael Kosziwka will battle for playing time with the other youngsters after posting 28 goals and 62 points in the OPJHL last year.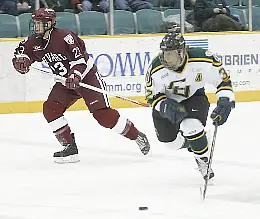 Defense: Four defenders return with 33-plus games played last season, and a fifth — Jeremiah Crowe — played 22. With Leggio behind them, the Clarkson D held opponents to only 53 goals in league play, two goals fewer than St. Lawrence and Cornell. With 2.38 goals against overall, the non-con matches threw the Knights a bit, but nothing too disastrous.
Dan Reed, Tom Pizzo and Brian Rufenach, reads the list of incoming defenders, and each from different leagues. Six-footer Rufenach showed an affinity for the scoresheet in the OPJHL, scoring 11 goals in 31 games with Lindsay, while Pizzo held the fort behind an explosive New Hampshire Jr. Monarchs' offense. Reed, at 6-foot-1, 195, played at Salisbury Prep last season.
Goaltending: Leggio won the Dryden last year, and with good reason. A 2.16 goals-against average almost seemed too high for his .930 save percentage; behind a veteran core of rear-guards, he shouldn't experience much of a dropoff this year either.
"He looks in midseason form … he's very focused," Roll said.
Kyle McNulty graduated, and stepping in to fill his backup role are Alex Wyse and Tim Potter, who both played in Canada last year. If they have any significant role in Clarkson's upcoming season, things probably aren't going very well.
Outlook: Clarkson ended the season in rare form: a loss. One in a handful of inconsistent and disappointing efforts, Clarkson is the team to beat in the ECACHL, and likewise a team in a beating frame of mind overall. The Golden Knights are out to prove that both they and the league are no pushovers, and all any of us can do is sit back and enjoy the ride. Knights fan or not, you can't help but admire this team.