Last year was certainly "A Tale of Two Seasons" for the Maine Black Bears. They failed to secure playoff home ice for the first time since 1997-98 and then got swept in the first round by Massachusetts. Initially, many wondered if an NCAA berth would be forthcoming. The PairWise numbers, however, didn't lie and the Black Bears' season lived on. All the way, as it turned out, to the Frozen Four. Again.
This year's Preseason Coaches' Poll projects the Black Bears to finish fourth but with a significant gap between them and the other three usual suspects: Boston College, New Hampshire and Boston University. In fact, they finished closer to co-fifth-place projections UMass and Vermont and almost as close to seventh-place pick Northeastern as compared to third-place BU.
"That's fine," Maine coach Tim Whitehead says. "We have so many unknowns, this year in particular, it would be very tough to pick where we are going to finish. Anywhere in the mix would have made sense."
The biggest unknowns are up front where holes abound after the loss of the top three scorers, five of the top six, and six of the top eight. Only Billy Ryan (13-20-33) and Keenan Hopson (7-15-22) and Wes Clark (8-5-13) return from the double-digit points club. Last year's juggernaut power play, tops in the nation and a big reason behind the team's "second season" success, won't be reprised.
"We don't have a lot of scoring coming back and we don't have any elite scorers coming in," Whitehead says. "That will definitely be a challenge for us. We have seven freshman forwards coming in. They'll see the ice quite a bit more than freshmen typically do."
Of the seven, Tanner House, Robby Dee and Andrew Sweetland stand the best chance of making an immediate impact.
"It will have to be a group effort," Whitehead says. "I don't know if there is a Teddy Purcell in this freshman class. We'll just have to wait and see. Certainly there are a lot of good hockey players in there.
"It's a very typical Maine class of recruits. You may be sitting there [now] saying, 'Who's that guy? Where's he from?' But at the end of the year hopefully you're saying, 'Who's that guy? Where's he from?' We'll see. It's going to take time."
Two of the three freshman blueliners, Josh Van Dyk and Mike Banwell, are also likely to be in the lineup each night as well, even though every defenseman but Mike Lundin returns.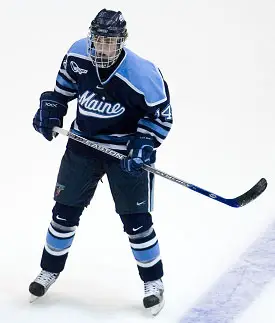 "I think it's going to be a good D corps," Whitehead says. "Losing Mike was a tough blow because he logged so much ice time. He was a real warrior for us out there.
"But I like the guys coming in and I like the guys coming back."
Goaltender Ben Bishop made important strides last year, as evidenced by his save percentage soaring from .907 to .923. His groin injury down the stretch hurt the Black Bears badly.
"I'm really excited for Ben," Whitehead says. "If you look at his development at Maine, it's been very consistent. He came in as a real project and that freshman year he was kind of thrown into it after Jimmy Howard turned pro. He did a lot to help us get to the Frozen Four that year, but we had a very strong team that year, probably our most talented team in a long time.
"Last year, I thought he improved again. He showed some elite play at times, which he had not done in his freshman year.
"Now the next step for him is to be elite on a consistent basis like a Cory Schneider at BC or Jimmy Howard for us years ago. I think that's a very natural step for him.
"He trains hard. He's very tough mentally and a very good athlete."
Arguably, the team will play a lot more low-scoring games this year so Bishop and the blueliners will backbone the young team.
"We better be squeaky clean on defense if we're going to beat some elite teams," Whitehead says. "But I think we can surprise some people."