Last year, Massachusetts-Lowell endured a 20-game winless streak that lasted almost three months — from Nov. 10 through Feb. 2 — before putting on a fierce, albeit unsuccessful, 5-2-1 drive for a playoff berth. In the offseason, the UMass Board of Trustees considered terminating the hockey program until a new lease agreement with the city was negotiated. UML coach Blaise MacDonald then incurred a suspension after an arrest for driving under the influence.
Talk about a tough year.
Unfortunately, not all the potholes have been filled and smoothed over. The patience of River Hawk fans will likely be tested yet again.
"We're very young," MacDonald says. "We've only got one senior and he only played 10 games last year. We have three juniors, and the rest of the team is freshmen and sophomores. I'm sure we'll get better as the season goes on. January and February will be our best months."
The strength of the team will be on the blue line despite the graduation of Cleve Kinley and J.R. Bria and the potential loss of Steve Capraro to sports hernia surgery (out a minimum of 12 weeks). Four freshmen — Capraro, Jeremy Dehner, Nick Schaus and Barry Goers — impressed mightily last season and although Capraro is a major question mark the other three should be even better with a year under their belts.
"Dehner, in my opinion, was one of the top freshmen defensemen in the league, if not in the country," MacDonald says. "Barry was right behind him but suffered a shoulder injury that sidetracked him for six weeks. Nick is a tough, gritty, hard-nosed competitor that can really elevate our team's intensity."
That mobile group provided a new dimension not seen in recent Lowell defensive corps.
"We're trying to get away from wrapping it around the boards and giving your bad luck to somebody else," MacDonald says. "These guys are able to make plays under pressure. Great puck poise, great stick skills, and they make a lot of tape-to-tape passes coming out of our own zone.
"Typically in this game, the team that comes out of their own zone the cleanest is going to win whether it's from defensive zone transition or through breakout opportunities. They've given us that capability as well through the neutral zone and the guts of the ice. They really allow us to have a very coordinated attack."
Between the pipes, Nevin Hamilton and Carter Hutton both had their moments as freshmen and will be challenged to take the next step. Transfer Jon Dryjowicz-Burek, who put up great numbers (1.73 GAA, .941 Sv%) at D-III Massachusetts-Dartmouth, will be in the mix as well after sitting out the required year.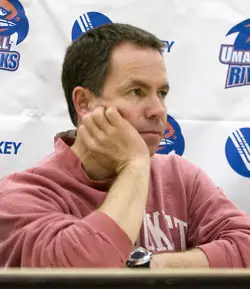 "It'll be very competitive," MacDonald says. "Carter Hutton started off really well last year, but had an injury to sidetrack him. He's used the summer to his advantage. He's in really great shape. He looks terrific, not so much the saves that he's making but just his presence in the net. He looks so confident.
"Nevin Hamilton was a Hockey East Rookie of the Month in February and played great while we were playing well down the stretch. And John [Dryjowicz-Burek] has unquestionable work ethic and skills and ability.
"Those three guys are going to cause some very competitive outings everyday at practice, and we'll have some tough choices to make. Those who play well are going to get more playing time. If we can't find somebody playing well, we'll continue to rotate guys until we find that person."
Up front, Jason Tejchma and Jeremy Hall, two of last year's top three scorers, must be replaced from a unit that finished next-to-last in the league in scoring (2.09 goals per game). Even so, five of the six returning forwards who hit double-digit points were freshmen last season and the other was a sophomore so they're at the stage where another year of development could take their games to the next level.
"Kory Falite, a freshman, scored ten goals last year including some big ones," MacDonald says. "I think he's going to make a big step. Chris Auger was a highly regarded freshman coming in last year who only scored two goals and he had a lot of quality minutes. I look for his production to go way, way up. Another freshman, Frank Stegnar, has got a big body and an NHL shot. I think he can really step up and be a big point producer for us as well."
Unfortunately, three incoming freshman forwards who were expected to be significant contributors won't take the ice. Two chose to go major junior late in August while Matt Ferreira, the top recruit, was diagnosed with a brain tumor a month ago. Fortunately, the tumor was benign and surgery was successful. The hope is that he'll live a normal life and play again. That, however, won't be this year.
"We're looking at a collective effort offensively," MacDonald says. "A lot of our offense is probably going to come from our back line. But we're thin. We'll have to hope for the best injury-wise."