Offense: When you can score nearly three and a half goals a game in league and overall, you've got yourself a pretty good chance of winning any given night. The media agrees.
"It's an honor to be ranked in the top 20 in both polls and we are very excited for the 2007-08 season," said veteran coach Rand Pecknold, who signed an extension with QU over the summer.
The Bobcats were the highest-scoring team in the ECACHL last season, tied with Clarkson, and come back with just about every merciless sniper they dressed last time out. All five double-digit goal-scorers (Brandon Wong, Ben Nelson, David Marshall, Jamie Bates and Bryan Leitch) are back, and Reid Cashman is the only 20-point scorer who was lost in the move between March and October. However, Cashman is an awfully difficult asset to replace, considering how much he contributed to the team all over the ice.
"After a week of practice, it's clear how much our power play misses Reid Cashman," said Pecknold.
Running the man-advantage, Cashman's power play scored 56 times, accounting for an even 40 percent of the total offense.
Sophomores Jean-Marc Beaudoin, Eric Lampe and Greg Holt could easily join the others with 10 or more goals this season, after notching eight, eight and six in their first years, respectively.
Let's face it, this is not the lineup you want to be facing if you're missing a defender or two.
Defense: Who needs defense when you have this kind of firepower up front?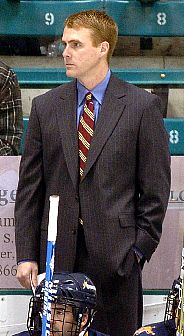 The 'Cats were tied for sixth in team defense last year, allowing 63 goals. Four returning defensemen played 27 games or more last year, and two additional sophs — Josh Duncan and Sami Liimatainen — combined for 35 appearances. The Bobcats look deep at the blue line, welcoming four additional defensemen to an already saturated roster, but it's quality that Pecknold is striving for … not quantity.
"We need to do a better job of playing team defense," said the coach, emphasizing backchecking and a strong transition game.
The defense will have to hold the line a bit more firmly this season, because the offense just won't be sneaking up on people they way it did last year.
Goaltending: Bud Fisher has been the go-to goalie since he stepped on campus, and there's no indication that that's going to change this winter. Late-round 2005 draft pick Pat McGann joins the fraternity after playing in the USHL last year, but the starting job is Fisher's to lose. What can you say; 73 games in his first two seasons suggest a pretty strong confidence at the top in Fisher's game.
That said, Pecknold hopes to spell Fisher a bit more frequently this year, as Massachusetts-Lowell transfer (and former Hockey East Rookie of the Year) Peter Vetri is eligible to suit up for the blue and gold this winter.
Outlook: A team as offensively loaded as the Bobcats has to be wary of defensive complacency: just because you can score seven goals in a game doesn't mean you always will when you have to.
Fisher and the defense are serviceable, but this might be the year that they will be called upon to be superb rather than merely acceptable.