Offense: The Big Red are without three of their top six scorers from last season, a campaign in which they averaged just shy of three goals a game in league and overall. Cornell's 64 league goals were only eighth-best, and the top sniper-freshman Greening-only totaled 11 goals in the full 31 games.
On the flip side, what coach Mike Schafer lacked in a superstar forward, he could count on in depth. A dozen players registered double-digit points in 2006-07, and nine had five of more goals. Five of those nine are back, including Colin Greening and Raymond Sawada, who scored 10.
It was an odd season for the Big Red, who — despite taking fourth in the regular season — were frequently perplexing in their play, inexperienced and inconsistent. The Red were shocked by Quinnipiac on Lynah ice in the second round of the playoffs, and now hope that the new season will bring the calming reliability and familiarity that comes with a year of playing together as a unit.
"Last year was a little bit of a transition year," Schafer said. "Sawada probably had an opportunity to leave, but he was one of the few who wanted to stay and finish his education."
Five of the seven incoming freshmen are forwards, and 21st overall pick Riley Nash is the biggest star among them. Edmonton's first-round selection in this summer's draft put up 38 goals and 45 assists for Salmon Arm in the British Columbia Hockey League; we all certainly hope that, at only 18, Edmonton will encourage him to play for more than just one or two seasons in our cozy little league.
Six-foot-three Patrick Kennedy was also on the Central Scouting List before the draft, but wasn't tabbed by the pros this time around. The St. Thomas alumnus put up 41, 35, and 47 points in his last three seasons in the Western Ontario league.
Defense: The D returns five of eight skaters who saw ice time last season, and ironically, it was the three departing seniors who played the fewest games. Each of the five current Big Red played at least 23 games, and should be led by 6-foot-3 senior Doug Krantz.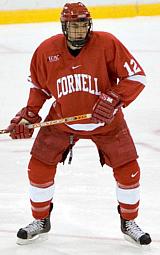 Unlike Cornell defenses of the past, only four of the eight rostered rear-guards are listed at six feet or taller. In adjusting to the times, Schafer has recruited smaller, quicker, more agile defenders who are more likely to defend with speed, awareness and skill than with brute strength, as in previous years. That said, the head coach also stressed the importance of playing a more confident, physical game than the Red did last season.
Incoming BCHLers Jordan Berk and Mike Devin each demonstrated keen vision and first-pass ability, racking up considerable assists in an admittedly offense-heavy league.
Goaltending: Now-sophomore Ben Scrivens only played half the number of games of junior Troy Davenport last season, but had a goals against average 11 points better, and a save percentage 12 points above his elder counterpart. The duo platooned through most of the second half before Schafer handed the reins over to Davenport in February.
"The question mark again will be goaltending, and who will rise," the coach said.
The Cornell crease will be an interesting place this season, as each netminder will have a shot to earn the starting job. The Big Red haven't had anything close to resembling a true goaltending platoon since 2001-02 when Matt Underhill played 21 games, and David LeNeveu played 14 … and 1999-2000 was the last real split, when Underhill and Ian Burt saw 17 and 15 games of action, respectively.
Is Cornell due for another crease controversy? Hard to pick a winner at this juncture, that much is certain.
Outlook: Schafer is a pretty sharp guy, so it would be foolish to think that his players won't get any better than what they were a year ago. However, how much better, is the pertinent question.
The offense looks reasonably well-stocked, but hasn't proven any specific strength yet. The defense allowed about two and a half goals a game, and won't fare any worse this year, though the ceiling on potential improvement is probably limited.
The keys to Cornell success this year are pretty clear: significantly more productive and reliable scoring than last season, and a dependable — if not exceptional — man between the pipes every night.