Given that Merrimack's win total has declined each of the last five seasons — 12, 10, eight, six, and three successively — as well as the level of competition in Hockey East, you might excuse coach Mark Dennehy for believing that the light at the end of the tunnel could be an oncoming train. Yet Dennehy is sincerely very hopeful about his team's chances of improvement.
"It's funny actually because last year you had teams like BC with Brian Boyle and Maine with Michel Léveillé and even Northeastern with Mike Morris: they all got their best players back," Dennehy said. "And some would argue that it was somewhat surprising that those juniors would come back for their senior years. Meanwhile, we lost our best player, Rob Ricci," due to Ricci being ruled academically ineligible for last season after leading the team in scoring his freshman year.
"The shoe's on the other foot now. Whether it's [Cory] Schneider or Boyle or Léveillé or [Brett] Hemingway or Jon Quick: Go right down the line, and everybody's lost their best player. We got ours back."
Still, a substantial turnaround is down the road a ways. Although three of the team's top seven scorers were freshmen last season, Dennehy is quick to point out that a youth movement is still very much in progress at Merrimack.
"We're still going to have over 20 players who are sophomores or freshmen. Which bodes well for the future, but you've been around Hockey East long enough to know that even though you'll have a Teddy Purcell who had a great freshman year [for Maine] last year, he didn't lead that team. It's an upperclassman-driven league, so, as excited as I am about our team, it's a matter of getting our younger players acclimated and allowing them to mature."
When it comes to considering breakout players who can help the team break out of its offensive doldrums, all conversations must start with Ricci. "I think people forget that it wasn't Benn Ferriero or Brandon Yip or Nathan Gerbe that led all Hockey East in scoring, it was Rob Ricci," Dennehy said. "So I would expect Rob to be able to pick up where he left off and really give our offense a boost. I think you'll also see our sophomore class — who were really thrown in the deep end last year — improve. A guy like Matt Jones comes to mind, a kid like Pat Kimball or J.C. Robitaille. I think you'll see them pick up from last year and maybe double their output."
Dennehy also believes that this year's freshmen will adjust easier to the big stage given the aforementioned up-and-coming forwards. The new faces will include two transfers — Grant Farrell, a defenseman who started with UMass-Lowell and Joe Cucci, a forward who began college at Northeastern — as well as the horde of freshmen.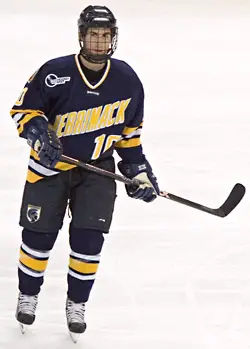 "Grant Farrell is someone who played two years at Lowell, has more of an offensive streak from the point. I think he'll be able to help us out on the power play quite a bit. … From the freshman class, I think Francois Oimet, who led the Tier II Junior Triple A of Quebec in scoring last year, will be able to hit the ground running as maybe Chris Barton who played for Camrose in Alberta or Tommy DeRosa who led the Atlantic Junior League in scoring by a wide margin."
Oimet is a speedy forward who put up gaudy numbers in the LHJAQ ostensibly was overlooked because of his size. "He really does a little bit of everything: He skates well; he can make a play; he's not afraid to shoot it; he's got a good sense around the net.
"The biggest issue I had when I got here was just a prerequisite of skill," Dennehy said. Some of the newcomers should help the program make strides in that area, though Dennehy concedes that his team's M.O. still will be to attempt to outwork opponents in every aspect of the game.
He also realizes that there is skepticism about his program's potential for improvement this season, but there is a possible bright side of that as well.
"We know we're better," Dennehy said. "I'm not sure if the rest of the league does, and that's fine with us."