The University of New Hampshire had a terrific year in many ways last season, though they ultimately failed to silence the USCHO.com message-board denizens who rib Wildcat fans about being the University of No Hardware. The Wildcats won the regular-season league title, only to fall to Boston College in the Hockey East tournament championship. The NCAA tournament was an especially bitter disappointment, as UNH — the top seed in the Northeast Regional, playing in its home state — was upset by Miami.
The summer brought along another blow when sophomore Trevor Smith — the team's leading scorer last year with 21-22–43 in 39 games — signed with the New York Islanders. Given that the team was already slated to lose offensive standouts Jacob Micflikier, Brett Hemingway, and d-man Chris Murray to graduation, one might worry about the season to come. But the Wildcats should be very good regardless and could turn out to be excellent.
"Obviously, I'm excited about the team," coach Dick Umile said. "I think we've got a great senior class, good leadership. The strength of our team will be defense, starting with the goal out along with our defensemen. I think with Kevin Regan coming back as a senior and Brian Foster as a sophomore we'll be real strong in net, and defensively we've got five or six guys coming back led by two seniors, Brad Flaishans and Craig Switzer.
The offensive is admittedly more of a work in transition, though UNH always seems to have a few sophomores who develop and a freshman or two who finds a prominent place on the scoresheet in a hurry.
"Hopefully we can continue to be an offensive team," Umile said. "We've lost some scoring there with Trevor Smith going as a sophomore, but we have a good nucleus coming back: Matt Fornatoro and Mike Radja are two seniors for us who have had good careers so far at UNH, and we expect they'll continue. Then it's always who's going to step up from the sophomore and junior classes, whether it's Jerry Pollastrone, Pete LeBlanc, or Bobby Butler."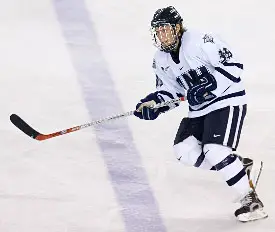 Umile has ample reason to feel really good about recruiting this season. Any time you have one of the top picks in the NHL Draft, your class by definition is a good one. Forward James vanRiemsdyk was selected second overall by the Philadelphia Flyers, ensuring that many eyes will be on him this season. But he's not the only player who may have a quick impact.
"We're really excited about our freshman class — a big class with seven forwards in it," Umile said. "James vanRiemsdyk is going to be a great college hockey player. He's got it all: he's a hard worker; he's a good kid. He along with a couple of other freshmen — Phil DeSimone, who played in the USHL, and Mike Sislo — those three will make a definite impact as freshmen. Who knows? Maybe a couple of other guys as well." DeSimone was the USHL Player of the Year, in fact, with a 26-47-73 scoring total in 60 games.
How does Umile feel about vanRiemsdyk possibly going pro after a year or two? "If we have him for two years … I don't expect him to be here for four, but you never know. Hopefully he'll be here for a couple of years."
So UNH shouldn't give up too many goals. And don't bet on enough guys emerging on the other end of the ice to make sure they score more than their fair share as well.