Offense: When your scoring chart is led by a pair of freshman, you're probably sitting pretty for the following year. Sean Backman and Mark Arcobello would've earned a lot more attention if not for that Brandon Wong fella across town, and Bill LeClerc is the only double-digit scorer lost from the 2006-07 Bulldogs.
"I think we'll be a better team than we were last year," said coach Keith Allain. "We're going to have improved balance on the scoring attack" with a strong freshman class and experienced returning players, he said.
The Eli barely beat two and a half goals a game last year, both in league and overall, so there is still some work to be done. However, Allain must be awfully pleased with the forwards at his disposal, given that after the tandem at the top, it's sophomores Chris Cahill and Thomas Dignard returning with 17 and 14 first-year points, respectively. Senior Jean-Francois Boucher hopes to improve on a pedestrian three goals and nine assists in 30 games in 2006-07, after registering 23 points as a sophomore.
Allain imports four forwards among his eight recruits, including power-winger Jeff Anderson from Cowichan Valley of the BCHL. Despite an unimpressive 41 points in 60 games in an offense-heavy league, Anderson threw his wiry 6-foot-2, 190-pound frame around with aplomb, to the tune of 148 penalty minutes.
Six-foot-one center Dennis Kearney scored 21 goals with 54 assists in 44 games for the Eastern Junior league champion New Hampshire Jr. Monarchs. While his accomplishments shouldn't be diminished in and of themselves, it should be noted that he was playing with the likes of UNH's Paul Thompson (83 points) and Providence's Matt Germain (64 points).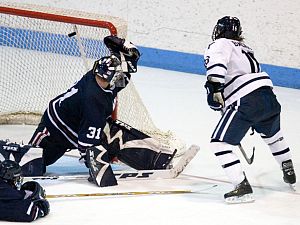 Defense: The Bulldogs will have some youth on the blueline this fall, as Matt Cohen, LeClerc and the occasionally used Shawn Mole all depart campus for the real world. Junior David Inman hopes to enjoy a healthy 2007 and 2008 after an injury-hampered 2006-07 in which he only played in 13 contests; besides him, the four other returning defensemen saw action in 25 games or more.
"We're certainly going to miss some quality minutes [from the departed seniors]," said the coach.
The Yale defense has some offensively gifted athletes, including Dignard and 13-point senior Robert Page, and overlooking them when they have the puck will hurt a number of teams on the scoreboard, and the standings.
But can they keep up with the bigger, stronger, rougher forwards that are as numerous in the ECACHL as honors recipients at a Harvard graduation? Only four of the eight blueliners are listed as topping six feet, and only three tilt the scales at 200-plus.
Goaltending: Alec Richards is the man, until he — or someone else — proves otherwise. (Of course, all starting positions are still "up for grabs," according to Allain. "Alec will be challenged for ice time," he stated simply.)
The towering 6-foot-4 goalkeep saw a 10-point fall on his goals-against in his sophomore campaign (3.12) from that of his frosh, and more than a 20-point decline in save percentage (.891/.912). But remaining goalie Billy Blase only saw 85 minutes of action in his first year, and incoming freshman Ryan Rondeau (Waterloo, USHL) will have to state a pretty firm case before Richards is knocked from his post.
Outlook: Yale bolted out of the blocks last season, winning six of its first seven and commencing the season with a 3-1-0 league record. But then the wheels fell off, and in a hurry. The 'Dogs went 0-5-2 between the Thanksgiving break and New Year's, mostly due to an offense gone dry. The Eli can not afford to suffer the same offensively-challenged episodes endured by last year's edition of the Big Blue, because the defense just doesn't look solid enough to handle a majority load.