Will The Goalies Decide?
Goaltending could be the deciding factor in this season's Hockey East race. A year ago, only Massachusetts-Lowell had lost its number-one goalie. New Hampshire and Massachusetts were moving from a tandem to lead roles for Kevin Regan and Jon Quick, respectively, but transitions in that most critical of positions wouldn't be deciding league races or postseason fates.
Not so this season. Player of the Year and First Team All-Hockey East selection John Curry (BU) graduated while second-teamer Jon Quick (UMass) and honorable mention Cory Schneider (BC) turned pro.
That has left UNH, Maine and Vermont in position to make up for otherwise considerable losses with the league's top returning netminders. Kevin Regan (UNH), himself an honorable mention selection, Ben Bishop (Maine) and Joe Fallon (UVM) will have the opportunity to be difference-makers for their teams in a season in which few teams can be counted out in the race for home ice.
On the other hand, every other team has other strengths to boast of, most notably BC's returning scorers and BU's incoming freshmen.
Here, then, are thumbnail views of each team's outlook. Click on the links for more details.
With sophomore Trevor Smith signing with the New York Islanders and two seniors departing, UNH lost three of its top five scorers. The fact that this didn't keep the Hockey East coaches from picking the Wildcats to finish tied for first with Boston College should tell you something. This program hasn't finished less than five games above .500 since 1995-96 — quite a feat in a tough league. Senior goaltender Kevin Regan, several talented returning scorers, and prize recruit James vanRiemsdyk should give Wildcat fans reason for optimism.
Coaches' pick: T-1st
Dave's pick: 2nd
Scott's pick: 1st
All the rest of the pieces to the puzzle are there so if freshman goaltender John Muse is up to the challenge, BC could very well make a third straight appearance in the national championship game. That, however, is a very big if.
Coaches' pick: T-1st
Dave's pick: 1st
Scott's pick: 3rd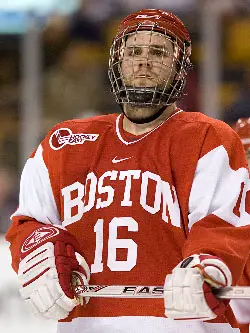 Despite losing a Hobey Baker contender in goaltender John Curry as well as its third-leading scorer in Kenny Roche and two top blueliners, BU doesn't have any glaring weaknesses. With two plausible starting goalies returning in Karson Gillespie and Brett Bennett as well as some highly touted defensive recruits, BU will be a good team. Whether the Terriers will be a great team will depend on whether their scoring punch can increase as well as just how good the goaltending turns out to be.
Coaches' pick: 3rd
Dave's pick: 3rd
Scott's pick: 2nd
4. Maine
The Black Bears may need to play a more defensive style what with all the holes up front. Goaltender Ben Bishop and the defense must cover for a paucity of goal-scoring experience. Last year's powder keg of a power play isn't coming back. Still, you can't count Maine out come the NCAA tournament.
Coaches' pick: 4th
Dave's pick: 4th
Scott's pick: 4th
5. Vermont
Can the Catamounts remain a top defensive club while breaking in four freshman blueliners? If so, watch out because the combination of goaltender Joe Fallon and a strong cast of forwards cover the other bases nicely.
Coaches' pick: 5th
Dave's pick: 5th
Scott's pick: 5th
T-6. Massachusetts
A strong group of defensemen and a lot of quickness up front will try to make the transition from goaltender Jon Quick to his replacement as smooth as possible. Those, however, are very big shoes to fill.
Coaches' pick: T-5th
Dave's pick: 6th
Scott's pick: 7th
T-6. Northeastern
Northeastern took a significant step in the right direction, raising some eyebrows with some impressive road and home victories against ranked teams. The best news was that freshmen and sophomores led the way in scoring and in the net, boding well for the future.
The question now is whether the Huskies will settle in to a middling position in Hockey East's second division or whether they can take a significant step closer to a .500 record and home ice in the playoffs. If they do, they will need a cluster of players to raise the bar in terms of scoring while also getting some immediate help from their rookies. The two biggest indicators for Northeastern this year will be power-play production and how quickly the defensemen can step in or up. NU may close in on .500, but home ice may be out of reach just yet.
Coaches' pick: 7th
Dave's pick: 7th
Scott's pick: 6th
8. Providence
After getting off to a great start and finishing above .500 in his first season behind the bench two years ago, coach Tim Army saw the program's won-loss record dip dramatically last season. This has not deterred him from his plan to continue emphasizing fast-paced, offensive-minded hockey, and the Friars have many returning players along with a recruiting class that should fit Army's philosophy nicely. But will it translate to a more attractive outcome with wins and losses?
Coaches' pick: 8th
Dave's pick: 8th
Scott's pick: 8th
The River Hawks will be a very young team without a lot of depth. They must stay healthy, but if they do it won't take many things going right for them to make the playoffs. Lowell fans won't want to hear it, but this group may be a year away.
Coaches' pick: 9th
Dave's pick: 9th
Scott's pick: 9th
10. Merrimack
Merrimack will attempt to bounce back from its worst record since joining Hockey East, a 3-27-4 mark. The Warriors generally got strong goaltending but scored a woeful 1.09 goals per game last season. The return of Rob Ricci should help. After leading the team in scoring as a freshman, he was ruled academically ineligible for last season. His 26 points two years ago were more than double Kimball's team-leading total of 11 last season. So there is some reason for optimism but a long way to go.
Coaches' pick: 10th
Dave's pick: 10th
Scott's pick: 10th