When Ryan Cruthers transferred from Army to Robert Morris two years ago, RMU head coach Derek Schooley hoped the talented forward could add to the Colonials' offense and put up some decent numbers.
Are 17 goals decent enough for you?
Cruthers popped 17 (including nine on the power play) and added 20 assists last year in his first season in Pittsburgh to lead the team in scoring. He had 31 total points in his two years at Army in 13 more games.
Now a senior on a very senior-laden RMU team, Cruthers has picked up where he left off the last two-thirds of last season.
"Ryan has always been a goal scorer and a point producer," Schooley said. "When he was at Apple Core (Eastern Junior Hockey League) and I was at Air Force, I saw him play quite a bit. I can't say enough about him. He's been what we expected since he came here two years ago."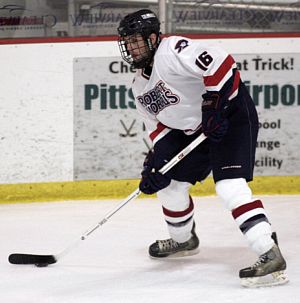 The 6-foot, 180-pound Cruthers initially began his college hockey career with the Black Knights in 2003, but he said Army didn't give him enough choices hockey-wise.
"I wanted to be able to play hockey after school," Cruthers said. "Playing there wouldn't have been the best option. And academically, that really wasn't the best option either."
So after the 2004-2005 season concluded, Cruthers made an official visit to Robert Morris and committed that very same day.
"Coach really has a passion," said Cruthers. "I liked what he was setting out to do with a young team and I really liked the area and everything about it. It was a very easy choice to make."
Putting Cruthers on a line with Chris Margott and Sean Berkstresser this season, Schooley said that line may be among the best in the CHA.
"Margott and Cruthers are very, very skilled," noted Schooley. "Berkstresser is your power forward that goes into the corners and makes space for the other two. This line is also very mature, both mentally and physically. They are as good a line as there is in the CHA."
Cruthers (three goals, seven points) and Margott (six assists, seven points) are 1-2 in RMU scoring this year. Berkstresser sits fourth.
"I think my role on this team is to go out and lead by example," Cruthers said. "I want to get these guys on my back and that's what Coach has told me he wants out of me. I just want to take control on the ice."
Beyond all the positives, it would be hard to believe that Cruthers, 23, was a sub-par skater when he arrived at Robert Morris. The year he sat out due to the NCAA transfer rule, Cruthers worked with Marianne Watkins, a skating instructor at the Island Sports Center who has NHL experience with the Columbus Blue Jackets.
"My whole life growing up on Long Island, I never had an instructor or anyone like that to help me out," said Cruthers. "I just learned on my own. Then when I came here, the first opportunity I had with her, I took it. That year I was ineligible, I would go work with her when the team was out of town and I think my skating is a lot better now. It's still not pretty, but definitely better."
"Ryan works so hard," added Schooley. "He works exceptionally hard and I'm very pleased with how far he's come. He goes out, contributes and does his job. But if there's something to be said, I'm sure he'll say it and people will listen. His skating isn't even a detriment and he's developed a mean streak.
"He just keeps improving and is a pleasure to watch."
Wayne State Still Winless
Robert Morris defeated Wayne State, 3-1, Friday night and 4-1 Saturday night to keep WSU without a win (0-5-1).
Freshman Kyle Burton scored his first career goal and Jake Sparks and Jason Towsley scored Friday night before Wayne State senior captain Mike Forgie broke Christian Boucher's shutout with 7:08 remaining in the game.
Forgie leads WSU with three goals and has scored in every series this season.
Boucher finished with 22 saves, while freshman Kyle Funkenhauser stopped 23 for the Warriors.
RMU also held Wayne State scoreless on all five of its power-play chances.
Saturday night, the Colonials popped three power-play goals. Cruthers, Brett Hopfe, Kyle Frieday and Chris Margott all scored for RMU and Boucher stopped 27 shots.
Funkenhauser made 18 saves for the Warriors, whose lone goal was freshman Dylan Exton's first NCAA tally.
The Warriors were 0-for-8 with the man-advantage over the weekend.
Niagara Extends Home Unbeaten Streak
The nation's longest home unbeaten streak is now 20 games as Niagara swept Western Michigan at Dwyer Arena in a two-game set last weekend.
NU is now 18-0-2 at home since Feb. 2006. It marks just the second time in the last 23 years that any team in NCAA Division I hockey has posted a 20-game run.
Despite getting outshot, Niagara came away with a 4-2 victory over Western Michigan on Friday.
Senior captain Matt Caruana scored a pair of special-teams goals, including the game-winning, shorthander in the third period. Caruana, who has recorded a point in every game this season, matched the Niagara career record for shorthanded goals with his fifth, tying him with Mikko Sivonen.
The Broncos outshot the Purple Eagles, 44-22, including 18-6 in the final stanza, but Juliano Pagliero was solid in net, making 42 saves in the win.
Freshman Paul Zanette earned his first career goal in his first game of the season and Egor Mironov also scored for the Purple Eagles.
The next night, Caruana, Mironov and Chris Moran scored in the 3-1 win. Pagliero made 25 saves and has now stopped 101 of the last 104 shots to come his way.
"This is one of the best team efforts that we have had in the last couple years," Niagara head coach Dave Burkholder said.
With the victory, the Purple Eagles are 3-0-0 against CCHA opponents this season. WMU goalie Riley Gill took notice, but also may have directed a low blow towards Monteagle Ridge.
"They're a good team and they play well together," Gill said. "They really took the body to us. I think that's one thing our team noticed kind of out of the ordinary. They love to take the body, but other than that, compared to some of the other buildings we play at, like Michigan in front of 7,000 people, (Dwyer Arena is) not really intimidating in any way."
This weekend, now 18th-ranked Niagara opens up CHA play when it travels to Bemidji State for a pair.
Lowell Rude Hosts To Chargers
As seems to be the pattern, Alabama-Huntsville was also the victim of a sweep over the weekend.
Josh Murray scored his third goal in as many games, but Alabama-Huntsville dropped a 4-1 decision at Mass.-Lowell on Friday night.
The Chargers also lost Saturday night, 3-1.
Sophomore netminder Blake MacNicol made 30 saves in net for the Chargers on Friday.
"Alabama-Huntsville is a gritty team," UML head coach Blaise MacDonald said. "They hung in there and that's a tough game to win. I give our guys a lot of credit for hanging in there and getting it done."
Saturday night, Joe Federoff mustered UAH's only tally in the loss. Freshman goalie Cameron Talbot kicked out 31 shots.
The Chargers open home action on Friday and Saturday hosting Minnesota State. The first 500 fans Friday will receive a free magnet schedule and that night's contest will also feature a pregame ring ceremony honoring the 2006-2007 CHA tournament champs.
"From where we've come from the first day in practice to where we're at, I'm real happy," Alabama-Huntsville head coach Danton Cole said in the Huntsville Times. "As long as we're learning, there's a lot of good to be done. Although I'd rather learn a lot by winning."
St. Cloud Takes Pair From Beavers
Bemidji State's struggles to score continued Friday as the Beavers outshot St. Cloud State, 40-29, but suffered a 2-1 loss.
The Beavers even blocked 22 SCSU shots.
Tyler Scofield scored BSU's lone goal after a Matt Pope goal was waved off late in the first period. Blaine Jarvis found Pope from the corner for a one-timer in front of the net on a power play. A review of the goal showed that Pope kicked the puck into the net.
Orlando Alamano made 27 saves in net.
The Huskies dominated in a 6-1 win Saturday night as they were again outshot, 36-30.
SCSU scored three power-play goals and one shorthanded.
Cody Bostock scored for BSU on a power play.
Freshman Matt Dalton made six saves during the first 20 minutes, but allowed four goals. Matt Climie made 18 saves over the game's final 40 minutes.
It doesn't get any easier this weekend, either.
New BSU Arena Proposed For South Shore
Bemidji State will apparently get its new arena after all, just not downtown where the events center was originally planned.
A meeting held Wednesday in Bemidji revealed the south shore of Lake Bemidji as the new destination — about one mile from downtown.
Mayor Richard Lehmann said that the city has made an offer to buy nearly 130 acres of land from ShoreQuest owner John Zacher and neighboring landowners for the purpose.
It had originally been proposed that the events center/hockey arena would be constructed first and the city would add on a convention center and a second sheet of ice. However, Lehmann said Wednesday that the phased plan may no longer be necessary.
"This offers us the opportunity to do it all at one time, if we can partner right," he said in the Bemidji Pioneer.
The City Council is considering a $50 million facility. Half of the funding for the project would come from the city's half-cent sales tax, if extended by the Legislature. The remaining $25 million would include the $3 million already received from the state and an additional $22 million in bonding dollars, if approved by the Legislature.
BSU's hockey program would be the primary tenant of the facility.
School officials were asked during the press conference whether university students had been polled about the potential location of a new arena.
"In general, students want a better venue for Division I hockey," said Bill Maki, BSU's vice president of finance and administration, in the same Pioneer article.
Five More Verbal Commitments
In another move that shows players feel CHA teams are stable for next season, Robert Morris, Bemidji State and Niagara reportedly all received verbal commitments this week.
The Colonials newest recruits are 19-year-old New York Apple Core forward Nick Chiavetta and 20-year-old defenseman Josh Jones from the Hawkesbury Hawks.
Currently Apple Core's leading scorer, Chiavetta has five goals and 20 points this season — also good for a sixth-place tie in the early EJHL race. He was also a member of St. Mary's (Massena, N.Y.) back-to-back high school state championship teams in 2005 and 2006.
Jones is a Pittsburgh-area native (Scenery Hill) and is the top defenseman scorer for the Central Junior Hockey League's Hawks with 14 points through 18 games.
Cornwall Colts captain Darcy Findlay is on his way to the Beavers. The 20-year-old from Quebec leads the Ottawa-based CJHL in scoring with 15 goals (including three hat tricks and eight multi-point games) among 30 points (with eight multi-point games) in 17 games with the Cornwall Colts.
Goalie Andrew Hare and Buffalo native Danny Baco are both off to Niagara next fall.
Hare will be a true freshman (1990 birthdate) with the Purple Eagles and is with the Burlington Eagles of the Ontario Provincial Junior Hockey League this year. He has been the goalie of record in all 10 wins for the Eagles this year and also boasts a 2.32 goals-against average with a .933 save percentage and one assist.
The 19-year-old Baco is a smallish forward (5-foot-8, 168 pounds) and has been injured as of late, but still has a goal and an assist in six games with the United States Hockey League's Lincoln Stars.
The Future of the CHA
Nothing new to report.
Sorry, folks. Check back next week.